16 Free Wrap Skirt Patterns and Wrap Dress DIYs
Searching for the perfect piece of clothing to accentuate your figure? Then you'll love these DIY wrap skirts and simple wrap dress patterns!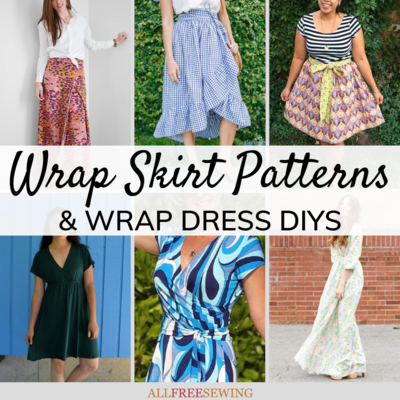 Accentuate your curves by creating an elegant wrap skirt or dress that's comfortable, casual, and stylish. AllFreeSewing is bringing you our list of 16 Free Wrap Skirt Patterns and Wrap Dress DIYs that will flatter any figure.

These DIY wrap skirts vary in length and style so that you can create a breezy wrap skirt to wear to the beach, or a more formal skirt for an evening out. There's something for every season and occasion.

But that's not all! We've also included some of our favorite DIY wrap dresses to wear during summer, from flowy peasant dresses to chic wrap dresses that are perfect for day and evening wear.

If you're unsure about sewing, never fear: we've also included our new video on how to sew a long wrap skirt, so you can have a visual guide to walk you through each process step. It's right below this section.

Whether you're searching for a DIY wrap mini skirt or maxi dress pattern (or vice versa), you'll discover it here. Find the perfect wrap dress to show off your body while still feeling comfy with this collection of easy wrap skirts and fashion-forward wrap dresses.

Sign Up For More Free Patterns >>>

Visual learners: Be sure to check out Carolina Moore's video on how to sew a long wrap skirt. It's a great tool for visual learners and beginner-level sewists! Simply press the play button to watch. Click the link above for the full written and photo tutorial, too.
Table of Contents
Free Wrap Skirt Patterns
Meet the perfect wrap skirt patterns for your wardrobe. We love all free skirt patterns but wrap skirts are a closet essential for every woman's wardrobe, as they're designed to be easy to wear and more comfortable to move in than tighter-fitting skirts like pencil skirts or mini skirts.

These DIY wrap skirts are perfect to pair with casual or dressy tops and come in a variety of lengths so that you can sew your ideal skirt for any occasion.

So, it won't matter if you're on the hunt for the perfect DIY beach wrap skirt or heavier wrap skirt for cooler weather, the DIYs below will help you out.
Free Wrap Dress DIYs
This section focuses on DIY wrap dresses that work well for spring and summer but you can choose what works for you and when. During warmer months, no one wants to wear a dress that's hot or clingy, which is why these wrap dress patterns and tutorials are ideal for summer.

From boho chic dresses that let you embrace your inner flower child to lightweight dresses for everyday wear, these wrap dresses to sew are sure to be staples of your summer wardrobe.

Fun fact: Did you know fashion designer Diane von Furstenberg is often credited with designing and popularizing the wrap dress during the 1970s? Thanks, Diane! These beauties will never go out of style, so make as many as you want.
PLUS! Pin 16 Free Wrap Skirt Patterns on Pinterest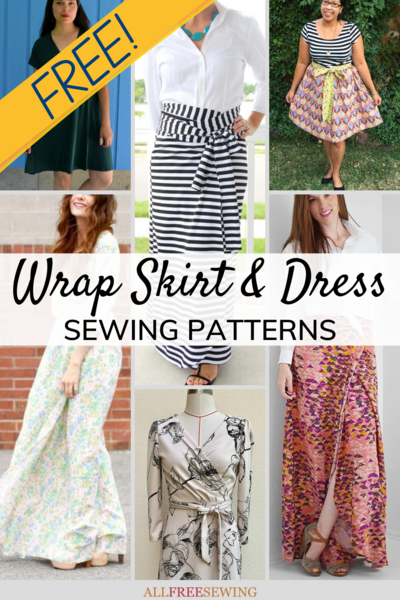 Your Recently Viewed Projects