Christmas Baubles Printable Lacing Card Ornaments
These free printable Christmas ornaments are the perfect first sewing project for kids or beginners!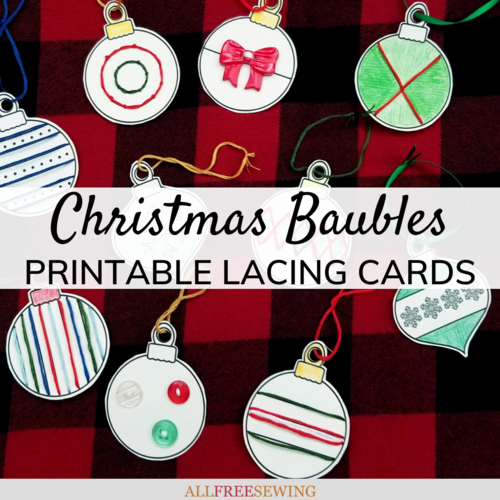 These free printable Christmas Baubles aren't just that. These printables double as lacing cards that both kids and adults can decorate for a fun wintertime activity!

Download these Christmas Baubles Printable Lacing Cards, cut out the baubles, and practice sewing. These festive baubles can be used as DIY ornaments, garlands, gift tags, and more. If you've been wanting to teach your child to sew, then these printable lacing cards are the perfect starting project.

With various winter and Christmas baubles ranging from super simple to intermediate, they can practice and improve as they go. These printables have a similar vibe to adult coloring books as well since you can color and sew (no matter your age) for a relaxing and fun activity.

This combines training and fun in one project for kids of all ages, even adults! Anyone who is learning how to sew can benefit from these card PDFs because the repeated work can only help improve their skills.

Join Sewing It Up For More Free Patterns, Tutorials, & Guides >>
                        
Below, we'll provide ideas, tips, and instructions on how to print and use these Christmas lacing cards so that you're all set up for success with this sewing craft.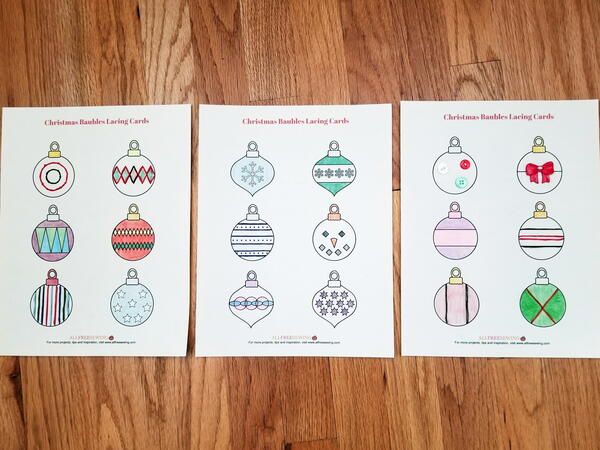 How to Print the PDF
Printing this is as easy as 1-2-3-4! If you're not familiar with printing PDFs, here's the step-by-step, along with a few tips.
Click the red button in the next section that says, "Click to Download Printable Christmas Sewing Cards" P.S. Make sure you know the location of your download.
 
Find and open the PDF.
 
Click the "Print File" button, choose the printer, choose how many copies you want, make any additional adjustments needed for personal preference, and click the "Print" button.
 
Cut out the baubles and start sewing! Alternatively, you can sew and then cut out (whichever is more comfortable).
Tips:
  -  Using a slightly thicker paper type will help the stability of these sewing cards. Cardstock or resume paper are both great choices. Keep in mind the thickness that your printer can handle.
  -  The default printer settings do not need to be adjusted unless desired. It should print the same in "Fit" or "Actual Size".
  -  No need to use color inks for this! Print in grayscale to use save ink.
  -   For larger baubles, adjust the "Custom Scale" size. Note that doing this may leave some cut off.
  -   Alternatively, for larger baubles, feel free to use a cropping tool to cut out certain baubles and then print separately and at the size you want.  
How to Use Our Christmas Lacing Cards
Within the three pages, you'll find six various bauble shapes that offer dots, lines, circles, and designs for you to color, sew, decorate further, then hang.

Once these baubles are cut, you are ready to sew. Let's discuss the materials you'll need for sewing practice:
Thread - A thicker thread, such as embroidery floss or even a lighter weight yarn, works perfectly for this type of threading practice.
 
Needle - You need a needle sharp enough to poke through the paper but you don't want children using super sharp needles, so keep this in mind. Tapestry needles have a blunt point and large eye, which is helpful for kids. Yarn needles are safer, too, but they may be too big and blunt for thicker paper without poking holes with a different object first.
 
Scissors - Used to cut the thread at the start and end. Most scissors will work for cutting thread. A thread cutter can also be used.
 
Needle threader (optional) - For smaller needle eyes, needle threaders can be incredibly helpful. Especially for children who are learning. 
 
Glitter glue, small buttons, markers (optional) - For embellishing (find more information below, along with suggestions).
Want to use these as templates for thicker paper or thin cardboard? No problem! Simply place and trace the paper bauble and use a sharp point to poke holes through or do your own freestyle dot placement on your new card.
Tip:
It might make it easier to pierce holes in the paper template before sewing (a seam ripper works well), especially if the needle is dull. Have an adult do this on a self-healing mat or similar surface to protect tables.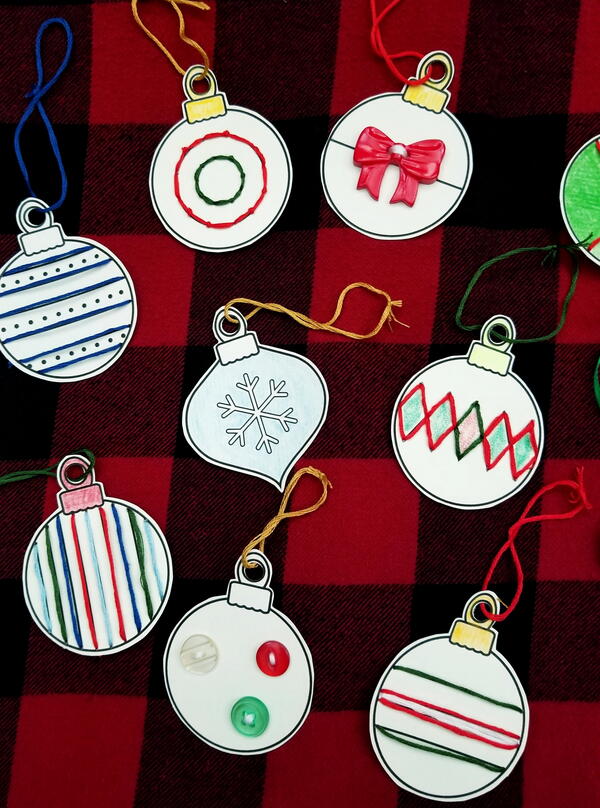 Creative Suggestions on How to Use Our Christmas Lacing Cards
You can use the embroidery floss to "color" the lacing cards or combine a few different mediums to create vibrant and textural ornaments or decorative paper pieces. We used colored pencils and buttons in addition to floss.

Before sewing, we tried coloring some of the baubles so that the sewing could be an accent or just another layer of the same color. Keep in mind that using a darker color could hide the dots and lines and make it more difficult to follow while sewing. We'd recommend lighter colors for beginners or poking holes to see better before sewing.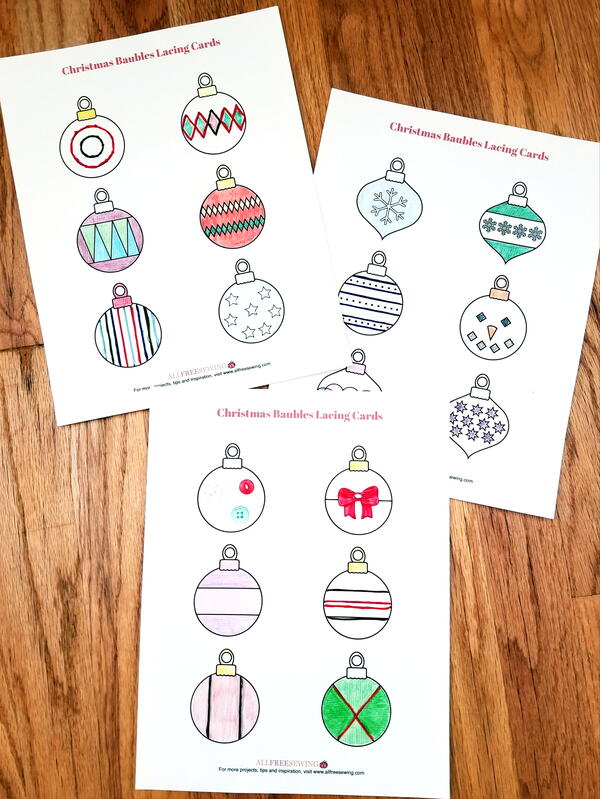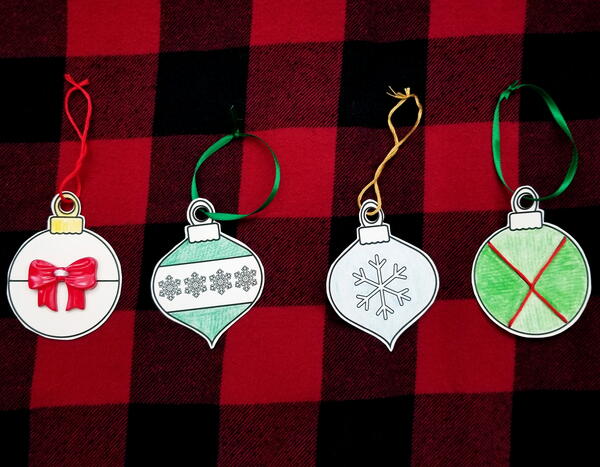 Adding buttons or other embellishments adds a lot to these ornaments. You do need small buttons to fit the size of these Christmas baubles printable lacing cards. Adding buttons is not recommended for young children unless under supervision.

This is the perfect project if you're practicing your embroidery stitches, too! Running or straight stitch, stem stitch, lazy daisy, and French knot are all great options for this project.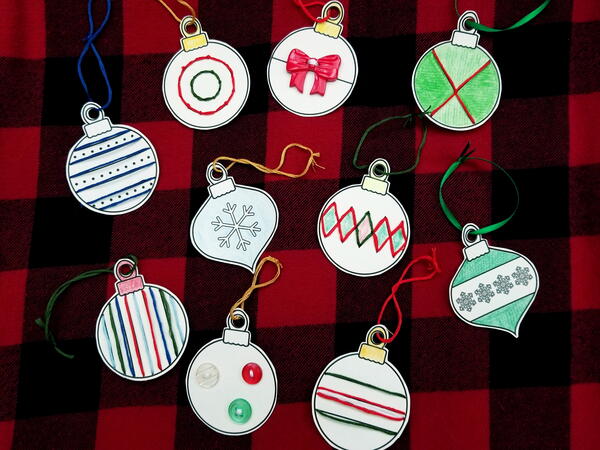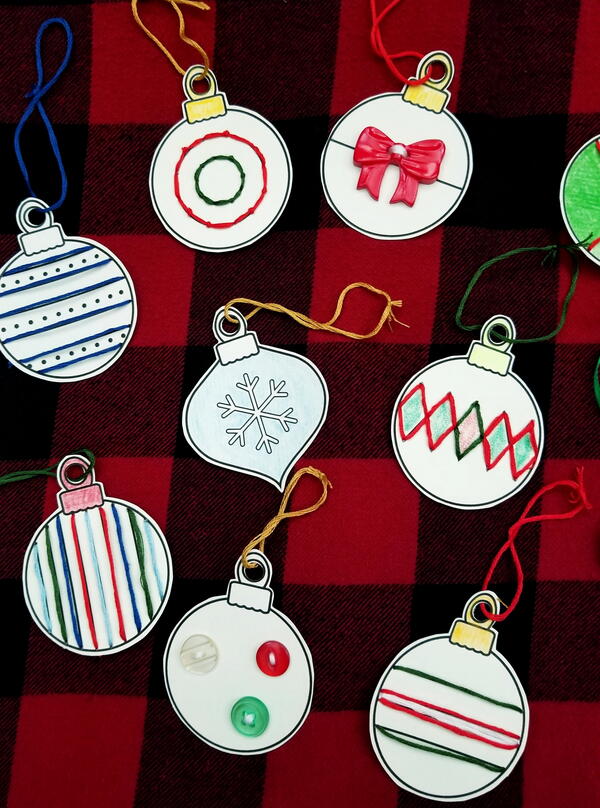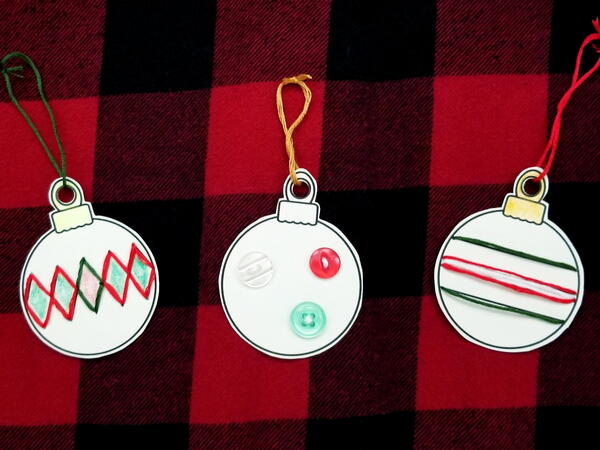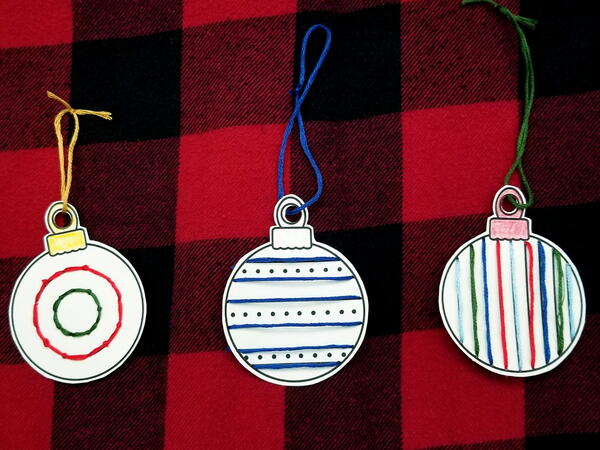 Your Recently Viewed Projects