Hanging Kitchen Towel Pattern (+ Video Tutorial)
Learn how to make a hanging kitchen towel with our simple tutorial. Watch the video or read the instructions.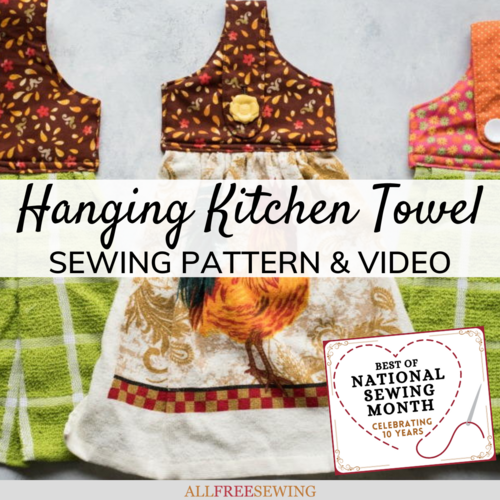 Spruce up your kitchen by making this super cute Hanging Kitchen Towel Pattern and video tutorial. Not only are these a pretty piece of decor when hanging in your kitchen, but they are also super practical for kitchen use.

These hanging dish towels look cute and are made using actual dish towels, which are absorbent. If you've found the perfect dishtowels but there is no way to hang them, then this is the perfect project for you. Or, maybe you are going to go find towels and fabric that match your kitchen so that you can make these beauties.

So, whether you have an abundance of dish towels but aren't really sure what to do with them anymore or want to buy something new, it's easy to transform them into kitchen towels with hanging loops or make something from scratch. This is a fun and easy sewing project that anyone can do and appreciate.

We have a sewing video tutorial to walk you through it. If that's not your style or you would like additional instructions, be sure to follow along with the written tutorial including pictures below.
 
Materials Needed
Sewing machine
Thread
Pattern (click to print)
Thin batting
Fabric (about the size of a fat quarter)
Kitchen towel
Pins
Scissors
Button (snap is an alternative option)
Skill Level:
Easy
Project Type:
Make a Project
Time to Complete:
Under an hour
Sewn By:
Machine  
How to Make Hanging Kitchen Towels Video Tutorial
There are several variations you can have within this pattern, including your own choice of fabric and towel. You can also choose to sew the hanging towel in pleated or gathered form.

Add a button that matches your style with the traditional buttonhole, include a snap to make it easier, or even attach magnets. Whatever you desire for your own kitchen or when making this as a gift!

Just click the play button on the video right below and Mary Beth is going to explain everything you need to know about making these DIY hanging towels.
 
Hanging Kitchen Towel Pattern Tutorial
Print out the PDF pattern, cut the two pieces out, and tape them together so that the hanging flap outline lines up with the top of the bottom piece outline (see the second image below).

Note: Leave a little extra below the end lines on the flap piece (shown in the first image below).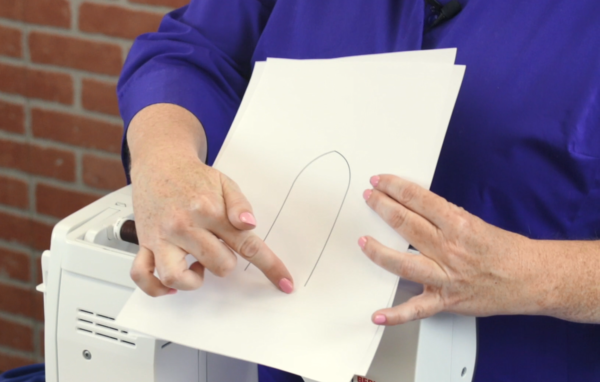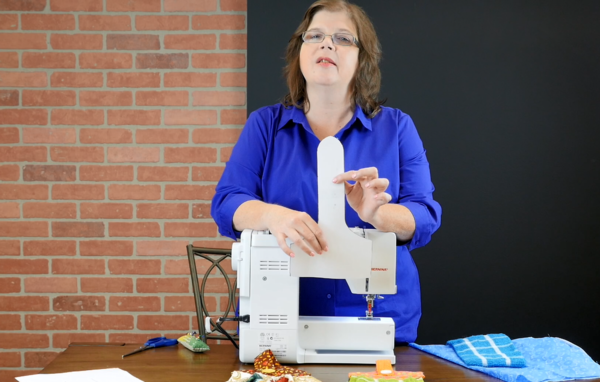 Use the taped pattern to cut out a piece of batting of the same shape.
Cut out two pieces using the paper pattern from your fashion fabric.

Tip: Pick a fabric pattern that doesn't have a strong directional print. This will help you get as much use out of your fabric as possible.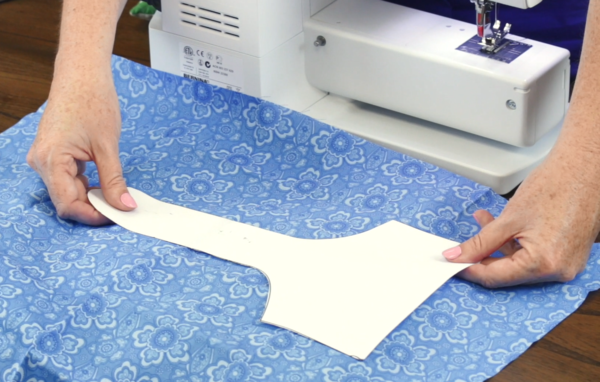 Take a dish towel, new or old, fold it in half, and then cut along the fold. 

Recap: Now you should have your half of a towel, the piece of batting in the shape of your pattern, and your two pieces of fashion fabric in the shape of your pattern. 
Pin your two pieces of fabric and the batting together, with the batting on the bottom and two pieces of fabric right side facing right side. 
With a sewing machine, sew along three sides using a 1/2-inch seam allowance. You will leave the bottom edge of the pattern open so that you can turn the piece inside out and insert the towel in there later.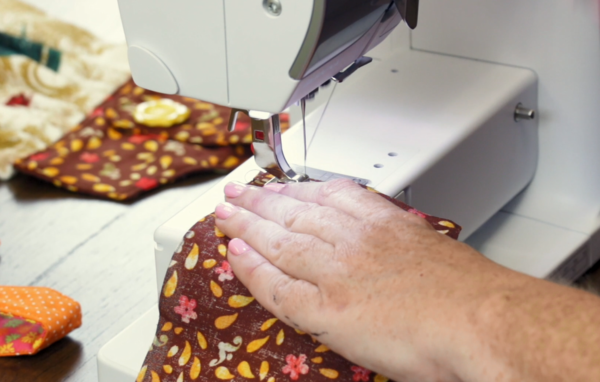 Before you turn your piece right side out, clip the corners, and then looking at the curved section of the stitching make some short diagonal cuts so that the fabric will lay better.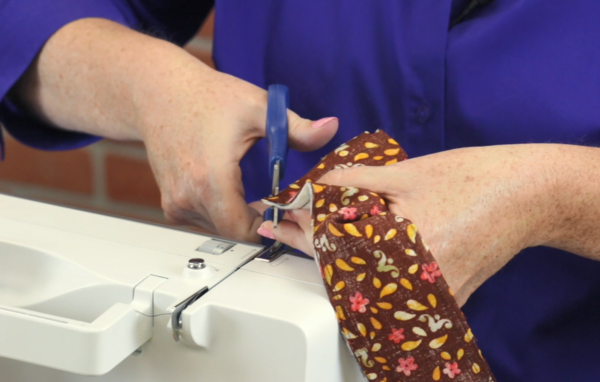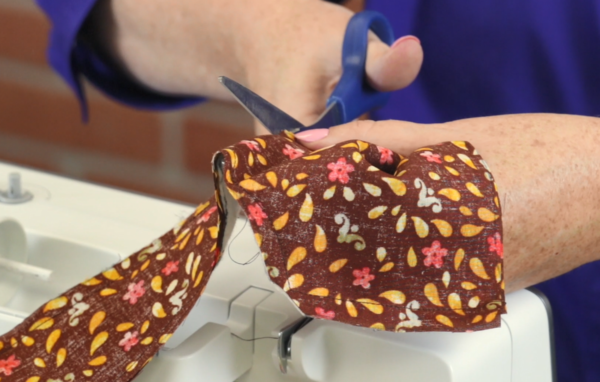 Before you turn your piece right side out, clip the corners, and then looking at the curved section of the stitching make some short diagonal cuts so that the fabric will lay better.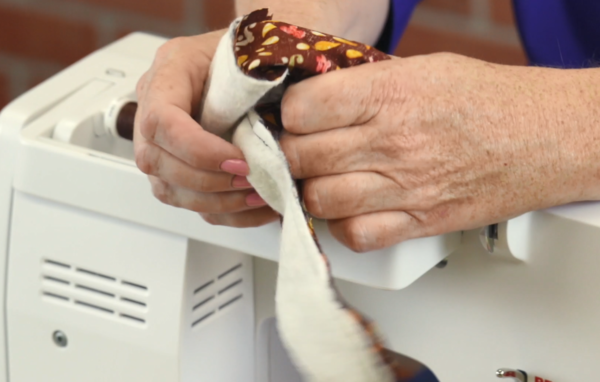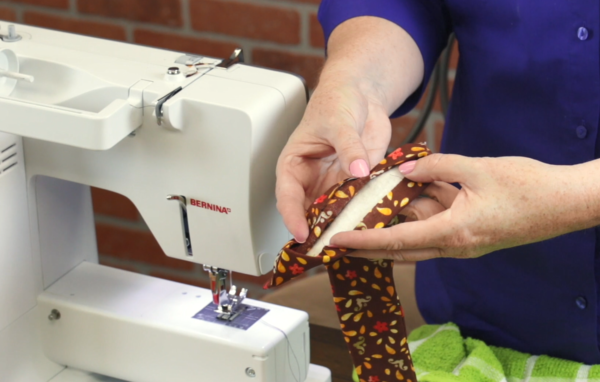 You can create gathers or pleats when adding your towel to your top piece, so gather or pleat your towel down until it can fit into the opening (approximately six inches). Pin that in place. 

Note: Leave at least a half-inch of towel inserted into the opening to keep it secure and from falling apart with wear and tear.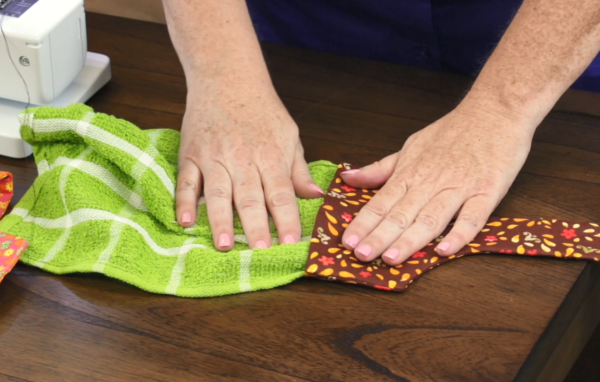 Sew a top stitch on the bottom of the fabric part and then all the way around the piece, and then along the bottom again for sturdiness.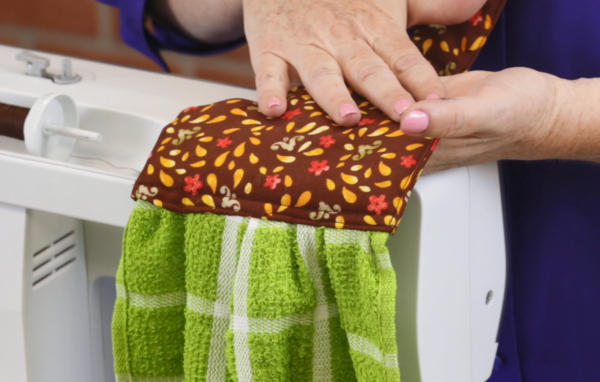 In order to be able to close your hanging loop, you can choose to make a button hole and attach a button, or you can sew the button on for decoration and add a snap.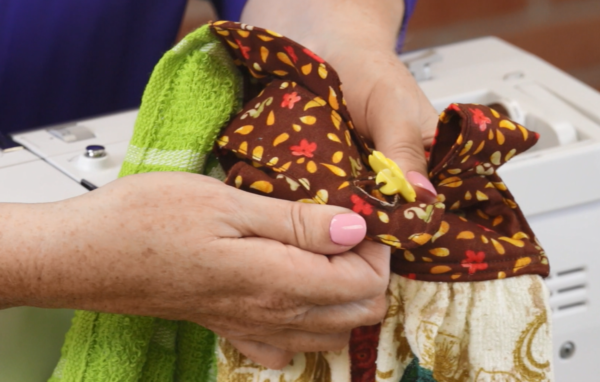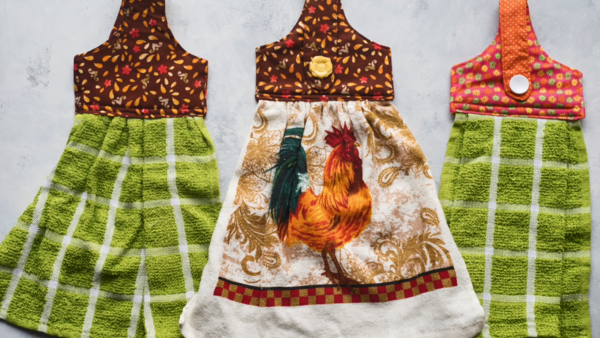 Your Recently Viewed Projects