30+ Shirt Dress Patterns Free
This list has patterns for shirt dresses of all types. One- and two-piece t-shirt dresses, plus upcycled shirt dress makes for both adults and children.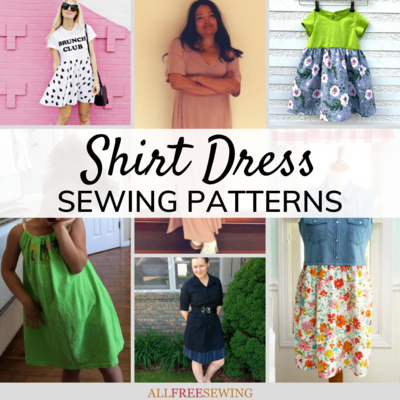 When it comes to tutorials and patterns for shirt dresses, there are plenty of options that result in different looks. Dress your look up or down by using different types of shirts.

This list of 30+ Shirt Dress Patterns Free focuses on that variety and has plenty of choices for all ages.

Start off with two-piece DIY t-shirt dresses for women that have a classic color-block style that few can resist. Next up, look through the women's one-piece t-shirt dress patterns. These beautiful designs range from short to long, tight to loose.

Our third section is even thriftier! With the upcycled and refashioned shirt dress patterns in this section, you can bust your stash and create a fashion-forward piece that's truly unique and stylish!

Lastly, the kids are up! This section features classic and upcycled dresses made from assorted shirt styles.

Whether you're looking for a free toddler t-shirt dress pattern or a DIY shirt dress for your middle schooler, you'll find it there.

Shirt dresses are fantastic wearables for spring, summer, and fall. With some creative layering, winter is fair game as well. This style of dress is always on trend as well, so you never have to worry about looking old-fashioned.

P.S. Sign Up For More Free Patterns You'll Love!
Table of Contents
Two-Piece T-Shirt Dress Patterns Free
For a classic shirt dress look, this is the perfect section to start with. By combining a shirt with a complementary skirt fabric, the end result is a casual yet chic DIY dress that everyone will be drawn to when you wear it out.

So, take a look at the options below and see how to make a simple shirt dress using your favorite shirts that you want to refashion into an everyday dress.
One-Piece T-Shirt Dress Patterns
One-piece dresses are fairly common but what takes it to the next level is using the t-shirt dress idea to make it ultra comfy and cool. It's essentially a long t-shirt or tunic but you can make it as short or as long as you'd like.

With this much customization, it's a must-make style of shirt dress patterns and these are all free to you! Choose your favorite cotton or stretchy and breathable fabric and you'll be sporting a new cute dress in no time.
Upcycled & Refashioned Patterns for Shirt Dresses
For the ultimate thrift store refashion idea, use old shirts! This section focuses on more unique free shirt dress patterns that may not resemble shirts as closely as you've seen so far on this page.

If you are looking to make a dress from a men's dress shirt or even a button-down women's shirt, there are designs you'll love below. You'll also find denim, flannel shirt dresses, two-shirt combo dresses, and more.
Children's Classic & Upcycled Shirt Dress Patterns Free
In this section, find the perfect free toddler t-shirt dress pattern and more! Gals of any age have a DIY shirt dress waiting for them here. There are lots of refashions and upcycles using adult or oversized shirts that are perfect for kids.

You'll also find a few classic shirt dress patterns for kids that rival the adult versions. Children love shirt dresses because they are comfortable, easy to wear, washable, and oh so cute.
PLUS: Pin 30+ Shirt Dress Patterns Free on Pinterest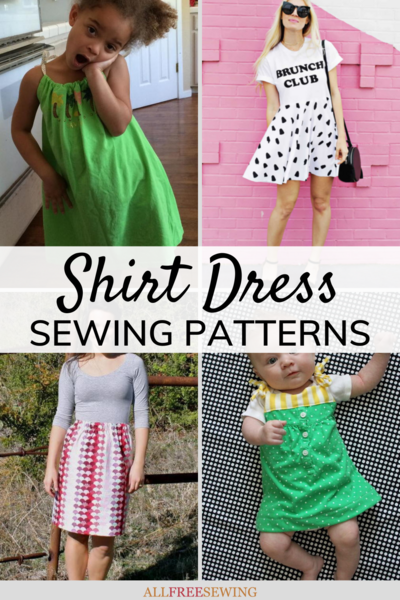 Your Recently Viewed Projects