15+ Free Shift Dress Patterns
Are you ready for the coolest shift dress patterns, free? These beautiful shift dress patterns are sure to please! Find styles for every type here.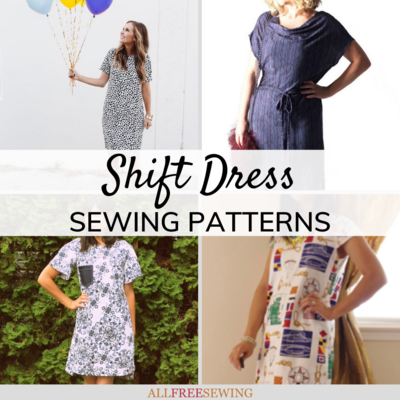 There is nothing more comfortable, couture, and cute than a shift dress.

There's no need to agonize about your daily wear when you can roll out of bed, throw on a shift dress, and step outside looking like a celebrity. Pair it with anything from stilettos to tennis shoes, and you'll look fashion-forward wherever you go!

If you're as crazy about shift dresses as the world of high fashion is, then you'll love this sewing list.

Using these 15+ Free Shift Dress Patterns, you can fill your closet with these trendy cut-and-wear shift dresses all season long (or any season, actually)!

With a straight, clean silhouette starting from the shoulders, this loosely fitting dress is a stunner on every body type.

This cut is flattering on everyone, so you won't want to go back to your slips and princess skirts after following a shift dress tutorial or two!

Not only is the shift dress hot right now, but it's also timeless. Inspired by both the flapper dresses of the Roaring Twenties and the mod dresses of the Swinging Sixties, this dress has survived nearly a century of fashion overhaul.

There's a reason why it's still so popular! The boyish cut of the shift dress is playful and cute, and it is guaranteed to make you feel young whenever you wear it.

Don't wait another century to try out this simply stunning dress.

With everything from short-sleeved staples to scallop-hemmed masterpieces, this list of sewing patterns for shift dresses will kickstart your retro aesthetic in minutes!

Sign Up For More Free Patterns
Table of Contents
Short Sleeve Basic Shift Dress Patterns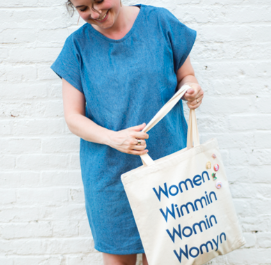 Why mess with a classic? These short sleeve basic shift dress patterns are just what your wardrobe needs to keep you cool and stylish on sunny days.

Without restrictive sleeves, shift dresses are more comfortable than ever, and you'll never want to take off these precious designs!

Simple yet elegant patterns, like the Two-Hour Summer Shift Dress (shown), will allow you to channel your inner fashionista whether you're at the farmer's market or an art show.
Bell Sleeve, Tank Top, and Long Sleeve Shift Dress Patterns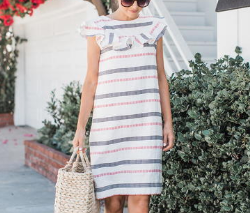 Another great part about shift dresses is their unending versatility. Though they most frequently come in youthful short sleeve designs, shift dresses can look stunning will all sleeve lengths and styles. From tank tops to long-sleeves, these shift dress variations will have you looking high fashion in minutes.

You can even get a boat-neck semi-short-sleeved look with the DIY Ruffle Yoke Shift Dress (shown)! With all of these fabulous choices, you won't need to look anywhere else for sewing inspiration.
Shift Dress Patterns (With a Little Something Extra)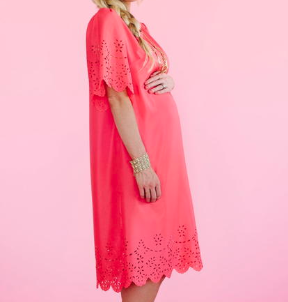 Shift dresses are known for their elegant simplicity, but if you're the fashionista who likes to put a little extra pizzazz in her ensemble, then this list is for you!

You'll have everyone jealous of your look with these striking takes on the classic shift dress patterns.

Give the classic shift dress design a chic update with added accouterment, daring sleeves, and eye-catching hems, like on the Flutter Sleeve DIY Shift Dress (shown). So much beauty, so little time, right?
Your Recently Viewed Projects