74+ Free Printable Sewing Patterns
Don't break your budget on expensive sewing patterns and print off one of these free sewing patterns PDF downloads today! From accessories to clothing for kids to adults, this page has it all.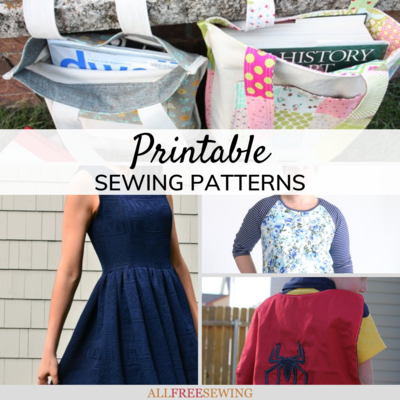 Tired of finding patterns or tutorials you absolutely love and want to try, only to find out that the blog post is simply a tutorial or a blurb about a project?

Do you often find projects you yearn to make and become increasingly frustrated with sewing ideas that don't come with free printable sewing patterns?

Well, you're in luck, because we have started to collect all of our printable sewing patterns into one place. With this huge list of free sewing patterns pdf available for download, you'll be all set and ready to sew!

There are plenty of free printable sewing patterns for beginners, too, on this page of 74+ Free Printable Sewing Patterns. We have found the best sewing patterns and tutorial PDFs that you can easily download and get sewing.

I love printable patterns in all sorts of crafting, and for many reasons. A printable page doesn't have to be printed. Most of these projects come with PDFs that can be downloaded and pulled up whenever you need it.

However, if you want to print, you're good to go. A printable format means less paper and ink because it's condensed and handy for when you are ready to work.

Skip the store-bought ideas, save some money, and delight in the best DIY ideas out there. There are a ton of printable sewing patterns below, and we promise to keep adding more! Our page full of free patterns to download is sure to contain your next project.

All of the projects linked here come with downloadable sewing patterns that you can print out and use to create stunning pieces. Patterns from the store can be expensive! You're only a few clicks away from viewing the sewing pattern printable PDF options or printable tutorials here.

These bloggers and sewing pattern designers are pros and have made it even easier for you to access their patterns. Whether they offer a PDF or simply have a print button that lets you create a copy without the extra elements on a webpage is much more useful.

Sign Up for Free Patterns >>>
PLUS: If you need a little help reading your new printable sewing patterns, check out the video below! Our friend and sewing expert, Angel Hickman Peterson from Fleece Fun, will walk you through how to read a sewing pattern.
Table of Contents
Your Recently Viewed Projects