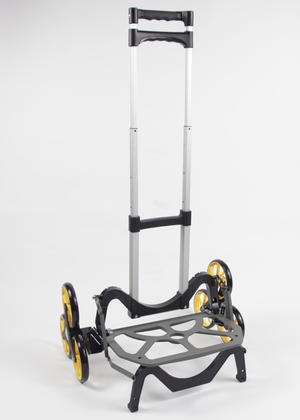 UpCart
Gifted by: Trifold LLC
upcart.com
Reviewed by Dana Byerwalter, Editor, AllFreeSewing.com

Stability and mobility are praises sung of the UpCart, Trifold LLC's innovative new folding cart. Complete with stair-climbing, all terrain technology, the UpCart makes transit of heavy items easy and efficient.

The UpCart is not your typical folding hand cart, and the distinguishing feature is the three-wheel design. This design revolutionizes the folding hand cart by improving balance, easing mobility, and reducing pressure. The UpCart allows users to balance the weight on four wheels instead of two, creating a flat and even base for transit of heavy objects.

Mobility deserves the majority of space in this review---after all, the cart takes you from A to B---and the ways in which this three-wheel design improves mobility are really incredible. I can't emphasize enough how this design is truly innovative, and I am astonished that a person came up with this idea! As mentioned, four wheels touch the ground at any given time, creating a stable base as you move heavy objects from place to place. The third wheels enable you to climb stairs and maneuver over other rough terrain. Think of the challenge a sidewalk curb provides when you are rolling a regular hand cart along. Wheelchairs, scooters, and even bicycles struggle to get over an angular, raised curb. The UpCart defeats the challenge curbs and stairs provide through this three-wheel technology. Best shown in a video, the three wheels rotate when encountering an obstacle (like a stair or curb), enabling the cart to climb. The cart stays level while climbing stairs so the load you're transporting does not wobble or fall.

Speaking of transporting bulky items, the UpCart can hold up to 100lbs! The cart is great for moving cabinets, bookcases, and heavy craft supplies. Speaking of craft supplies, the UpCart is popular among sewists. Secure your sewing machine, bolts of fabric, notions, and more on the UpCart, and transport even your heaviest supplies with ease. You don't have to worry about carrying a sewing machine any distance or trying to roll it upstairs with standard, soft-sided craft storage that typically has just two or four tiny luggage wheels. The UpCart means you don't have to leave anything behind or worry, even if your sewing destination is a friend's fourth-floor apartment.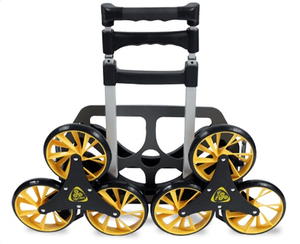 The UpCart folds down for compact, easy storage for a depth of just over four inches! The wheels make this hand cart a bit heavier than I originally expected, but this is the only slight drawback I've been able to think of as I review this cart. The handle is adjustable and the cart props up easily on a sturdy base, keeping your items level in transit and when stationary.

Other stair-climbing carts involve some powered mechanism, driving the price up to hundreds or even thousands of dollars for industrial use. The UpCart is the everyday, manual alternative that eases the pressure and climbs stairs effectively, too. Transport your sewing supplies, furniture, groceries, and more with this innovative mobility solution.
See the UpCart in action below!
Your Recently Viewed Projects