Bright Solids Modern Quilt Pattern Free
This georgeous and modern free rainbow quilt pattern is a must-make! It's large, vibrant, and oh so fun.
Is it possible to look at this gorgeously vibrant quilt without smiling? The Bright Solids Modern Quilt Pattern is a free and impressive pattern that any quilter will want to add to their to-quilt list.

These colors are modern, mixable, and full of possibilities and excitement. Learn how to make a quilt that will bring a rainbow of happiness to your home. The Denyse Schmidt Modern Solids are a delicious selection of FreeSpirit solids.

One side is full of tiny bright squares and triangles of different ROYGBIV colors that come together in the most beautiful way. Within the pattern, you see the small triangles and squares you cut out and assembled but that's not all.

Geometry is hard at work in this brilliant DIY quilt. Look closer and you'll start to see larger squares made up by smaller squares and triangles. You'll also see stars popping out across the fabric.

On the other side, it's a cleaner, simpler, and just as pretty design of rainbow stripes. Your eyes are drawn to the warm colors and it slowly fades to the cooler shades. The modern style will attract modernists and traditionalists alike.

The toughest part of making this free modern quilt pattern and having the wonderful homemade quilt in your home is determining which side you want to feature.

Join Sewing It Up For More Free Patterns, Tutorials, & Guides >>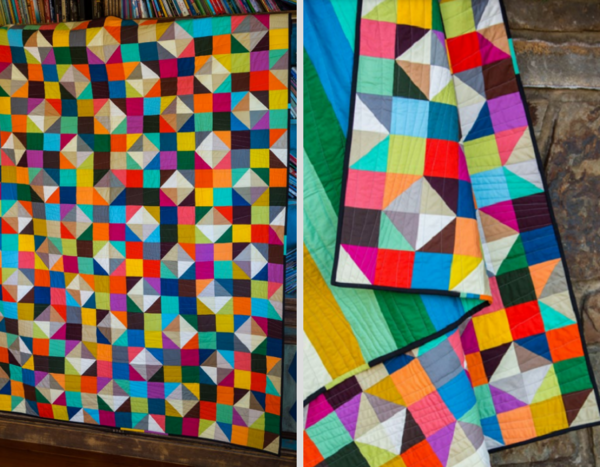 Bright Solids Modern Quilt Pattern Free
Materials List:
• Fat Quarter of the following FreeSpirit Denyse Schmidt Modern Solids:
      BRIGHTS
      (A) Baltic - CSFSESS.BALTI
      (B) Brass - CSFSESS.BRASS
      (C) Cactus - CSFSESS.CACTU
      (D) Chamois - CSFSESS.CHAMO
      (E) Chartreuse - CSFSESS.CHART
      (F) Evergreen - CSFSESS.EVERG
      (G) Fern - CSFSESS.FERN
      (H) Flamingo - CSFSESS.FLAMI
      (I) Kumquat - CSFSESS.KUMQU
      (J) Macaw - CSFSESS.MACAW
      (K) Mango - CSFSESS.MANGO
      (L) Mesa - CSFSESS.MESAX
      (M) Mist - CSFSESS.MISTX
      (N) Petunia - CSFSESS.PETUN
      (O) Salt - SCSFSESS.SALTX
      (P) Saffron - CSFSESS.SAFFR
      (Q) Seaweed - CSFSESS.SEAWE
      (R) Sky - CSFSESS.SKYXX
      (S) Solar - CSFSESS.SOLAR
      (T) Spark Gold - CSFSESS.SPGLD
      (U) Sunset - CSFSESS.SNSET
      (V) Tropical - CSFSESS.TROPI
      (W) Tweed - CSFSESS.TWEED
      (X) Vino - CSFSESS.VINOX

      NEUTRALS
      (Y) Camel - CSFSESS.CAMEL
      (Z) Canyon - CSFSESS.CANYN
      (AA) Chonia Brown - CSFSESS.CHONA
      (BB) Desert - CSFSESS.DESER
      (CC) Dogwood - CSFSESS.DOGWD
      (DD) Mineral - CSFSESS.MINER
      (EE) Sand Dune - CSFSESS.SANDD
      (FF) Shadow - CSFSESS.SHADO
      (GG) Slate Grey - CSFSESS.SLATE
      (HH) Sycamore - CSFSESS.SYCAM

• 5/8 yard (57.15cm) Binding in color of your choice
• 4-1/4 yards (3.89m) Backing in color of your choice
• 68" x 80" (172.72cm x 203.20cm) Batting in color of your choice
• Coordinating Coats & Clark Dual Duty XP® all-purpose thread
• Sewing machine
• Rotary cutter/mat/ruler
• Basic sewing and pressing supplies

Pieced:
Purchase 1/4 yard (22.86cm) each of (23) Designer Essentials Solids colors of your choice

Cutting:
Fabrics A-X (brights), cut from each:
      (1) 6" (15.24cm) square
      (10) 3-1/2" (8.89cm) squares
Fabrics Y-HH (neutrals), cut from each:
      (6) 6" (15.24cm) squares
Fabric II, cut:
      (7) 2-1/2" x WOF (6.35cm x WOF), for binding
For a pieced backing, cut:
      (2) 4" x WOF (10.16cm) from each of (23) colors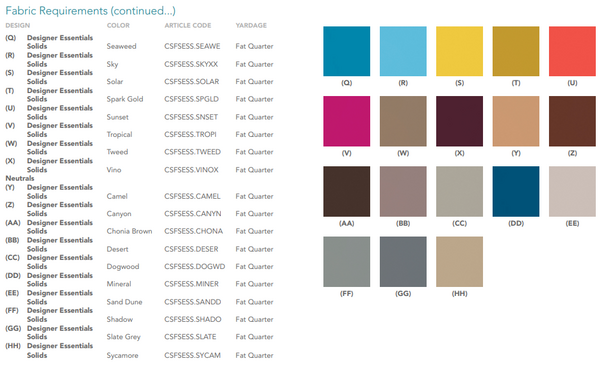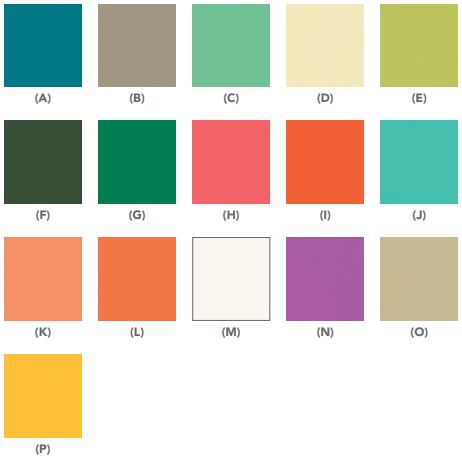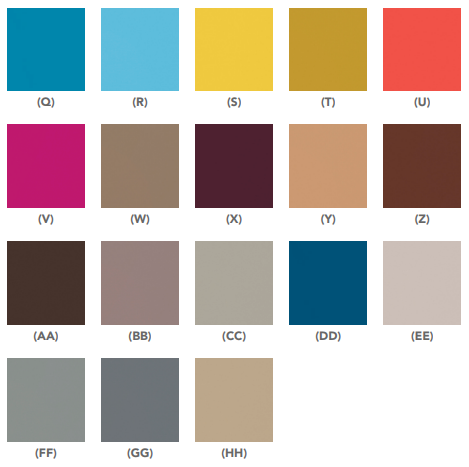 Skill Level: Easy
Project Type: Make a Project
Time to Complete: Longer Than a Weekend
Sewn By: Machine and By Hand
 
Bright Solids Modern Quilt Pattern
Note: All seam allowances are a scant 1/4"(.64cm) unless otherwise noted. WOF means Width of Fabric.
Sewing Instructions:
Draw a line from corner to corner in each direction on the back of the (60) 6" (15.24cm) Fabric Y-HH neutral squares. Pair a marked neutral square with a 6" (15.24cm) Fabric A-X bright square, with raw edges aligned. Sew a scant 1/4" (.64cm) seam around the entire square, backstitching at the beginning and end of the seam.

Cut the triangles apart on the marked lines (Fig. 1 below) to make (4) half-square triangle units (HST) and press the seam toward the darker fabric. Trim each HST unit to 3-1/2" square. Repeat to make a total of (240) HST units.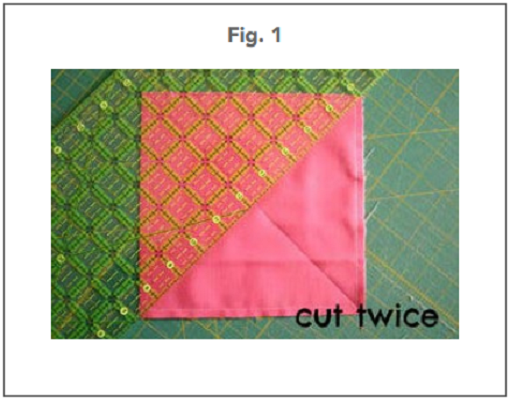 Lay out (8) assorted HST and (8) 3-1/2" (8.89cm) assorted bright squares in (4) rows of (4) units each (as shown in Figure 2 below). Note the orientation of the HST to make the block patterning.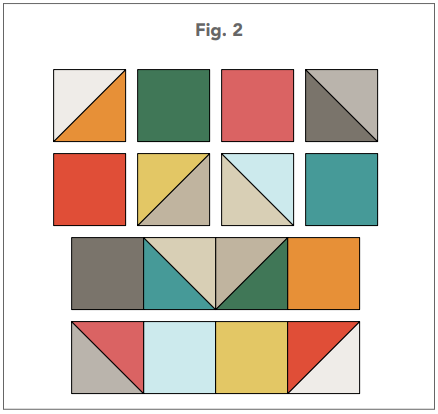 Sew the units together in each row, pressing the seams in alternate directions for adjacent rows. Sew the rows together in order to make the block. Repeat to make a total of (30) blocks.
Quilt Top Assembly Instructions:
Lay out the blocks in a pleasing order, creating (6) rows of (5) blocks each.
 
Sew the blocks together in each row, then sew the rows together in order, matching adjacent seams in both instances. Press the seams in one direction.
Pieced Backing:
Sew together the short ends of all matching strip pairs. Press the seam open.
 
Sew together the strip long edges in the desired color arrangement. Offset the seams slightly to help the backing lie flatter, even though the side edges may be a bit uneven, as there is plenty of width.
 
Press the row seams in one direction and trim the backing to 68" x 80" (172.72cm x 203.20cm).

Layout shown below.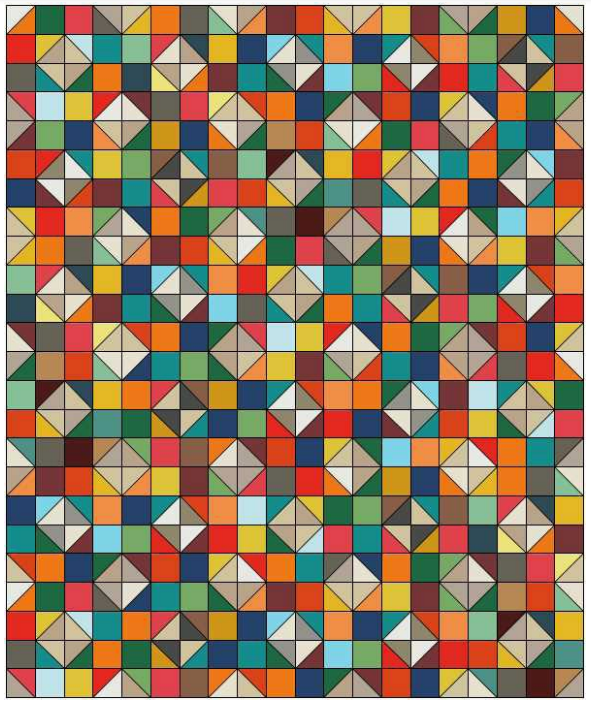 Finishing Instructions:
Sew together the (7) 2-1/2" x WOF (6.35cm x WOF) Fabric II binding strips end to end using diagonal seams. Press the seams open. Press the binding strip in half wrong sides together.

Tip: Mix some leftover scraps of brights in with the Fabric II binding strips for pops of color.
 
Layer the backing (wrong side up), batting, and quilt top (right side up). Baste the layers together and quilt as desired. Trim excess batting and backing even with the top after quilting is completed.
 
Leaving an 8" (20.32cm) tail of binding, sew binding to top of quilt through all layers matching all raw edges. Miter corners. Stop approximately 12" (30.48cm) from where you started. Lay both loose ends of binding flat along quilt edge.

Where these two loose ends meet, fold them back on themselves and press to form a crease. Using this crease as your stitching line, sew the two open ends of the binding together right sides together. Trim seam to 1/4" (.64cm) and press open. Finish sewing binding to quilt. 12.
 
Turn the binding to the back of quilt and hand-stitch in place.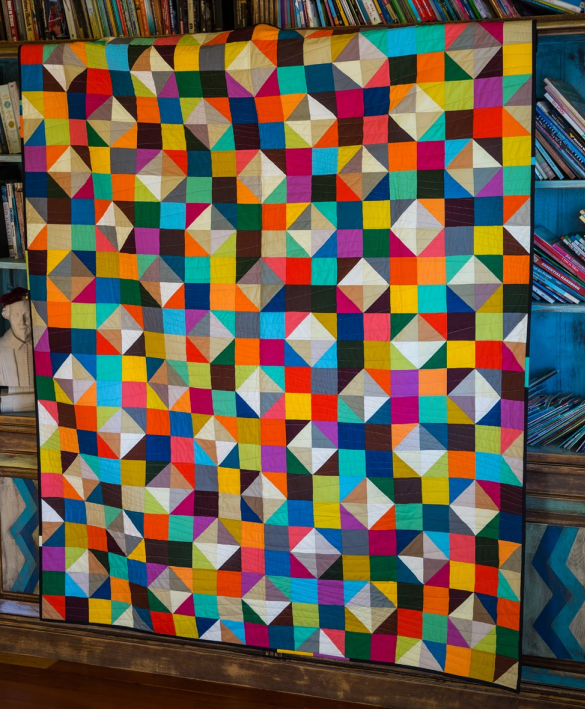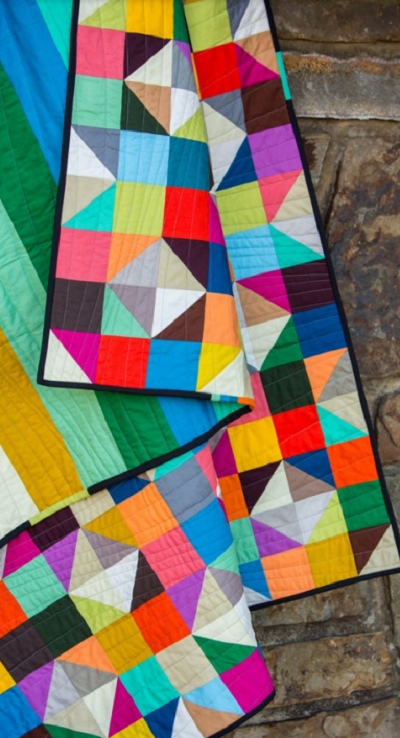 Your Recently Viewed Projects