What Type of Thread to Use: A Sewing Guide
How do you choose the types of sewing thread to use for each project? Find out here!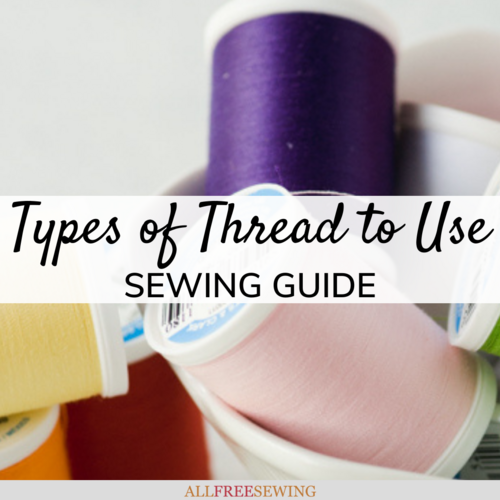 Just like finding the right fabric and the right needle for your patterns, finding out what thread to use is an important step to moving from amateur sewist to smart seamstress.

When you truly know your materials well, you can begin to master the art.

When it comes to the art of sewing that means knowing your fabric and knowing the types of thread you should be using as you begin to explore more and more sewing projects is going to save you from creating projects to rip or fall apart.

Knit or stretchy fabrics, for example, need to be paired with a type of thread that has some give to it or else hems or edges may bunch up or the thread will rip.

Luckily, our What Type of Thread to Use: A Sewing Guide is here to give you the low down on sewing thread and where it goes. Along with our tips, we even have a handy infographic for you to download.

Sign Up For More Free Patterns >>>

PLUS! As an added lesson, scroll down to take a look at the video tutorial at the bottom of this page. Our friend Angel Peterson provides lots of helpful information about choosing fabric for sewing. With a fabric and thread guide, you will be all set to sew.
 
What Type of Thread to Use: Table of Contents
Sewing Thread Information: General Rules
The difference between figuring out what type of thread to use and what type of fabric to use really comes down to picking one before the other. If you know what fabric to use, it is actually pretty easy to pair your types of thread with your fabric.

Cotton thread, for example, works well with cotton fabric. That's easy enough to remember. Knowing what thread is what, however, is difficult as it is so thin and hard to really pin down on its own. This means it is very important to organize your thread once you've removed it from the packaging.

Here are some tips:
When you are sewing something that is going to need a stretch (knits, spandex) or is a very durable fabric (leather, polyester), a polyester thread is going to be your best bet.
 
Cotton pairs best with cotton thread, but keep in mind that thinner cotton threads can break easily and do not come equipped with much stretch.
 
The thickness and weight of your thread are both important to keep in mind, as well.
Also, for more information about
What Thread to Use for Quilting
specifically, be sure to check out the article from our sister site,
FaveQuilts
.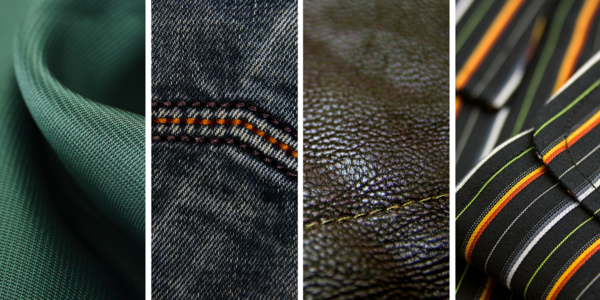 Types of Thread: Material Guide
When it comes to the numerous types of thread available for sewists, many want to know what type of thread to use for specific sewing projects and fabrics. Although you can mix and match certain threads and fabrics, this is a fantastic starting point.

Bobbin thread is used for bobbins and works well for most sewing machine fabrics.

Cotton thread works well for cotton, corduroy, denim, and knit fabrics.

Embroidery thread works well with most fabrics for decorative work.

Heavy-duty thread works well for canvas, denim, corduroy, chenille, suede, and polyester fabrics.

Metallic thread works well for leather, pleather, vinyl, and rubber fabrics.

Nylon thread works well for synthetic, polyester, spandex, tricot, and nylon fabrics.

Polyester thread works well for corduroy, stretchy knits, lace, netting, polyester, and spandex fabrics.

Silk thread works well for silk floss, twisted silk, silk ribbon, and stranded silk fabrics.

Upholstery thread works well for thick and heavy fabrics.

Wool thread works well for Persian wool, tapestry wool, crewel wool, and canvas fabrics.


That's not all! We made a handy little chart for you about when to use each popular type of thread. When should you use cotton thread? How about polyester? When should you use the smooth and strong silk thread you bought?

Check out the chart below and click here to download the sewing infographic.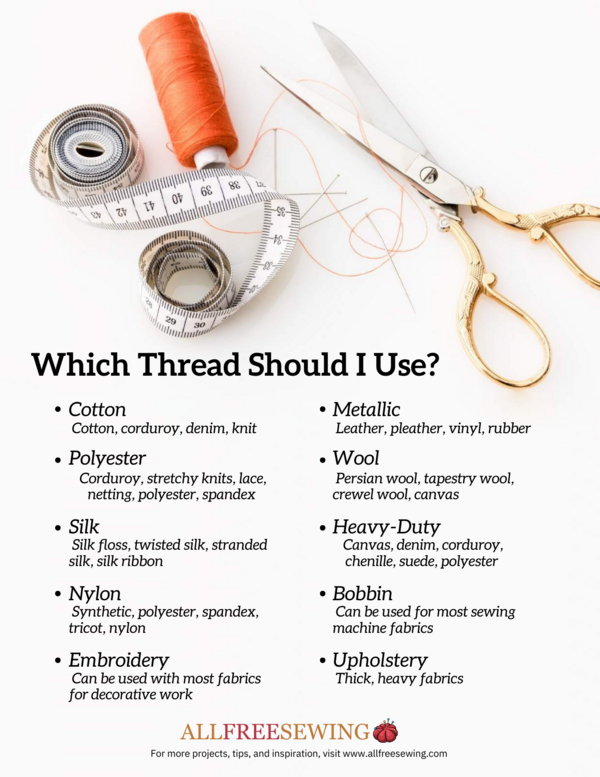 Beginner Sewing Thread Resources
If you're a beginner, then be sure to read these helpful pages. These resources will help you grasp basic techniques, speed up your processes, and get you on the right track to becoming a can-do-all sewist.
More Sewing Resources and Tips
BONUS! Types of Fabric Video
Take a look at our Sewing 101: Working with Different Types of Fabrics video below to learn more about fabric. We also have a Sewing for Beginners: Types of Fabric page that will provide you with even more information.
 
Your Recently Viewed Projects