18 Baby Onesie Sewing Patterns That are the Cutest Ever
Whether you're searching for DIY baby shower gifts or something new for your little one, don't miss these free baby onesie patterns, tutorials, and upcycles!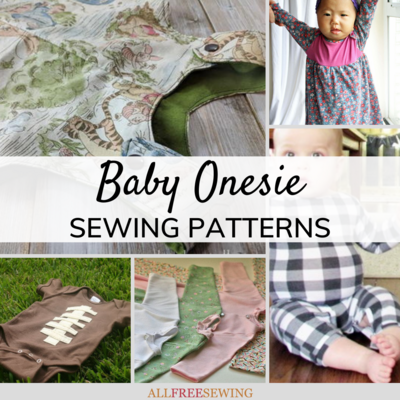 There is one baby shower gift that a new mom cannot get enough of! Adorable toys, baby shoes, and clever accessories are one thing, but when it comes to the best baby shower gifts it is best to go with something that is practical. Give the one sewing for babies idea that moms need every single day when you learn how to make baby clothes.

This collection combines the best tutorials from across the internet, allowing you to make DIY baby clothes that will last. Check out 18 Baby Onesie Patterns That are the Cutest Ever for all your baby clothes needs.

Onesies for babies are a clothing item babies wear every single day. Next to giving diapers, using a onesie pattern to make cheap baby clothes is one of the most creative baby shower gifts you can give that is practical too!

A one-piece clothing item is the perfect baby sewing idea because it is easy to make and new moms are always in need of new onesies. In order to keep little ones warm and comfy, you need to layer their clothing.

This means that nine times out of ten, a baby will be wearing a onesie for the day. Learning how to make a onesie helps eliminate the cost of buying them over and over again.

Sign Up For More Free Patterns >>>

PLUS! Watch a video tutorial to learn from Carolina Moore how to make a Sewn Cuddly DIY Blanket. It's the perfect gift to pair with a onesie for your next baby shower.
Table of Contents
How to Make Onesies for Babies
These patterns show you how to make a onesie for the baby in your life. Whether they are made from brand new fabric or upcycled, these onesies for babies are the real deal!

If you have ever taken care of a young child, you know that you will be changing their clothes almost as often as you change their diapers. Having these easy baby clothing patterns on hand is going to be so helpful for any mom.
Partial DIY Onesies (Refasioning Ideas)
If you do not have time to make DIY baby clothes, consider learning how to make a onesie cute with these adorable and quick ideas. In under an hour, you can learn how to monogram a onesie or how to applique something special.

Knowing how to make a onesie or being able to upcycle a cheap one can really help you save time and money. Plus, they're often cuter than the store-bought versions. These are also great last-minute baby shower gifts.
Your Recently Viewed Projects