Hands-on-Heart Mastectomy Pillow Pattern
This pretty, useful, and free breast cancer heart pillow pattern makes a thoughtful gift for post-op patients and charity.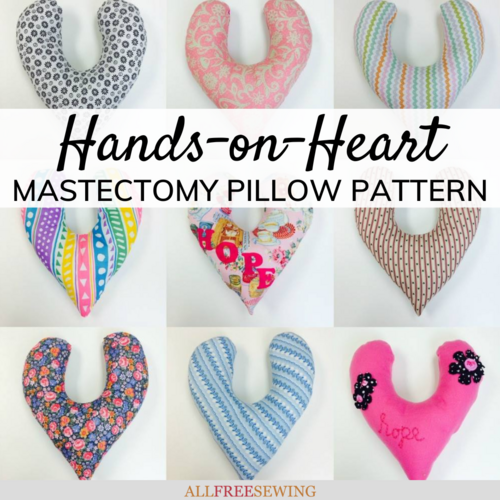 This Hands-on-Heart Mastectomy Pillow Pattern is a lovely idea that's incredibly thoughtful and beneficial as well. Whether you make it for a charity or decide to create this pillow for someone you know, this DIY post-op pillow from Fairfield makes a great project.

A mastectomy heart pillow isn't just cute (even though it certainly is!) but the shape is ideal for comfort.

Designed for post-op patients suffering from breast cancer, this pillow works by providing relief to any pain in the breast tissue or lymph nodes after surgery. The pillow, shaped like a heart, fits underneath a patient's arm.

Download this easy template for free and enlarge it to 200% to guarantee the best results.

You'll love making this easy pillow and passing it along to someone in need. For a functional and caring gift, learn how to sew this pillow from Fairfield.

Sewing for breast cancer patients and other people in need is one of the best reasons to learn this skill. Giving back to charity with hand-sewn gifts will provide love and comfort to the people who need it most.

Join Our Sewing It Up Newsletter For More >>
            
Hands-on-Heart Mastectomy Pillow Pattern
Materials List:
  • Poly-Fil® premium polyester fiberfill (approx.. 7oz per pillow)
  • (2) 12" x 12" squares of fabric
  • Thread to match
  • Piece of plain paper for the template
  • Template
  • Sewing needle
  • Scissors
  • Other basic sewing notions

Skill Level: Easy
Project Type: Make a Project
Time to Complete: Under an Hour
Sewn By: Hand (Note: Machine can be used if preferred)
 
Mastectomy Pillow Pattern Free Instructions:
Trace the attached template on a folded piece of paper starting at the fold and moving outward so you end with the bottom tip of your heart back at the fold again.

With the paper still folded in half, cut on the drawn line and unfold it to reveal one large heart shape (use template, enlarged to 200%).
 
Trace two heart shapes onto your fabric and cut them out.
 
With right sides together, line up your fabric hearts.
 
Using a 1/4" seam allowance, sew around the edges of the heart, leaving a 2" section open for turning.
 
Turn right side out and stuff with Poly-Fil® until it is firm.
 
Whipstitch the opening closed.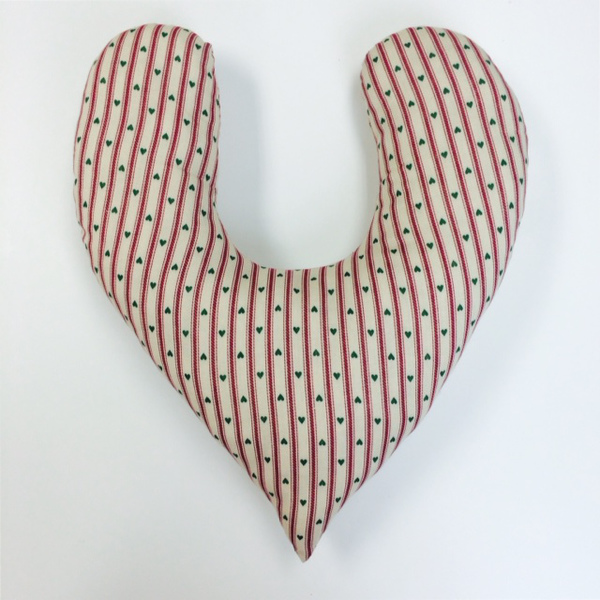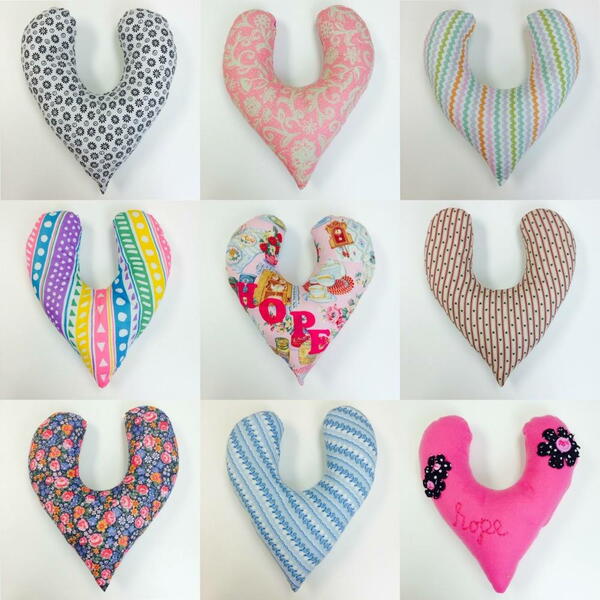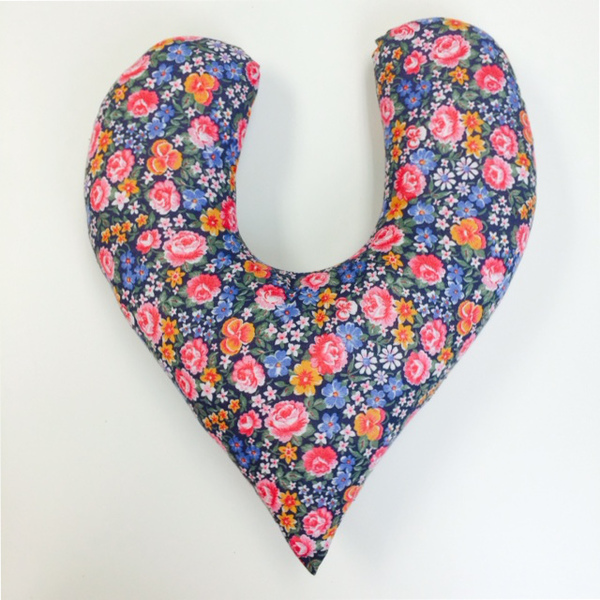 BONUS! Learn About the Breast Cancer Pillow Pattern Making Charity Event
As part of the introduction of this mastectomy pillow pattern free to our readers, we had a pillow-making party. Donations were made to the Hands-on-Heart Breast Cancer Pillow Charity Drive.

Boxes of Fairfield Poly-Fil Fiber Fill, Bernette sewing machines (including a pink one!), and troops of girl scouts all contributed to the heartwarming success of the pillow-making party.

As part of AllFreeSewing and Favequilts' efforts to contribute to the Hands-on-Heart Breast Cancer Pillow Drive, dozens of scouts filed into our headquarters with their troop leaders to partake in the event.

Together with crafting editors, the scouts collaborated to produce over thirty pillows for post-op breast cancer patients! Below you can see a collage of the sewing volunteer Girl Scouts.
 
From beginner sewists to scouts skilled enough to host their own sewing website, everyone who showed up to the event brought a ready willingness to learn and contribute to the greater good.

So, how did we all settle down to learn how to sew pillows? Thanks to BERNINA's generous support by lending us these gorgeous machines, the job was made much easier. We'll show you how we went through making pillows effectively, despite the sugar high from all of the donuts we consumed in the morning.

Tracing & Cutting the Pattern
Step one was pretty simple. With Fairfield contributing the free pattern to make these amazing pillows all we had to do was enlarge it by 200% so that it measured out at 12" x 12". Participants simply placed the pattern on their folded piece of fabric, traced around it with a fabric marker, and cut.

Sewing the Pillow
With their pieces freshly cut girl scouts moved to the Bernette sewing machines. Working from the bottom point, they sewed around almost the entire edge of the pillow with a 1/4" seam allowance, leaving approximately 4 inches open.

Filling the Pillow
Again, thanks to the wonderful folks at Fairfield we had an abundance of Poly-Fil on hand to stuff these pillows. After turning their newly stitched hearts right-side-in, the girls were ready to stuff.

Whipstitching It Shut
To tie an end to our event for the Hands-on-Heart Breast Cancer Pillow Drive we all used the basic whipstitch. This completed our medley of steps to creating these pillows for breast cancer patients.

Learn more about this by reading our Hands-On-Heart Breast Cancer Pillow Drive recap.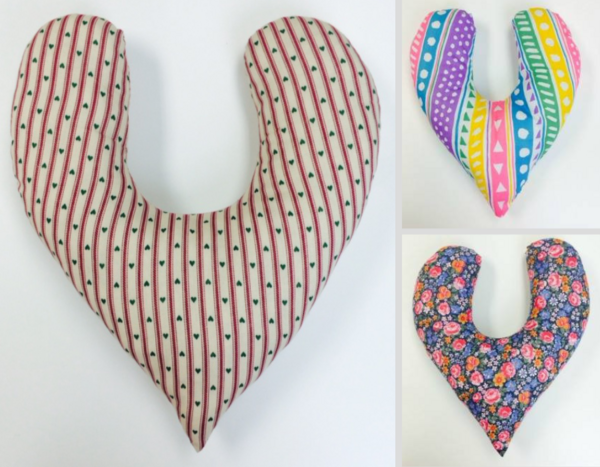 Your Recently Viewed Projects