How to Sew a Table Runner (Vintage Style)
With this video tutorial, you will learn how to make a table runner with a border.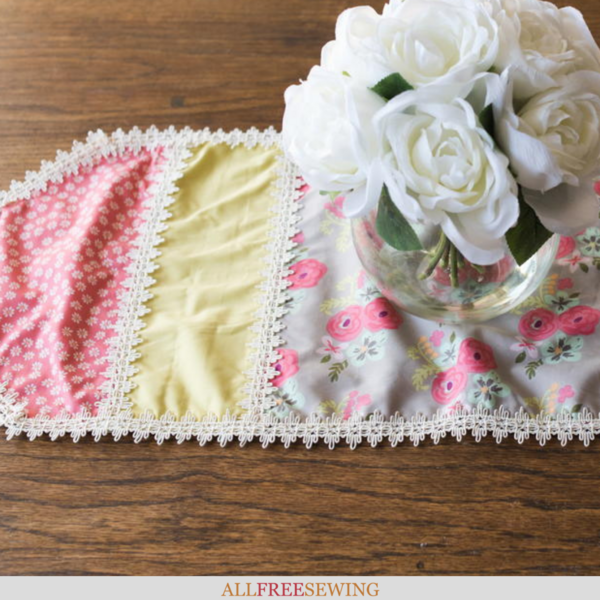 How to Sew a Table Runner Vintage Style
With this video tutorial, along with written instructions, you will learn how to sew a table runner that has a vintage style. Using traditional fabrics, a classic shape, and a vintage-inspired trim, you'll think it was passed down from Grandma.

However, it also has a touch of modern style that you'll appreciate. Plus, would you believe it's so simple that you can put together in one night? It's true!

This DIY table runner is a very easy combination of a few different pattern fabrics and some gorgeous trim. If you are looking for a fast and simple table runner tutorial, then you are going to want to watch this sewing video for this project.

You can also make it your own by mixing and matching different fabric pattern designs. This vintage table runner the perfect holiday decoration as well!

Sign Up For More Free Patterns >>>

Press play to watch the video tutorial below and then scroll down to find the materials and written instructions.
Project TypeMake a Project
Time to CompleteIn an evening

Materials List
Thread
Marking pencil
13" square central color
2 pieces 5" x 13" in second color
2 pieces 9" x 13" in third color for angled ends
1 piece 13" x 37" lining
4 yards trimming in coordinating color or style
Sew a Table Runner (Vintage Style)
Click on any image to enlarge.
How to Make a Table Runner with a Border:
Place your pieces of fabric that are going to be on the end so that their right sides are together.

Set your ruler down along the 13-inch side. Make a mark on both sides that are 2 inches down, then place a center mark on the long way of your fabric and mark where the center point is as well as a 1/2 inch on either side of your center mark. 

Using a rotary cutter, line your ruler up from the mark at the top that is 2 inches down and line it up with the mark that is 1/2-inch off center.
Repeat this with the other side. 

Sew all your pieces together with a 1/2-inch seam allowance. The pattern should be: decorative square in the middle, two solid rectangles on either side of that, and then the angled pieces you just cut on either end.

After you have sewn all your pieces together, press your seam allowances open. 

Cut the edges of your backing fabric the same way you cut the angles on your end fabrics. 

Top stitch your trimming on the top of the fabric on each of the 4 seams. 

Pin your backing fabric to your assembled top, right sides together, and sew all the way around using a 1/2-inch seam allowance. Leave a rather large opening in the center of the biggest fabric piece so that you can turn it inside out. 

Note: Before you turn it inside out, be sure to clip the seam allowance pretty close, and be sure to cut on the diagonal of every point so that it turns neatly.

Press the seam allowance in on the opening once you have sewn on your backing and turned your project right-side-out. 

Top stitch your trim along the outer edge of the assembled table runner. Make sure when you get to where the opening was, it is all folded under, and then close it. 

Pro Tip: "When you get to the corner, use your thumb to pinch up some of the trim. Then, place the rest of the trim is where you want it to be going. Then take your little folder and pull it out so you can turn the corner neatly." - Mary Beth Temple
When do you put out table runners? All the time or for special occasions?
Let us know!
Your Recently Viewed Projects