How to Make a Body Form
You won't believe how easy and budget-friendly a duct tape sewing dummy can be. With this tutorial, learn how to make a duct tape dress form you'll use every time you sew clothing!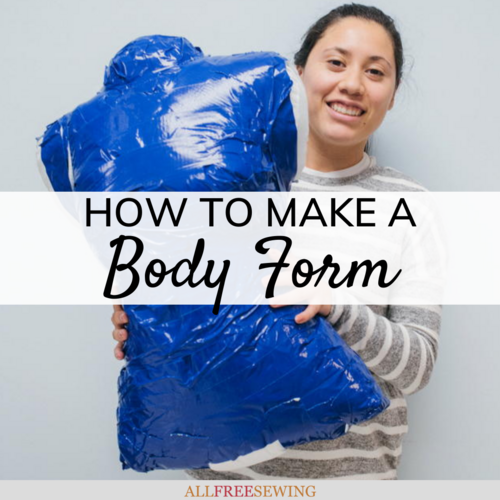 This How to Make a Body Form craft video is the perfect tool to help you shave off tons of try-on time on your next sewing project.

Having to repeatedly try on clothes can become so tedious when you're working on a garment, especially if you have to try it on and refit it time and time again.

This design is super thrifty and brilliant, perfect for anyone! We'll show you how to make a body form with duct tape, a pillow, and some cheap fiber filling.

Creating this DIY body form will help eliminate all of that wasted time because you can make it exactly with the body measurements you need.

While this video tutorial shows that it can be a slightly time-consuming process to make this body form, in the long run, it will save you tons of time on your sewing projects. It's customized to your shape, let alone simple and budget-friendly.


Sign Up For More Free Patterns >>>

 
How to Make a Body Form Video Tutorial:
If you are a visual learner, then just click play on the video below to watch step-by-step how to make your own DIY body form.

It's a simple but longer process and seeing how each part is completed is sure to help you get your own finished in no time. You won't believe the ease it takes to learn how to make a dress form with duct tape.
 
How to Make a Body Form:
Project Type: Make a Project
Skill Level: Beginner
Time to Complete: Under an hour
Sewn By: None

Materials List:
  - Polyester pillow
  - Duct tape
  - Old t-shirt (oversized and disposable - will be cut)
  - Cling film wrap
  - Loose fiber fill
  - Scissors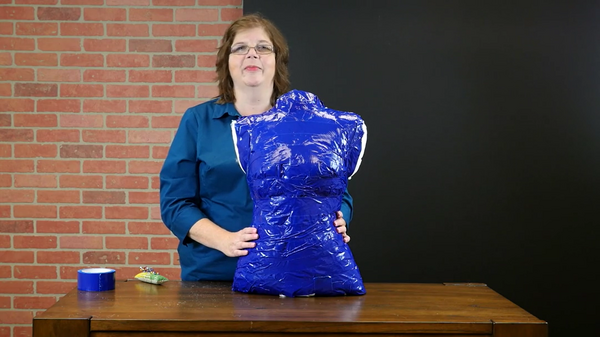 Body Form Instructions:
Wrap cling film wrap around the base of your model's neck (this will prevent you from getting duct tape on the neck).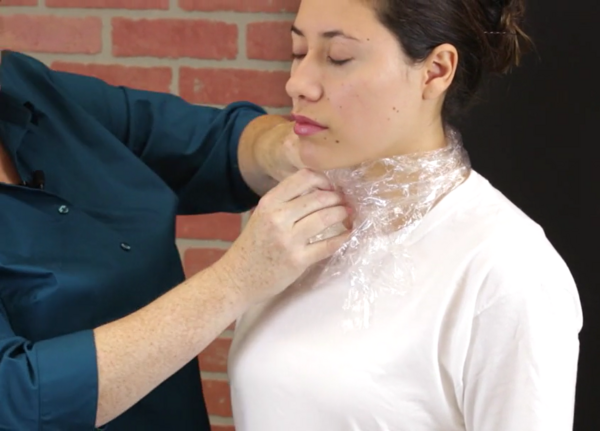 Using short lengths of tape, from the back, pull the t-shirt tight, and tape it into place.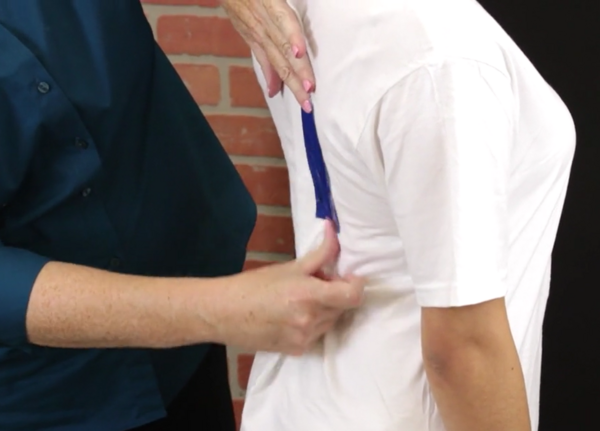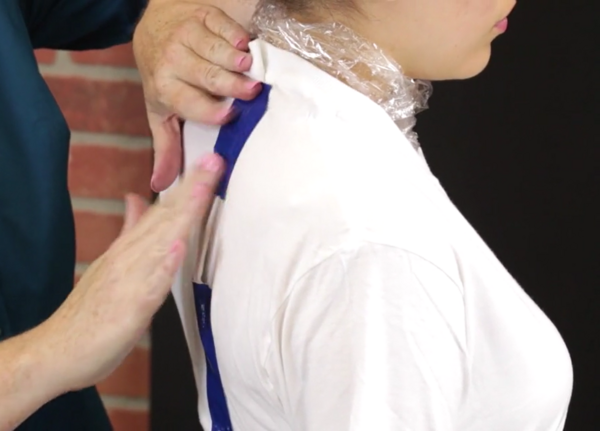 Tape up the entire t-shirt. Be careful to not make the shirt too tight. Start with a criss-cross at the top of the neckline to cover the shoulders.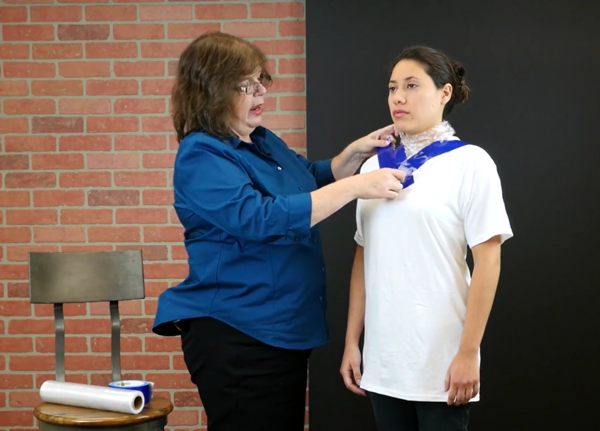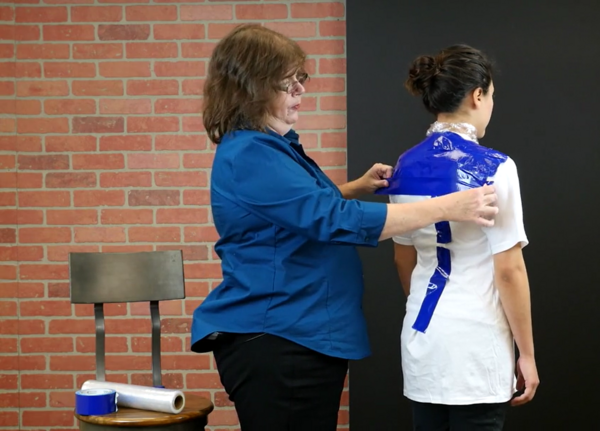 Make sure while you continue to wrap, that one strand of tape wraps around the next.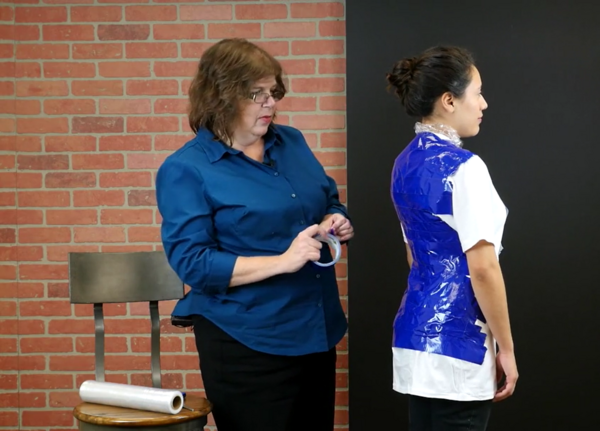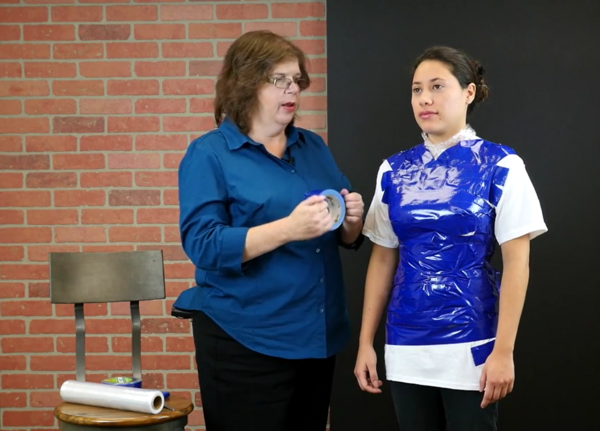 When you get under the arm, use wider strips and let them overlap to the front as you continue to tape. 
Be sure to only go 3-5 inches below the hipline, but not any further. 
Going back to the front on the shirt, after you have your criss-cross completed, go side-to-side with the rest of the front side of the shirt.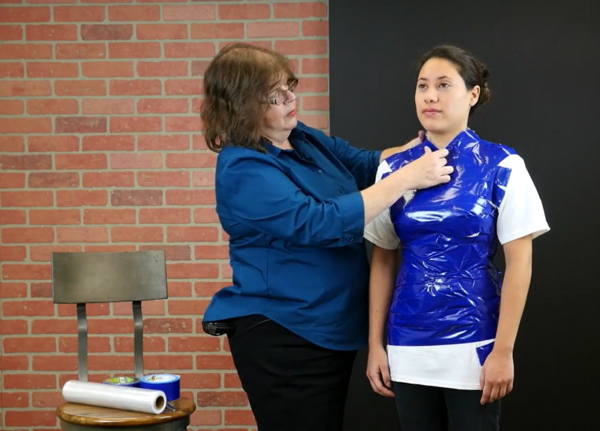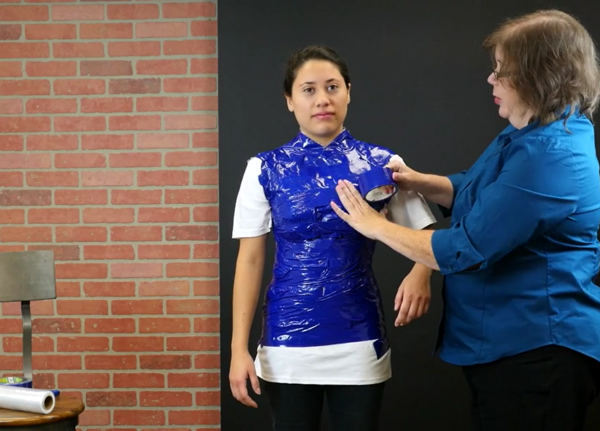 Place some strips around the collar and each shoulder to know where to cut to keep a clean line. 
To keep the bottom of the body form smooth, start at the bottom and spin around and around as high as you can go.
Turn your model around and prepare to cut all the way up the back. Be sure to only cut the t-shirt and not any other clothing the model may be wearing.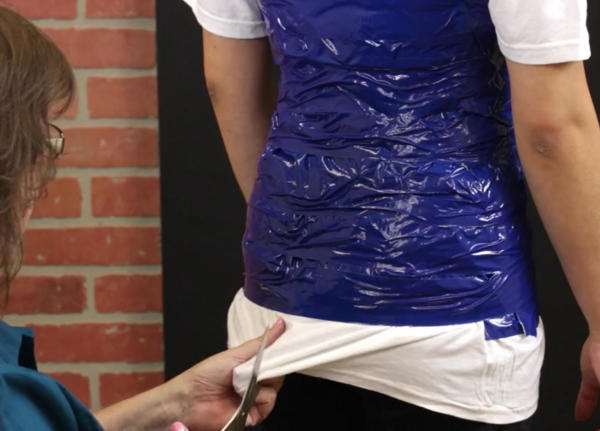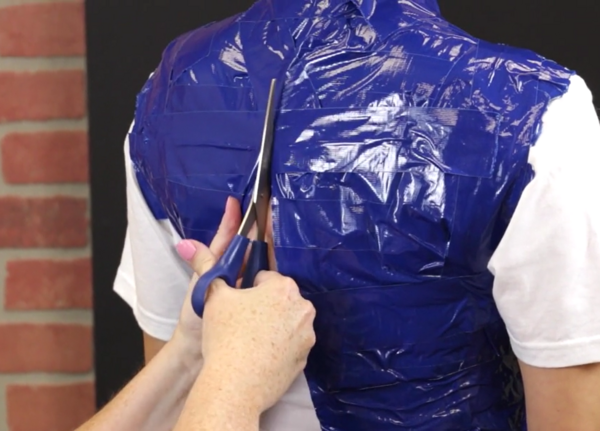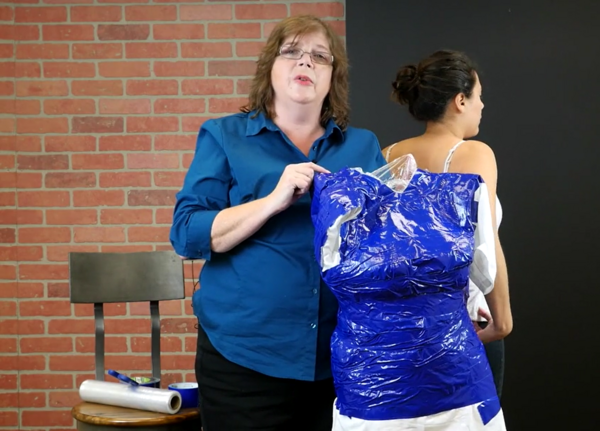 Use a polyester pillow to take up most of the space for your body form.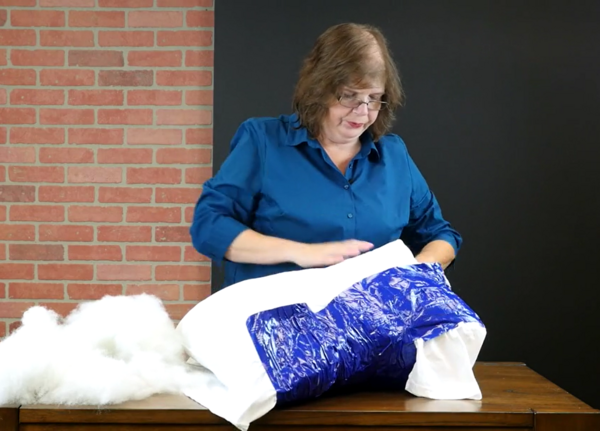 Stuff your dress form as tightly as possible using loose fiber fill, starting with the bust area.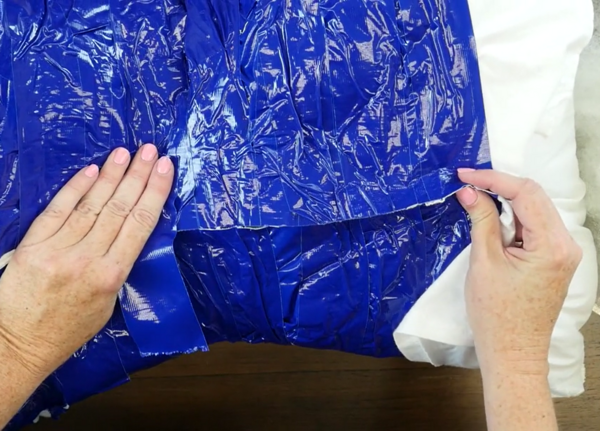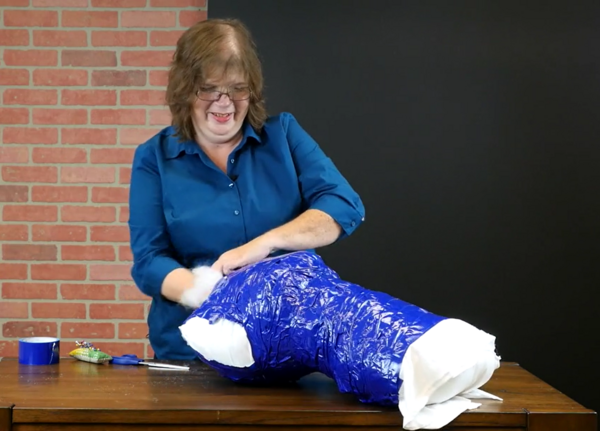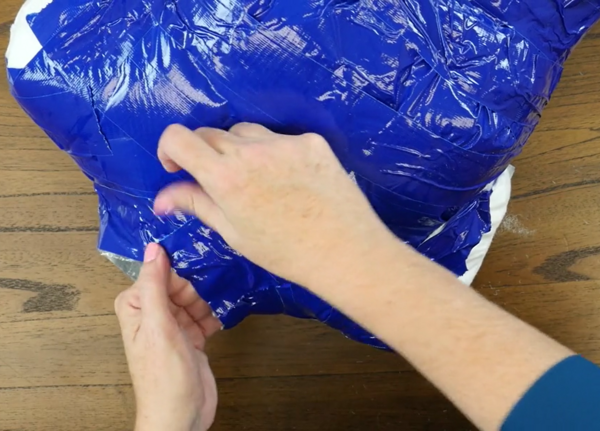 Tuck your sleeves inside of the form to keep the stuffing from leaking out.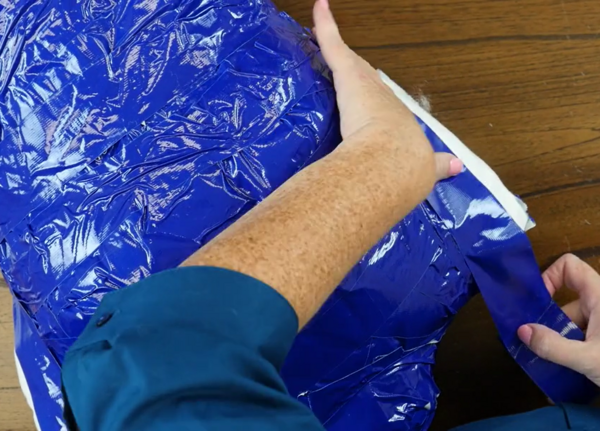 Work from the waist out and tape. 
Make sure you have enough stuffing in the shoulders to keep them from collapsing. 
Tape across the neckline to keep the stuffing from leaking out. 
Tuck your pillow up as far as it will go and tuck the ends of your shirt over the pillow. Then tape it all in place to keep the pillow from falling out.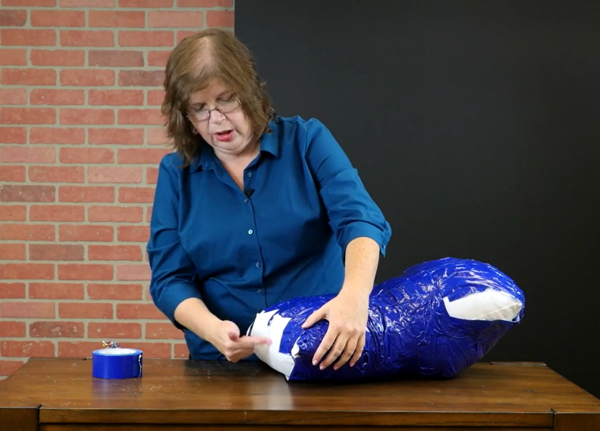 Double check to make sure all the pieces are secure, and you're done!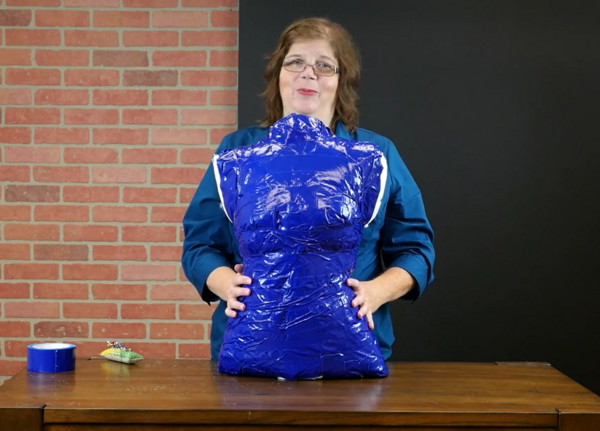 Your Recently Viewed Projects