Free Valentine's Day Sewing Projects eBook
Find 7 easy Valentine's Day sewing projects in this new eBook, available to download for free at AllFreeSewing.com.


January 27, 2011—Northbrook, IL—In recent years, sewing as a craft and hobby has grown in popularity. With budget limitations, Americans have turned to more "Do It Yourself" practices and strayed from paying for items and services. Even popular television shows like "Project Runway" can be credited to the popularity boost in sewing. According to Cristina Bolling of the of NewsObserver.com, nationally, sewing machine sales are the rise as well.

The trend has come alive with Americans of all ages. Young girls are offered sewing classes in and outside of school, 20-something creative types have picked up the craft and women of older generations continue to enjoy the art of making handmade garments. In Bolling's article, the owner of Sew Unique Sewing Centers in North Carolina said she sees a smaller age gap between sewers than ever before.

"It was an aging population until a couple of years ago, but now young people are getting really interested in sewing," Kristine Saracelli said.

According to the Craft and Hobby Association, in 2009 roughly 31 million American households included a sewer. Even new television shows are being created to jump on the sewing bandwagon. Elana Ashanti Jefferson of The Denver Post recently reported that a new show, "Sew It All" is set to begin airing in the Spring of 2011 on PBS.

With a new wave of sewers and a committed group of life-long crafters, sewing is on the rise. There's also several health benefits connected to simple rhythmic crafts like sewing. Nancy Monson of CaringToday.com reports that crafting is not only popular but can also help people tap into healing power.

"Passion for a craft keeps you interested, while the rhythmic and repetitive nature confers the mind-body benefit," Monson said.

For holidays especially, sewers search for projects that will give them self-satisfaction and creative fulfillment. Valentine's Day is a quick holiday and unlike Christmas, does not correlate with an entire season of crafting time. To give sewers the full benefit of creating for Valentine's Day, the editors of AllFreeSewing.com have put together this free eBook of 7 Easy Valentine's Day Sewing Projects.

The 7 Easy Valentine's Day Sewing Projects eBook gives the reader 7 full projects with step by step instructions and color photos. With project ideas to make gifts, decorations and games, sewers can easily create Valentine's Day projects by February 14th. This free eBook includes festive children's clothing (pg. 9), decorations for home (pg. 14) , gifts for friends (pg 19) and more.

Download the 7 Easy Valentine's Day Sewing Projects eBook for FREE at http://www.allfreesewing.com/Valentines-Day-Projects/7-Easy-Valentines-Day-Sewing-Projects-eBook.

Website visitors can also find the eBook under the "Valentine's Day" category on the AllFreeSewing homepage.


Contact:
Kirsten Kwon
Editor
AllFreeSewing.com
AllFreeSewing.com is a property of Prime Publishing LLC
About AllFreeSewing.com:
AllFreeSewing.com is an exciting resource for all things sewing - from expert tips to project ideas for every style and skill level. We also publish Sewing It Up, a free e-mail newsletter, publish sewing eBooks, and create sewing related product promotions, contests, and giveaways.

Prime Publishing LLC was established in 1995 as a traditional niche book publishing company. Today, we are an Internet Media Company that operates web site communities and e-mail newsletters in niche areas such as crafting and cooking. To learn more, visit www.primenewsletters.com.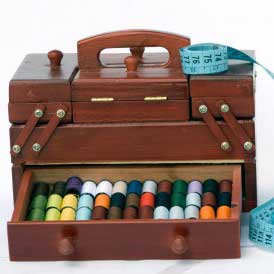 Something worth saving?
SAVE all your favorite patterns
ADD personal notes
QUICKLY reference your patterns