Publishing Company Launches New Sewing Web Site
You can find the best aggregate site providing free sewing patterns, tips, tutorials, and articles at AllFreeSewing.com.
August 20, 2010 - Northbrook, IL-Prime Publishing LLC, an internet media company that operates web sites in the crafting and cooking categories, is rapidly growing and has launched a new sewing web site, AllFreeSewing.com. This aggregate site provides hundreds of the best free sewing patterns for any sewing enthusiast. Easily find patterns based on your skill level, along with helpful tips, tutorials, and articles.


AllFreeSewing.com is unique from most sites, as it provides free patterns from manufacturers, bloggers, sewing fans, and everyday people. The sewing site was launched because we know sewing is a growing hobby and our site helps create a one-stop sewing community.
Sewing has been gaining popularity in recent years because of the ever-growing green movement and the push for self-sustainable living, as well as the increasing desire to save money without sacrificing style. "When the economy goes down, the sewing industry goes up," said Randy Thomas, senior vice president of Janome America, the world's largest sewing machine manufacturer. Sewing is a great way to have a stylish home and wardrobe without breaking the bank, because people who sew can design their own clothing or home décor accents or copy those they see in stores for pennies on the dollar.
Sewing machine sales have almost doubled in the past decade, according to Thomas, and membership in the American Sewing Guild continues to grow by about 15% annually. As of 2004, there were 35 million people in the United States who knew how to sew, and the number is growing. The demographics of sewing enthusiasts are also changing. According to Pat Sauer, owner of the Sewing Studio Fabric Superstore in Maitland, FL, "A lot of the younger generation is coming back to sewing now. It always used to be ladies who had retired and had more time to sew, but now I see young girls with babies and stay-at-home moms, and 'Project Runway' has a lot to do with that."
Internet sewing communities are also becoming popular as bloggers post their sewing projects and share patterns and tutorials with each other. According to Rhea Daiute, manager of Alewives Fabrics in Nobleboro, Maine, "It's easier to talk when you have something like sewing or knitting in common."
AllFreeSewing.com has aggregated a great collection of free sewing patterns and tutorials from homemade clothing and home décor items to holiday sewing projects and sewing for kids. Once you find the pattern you love, the time to complete the project, whether it's sewn by hand or by machine, and the skill level are provided for you. Our easy-to-navigate search function allows readers to find their favorite patterns. Readers can rate and make comments on each pattern they find, making our site a real sewing community.
Contact:
Karisa Tell, Editor
AllFreeSewing.com
Prime Publishing
847-205-9375

About AllFreeSewing.com:
As our name promises, AllFreeSewing.com is a website dedicated to the best free sewing patterns, tutorials, tips and articles on sewing. AllFreeSewing finds and delivers the best free sewing patterns from all over the web, from easy-to-sew projects to more complex patterns.

All of the free sewing patterns at AllFreeSewing are organized into easy-to-navigate categories and sub-categories. Because we understand that your time is precious, we make it easy to find the perfect sewing pattern for your skill level. Tell us what time you want to spend, your level of experience, and your preferred method, and we'll tell you what you can sew next. Our advanced search technology takes the hassle out of searching for free sewing patterns and projects.

Whether you have loved your sewing machine for years or want to learn to sew for the first time, AllFreeSewing is the place for you. With instructions and beginner sewing patterns, you can learn how to sew for free from the comfort of your home. Even seasoned sewers will find helpful resources for sewing, including explanations for different sewing stitches, sewing videos and step-by-step photo tutorials.


Prime Publishing LLC was established in 1995 as a traditional niche book publishing company. Today, they are an Internet Media Company that operates web site communities and e-mail newsletters in niche areas such as crafting and cooking. A full list of web properties, free newsletters and free eBooks can be found at www.primenewsletters.com.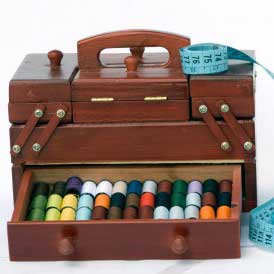 Something worth saving?
SAVE all your favorite patterns
ADD personal notes
QUICKLY reference your patterns