Revived Interest in Vintage Clothing Patterns Influences Fashion Trends
AllFreeSewing.com releases new vintage sewing patterns eBook for women.

November 22, 2013 - Northbrook, IL - A clear revival in vintage style has hit the fashion scene within the last couple of years, influencing the ways millions of women dress. In response to this overwhelming return to fashion favorites, AllFreeSewing is pleased to announce the release of its latest, free eBook, 11 Free Vintage Patterns: How to Sew Retro-Inspired Clothing for Ladies.

A 2012 article from Forbes discusses the reasoning behind revitalized vintage style, calling it a celebration of a particular historical period. Forbes hones in on the attraction towards reviving women's clothing style, explaining, "Perhaps most relevant to the topic of vintage clothing, women gained new rights and roles in society. Their new abilities to vote, work outside of the home and pursue life as more than just housewives, makes the 1920s a revolutionary decade for American females." It's no wonder, then, that women all across the U.S. and overseas gravitate towards classics like the 1920's LBD, 1960's mod dresses, and 1970's discotheque tops. Despite years of wear these pieces have not lost their ability to evoke a sense of edgy individualism upon anyone who dons them.
In 11 Free Vintage Patterns: How to Sew Retro-Inspired Clothing for Ladies, readers will find nearly a dozen projects that recognize a particular turning point in fashion from the twentieth century. Spanning from pieces inspired by the 1920s to more radical tops of the 1970s, these clothing patterns are worth exploring. Anyone interested can learn how to sew practical and custom-fit dresses, skirts, and tops by downloading a copy of this free eBook.
Download 11 Free Vintage Patterns: How to Sew Retro-Inspired Clothing for Ladies for free at http://www.allfreesewing.com/Miscellaneous-Clothing/11-Free-Vintage-Patterns-How-to-Sew-Retro-Inspired-Clothing-for-Ladies-Free-eBook. Website visitors can also find the free eBook under the "Miscellaneous Clothing" category on the AllFreeSewing homepage.

Contact:
Annie Rosean, Editor
AllFreeSewing.com

About AllFreeSewing.com:
AllFreeSewing.com is an exciting resource for all things sewing - from expert tips to project ideas for every style and skill level. We also publish Sewing It Up, a free e-mail newsletter, publish sewing eBooks, and create sewing related product promotions, contests, and giveaways.

About Prime Publishing:
Prime Publishing LLC was established in 1995 as a traditional niche book publishing company. Today, we are an Internet Media Company that operates web site communities and e-mail newsletters in niche areas such as crafting and cooking. To learn more, visit www.primenewsletters.com.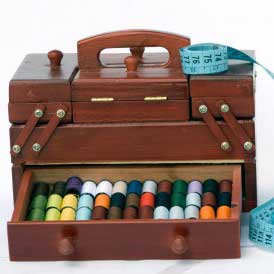 Something worth saving?
SAVE all your favorite patterns
ADD personal notes
QUICKLY reference your patterns