Transform Old T-shirts with a Free eBook
Find 9 sewing projects that use old t-shirts in this new eBook, available for free download at AllFreeSewing.com.
October 13, 2010—Northbrook, IL—Throughout the recession, people have repeatedly turned to sewing for both money-saving and escapism. The Craft and Hobby Association announced that sewing and needlecrafts account for 26% of the U.S. craft and hobby industry, with 30 million U.S. homes participating in sewing by 2009. According to Victor Domine, a representative for the Craft & Hobby Association, "every sector of the needle and sewing craft categories grew by 2% to 5%" in 2009.


Since sewing can be pricey at times, recessionistas and penny-pinchers alike are seeking alternatives to high priced commercial fabrics, which often leads them to their own closets. T-shirt upcycling and refashioning is an increasingly popular trend in the sewing community because of the ubiquity and wide availability of t-shirts, as well as their versatility in sewing projects. The new sewing website, AllFreeSewing.com, offers ideas to transform old t-shirts with a free sewing eBook. The 9 Ways to Transform Old T-Shirts eBook is free to download at AllFreeSewing.com.


The editors of AllFreeSewing.com believe that sewing projects are often more enjoyable and more inventive when completed under constraints such as limited fabric. Half the fun of sewing to transform old t-shirts is figuring out what to make and how to execute a design. Our collection of t-shirt upcycling and refashioning projects can easily be altered to accommodate anyone's t-shirt collection and sewing whims, from creating handmade clothing to unique home décor accents.


The 9 Ways to Transform Old T-Shirts eBook gives you 9 innovative sewing projects to help you transform old t-shirts. Three sections include t-shirt pillows, accessories, and embellished t-shirts. Turn your t-shirt into a stylish, cozy pillow (pg. 6), create an apron from a t-shirt (pg. 17), reconstruct a plain white t-shirt into a trendy top (pg. 22), and much more with this free eBook.


Download the 9 Ways to Transform Old T-Shirts eBook for FREE at http://www.allfreesewing.com/Refashioning-and-Upcycling/9-Ways-to-Transform-Old-T-Shirts-eBook. Website visitors can also find the eBook under the "Miscellaneous Projects" category on the AllFreeSewing homepage.


Contact:
Karisa Tell
Editor
AllFreeSewing.com
AllFreeSewing.com is a property of Prime Publishing LLC


About AllFreeSewing.com:
AllFreeSewing.com is an exciting resource for all things sewing - from expert tips to project ideas for every style and skill level. We also publish Sewing It Up, a free e-mail newsletter, publish sewing eBooks, and create sewing related product promotions, contests, and giveaways.


Prime Publishing LLC was established in 1995 as a traditional niche book publishing company. Today, we are an Internet Media Company that operates web site communities and e-mail newsletters in niche areas such as crafting and cooking. To learn more, visit www.primenewsletters.com.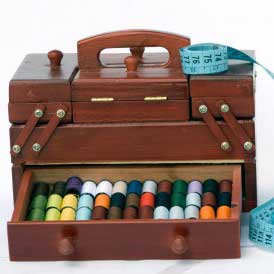 Something worth saving?
SAVE all your favorite patterns
ADD personal notes
QUICKLY reference your patterns