Coats & Clark And AllFreeSewing.com Release Free eBook With Zipper Sewing Projects
Learn how to sew zippers into sewing projects and discover 6 free sewing patterns inside this eBook. Avaliable for free download at AllFreeSewing.com.
September 24, 2012—Northbrook, IL—As the DIY craze continues, respected craft companies like Coats & Clark continue to deliver free project instructions to consumers who are looking to save money and practice creativity. It's easy to focus on the functionality of sewing projects, but the new Coats & Clark eBook delivers projects that are as fun as they are useful. Inside the pages of this eBook, readers can find step-by-step instructions for how to create projects that incorporate zippers into the design.
While websites like Pinterest become increasingly more popular, the DIY lifestyle is growing. According to a Lakestar McCann article written by Tom Clark, Pinterest is one of the fastest growing social networks in history.
"In the United States, it even outranks its major competitor Tumblr, ranking at 17th and 18th most popular site respectively" Clark said.

One of the most viewed categories on the emerging site is the DIY and Craft category which proves that consumers are seeking free project ideas and inspiration. The Zipper Fun: Sew in a Zipper With These 6 Free Sewing Patterns eBook offers projects from DIY gifts to games for children. Each project incorporates zippers which add fun embellishing options.
Coats & Clark manufactures all of the sewing tools and supplies needed to create any desired sewing projects. The company is dedicated to delivering their costumers quality products and project inspiration, not unlike the patterns found inside the Zipper Fun: Sew In a Zipper With These 6 Free Sewing Patterns eBook.
To give consumers the interesting and inspiring projects they seek, Coats & Clark offers this eBook (entirely free of charge) to anyone looking to create vibrant zipper projects like the Hanging Votive Holder (pg. 9) or the Compact Zippered Cosmetic Bag (pg.7). Find several other zipper projects in this eBook as well.
Download the Zipper Fun: Sew in a Zipper With These 6 Free Sewing Patterns eBook for FREE at http://www.allfreesewing.com/Miscellaneous-Projects/Zipper-Fun-Sew-in-a-Zipper-With-These-6-Free-Sewing-Patterns-eBook. Website visitors can also find the eBook under the "Miscellaneous Projects" category on the AllFreeSewing homepage.

Contact:
Kirsten Kwon
Editor
AllFreeSewing.com
AllFreeSewing.com is a property of Prime Publishing LLC
About AllFreeSewing.com:
AllFreeSewing.com is an exciting resource for all things sewing - from expert tips to project ideas for every style and skill level. We also publish Sewing It Up, a free e-mail newsletter, publish sewing eBooks, and create sewing related product promotions, contests, and giveaways.
Prime Publishing LLC was established in 1995 as a traditional niche book publishing company. Today, we are an Internet Media Company that operates web site communities and e-mail newsletters in niche areas such as crafting and cooking. To learn more, visit www.primenewsletters.com.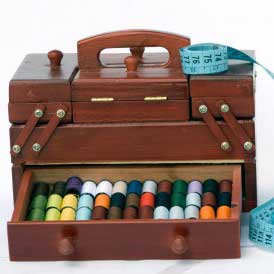 Something worth saving?
SAVE all your favorite patterns
ADD personal notes
QUICKLY reference your patterns