Designer Knock-Off eBook Offers Affordable Alternative to Expensive Clothing
AllFreeSewing.com releases new eBook of free designer inspired knock-off sewing patterns.
April 10, 2013—Northbrook, IL—Despite a recent recession causing many Americans to scale back on frivolously spending, designer clothing and accessories remain expensive and in demand. Consumers who seek to wear the latest fashions from top clothing lines are left without a cheaper alternative. However, for crafty types who enjoy creating projects at home, AllFreeSewing.com delivers a new eBook full of designer knock-off ideas.

According to the ABCnews.com, the average American spends $1,700 each year on clothing and services. This is money that could be used in a more strategic manner. The additional $1,700 could be invested or go towards a homeowner's mortgage. Instead, Americans often live beyond their means and dedicate a large amount of their income to overpriced designer duds. Along with heavy price tags, mass produced clothing causes environmental issues as well.
Elizabeth Cline, author of Overdressed: The Shockingly High Cost of Cheap Fashion argues that the cost of high fashion goes far beyond dollars and cents. With only 3% of all purchased apparel being produced in the U.S., cheap imported clothing causes waste problems around the world. According to the Environmental Protection Agency, Americans throw away 68 pounds of textiles per person. That large number makes spending a lot of money on designer clothing all the more pointless.
For anyone looking to get trendy clothing sans the heavy price tag and waste, this free eBook offers great options. The Designer Inspired Sewing: 9 Beautiful Designer Knock Off Patterns eBook includes step-by-step instructions to make pieces that look just like the ones seen in stores. For Anthropologie enthusiasts especially, this eBook delivers lovely ideas at a much more affordable price.
For blouses, home décor and accessories, the Designer Inspired Sewing: 9 Beautiful Designer Knock Off Patterns eBook is a must have. Talented sewists offer their best versions of popular designer items and walk the reader through the entire creative process.

Download the Designer Inspired Sewing: 9 Beautiful Designer Knock Off Patterns eBook for free at http://www.allfreesewing.com/Accessories-to-Sew/Designer-Inspired-Sewing-9-Beautiful-Designer-Knock-Off-Patterns. Website visitors can also find the eBook under the "Accessories to Sew" category on the AllFreeSewing.com homepage.
Contact:
Kirsten Kwon
Editor
AllFreeSewing.com
AllFreeSewing.com is a property of Prime Publishing LLC
About AllFreeSewing.com:
AllFreeSewing.com is an exciting resource for all things sewing - from expert tips to project ideas for every style and skill level. We also publish Sewing It Up, a free e-mail newsletter, publish sewing eBooks, and create sewing related product promotions, contests, and giveaways.
Prime Publishing LLC was established in 1995 as a traditional niche book publishing company. Today, we are an Internet Media Company that operates web site communities and e-mail newsletters in niche areas such as crafting and cooking. To learn more, visit www.primenewsletters.com.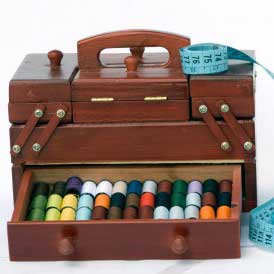 Something worth saving?
SAVE all your favorite patterns
ADD personal notes
QUICKLY reference your patterns