Make Patriotic Sewing Projects With a Free 4th of July eBook
Celebrate a budget-friendly 4th of July with these free holiday project ideas.


June 13, 2011—Northbrook, IL—Celebrating holidays can cost Americans far more than their budgets allow. Although gift related holidays like Christmas are known for being the most costly, even 4th of July can leave wallets empty. According to the Consumer Expenditure Survey, American households collectively spend more than $420 million a year on fireworks alone. With backyard barbecue season around the corner, it's time to find cheaper alternatives to large, pricey celebrations.

The Craft and Hobby Association reports that in 2010 and the four years prior, 56 percent of the U.S. population was crafting. As more Americans turn to crafting, free ideas allow crafting to remain both a recreational and money saving hobby.

Activities like sewing can significantly lower holiday celebration costs. With its' new found popularity amongst younger generations, sewing has become a trendy way for creative types to make handmade garments and projects. A recent article published by LOOK magazine featured "sewing cafes" calling them the "next big thing". The idea behind the sewing café proves that sewing has become popular enough for businesses to capitalize on sewing communities; places where people can sew and socialize together.

Instead of purchasing store-bought decorations or festive clothing, sewists are able to save their money and create DIY projects that are both cost-effective and personalized. The editors of AllFreeSewing.com have published the free eBook, 6 Holiday Sewing Ideas: Celebrate a DIY 4th of July.

This free eBook gives readers 6 full projects with step-by-step instructions and color photos. Find ideas for making festive garments and decorations. The 6 Holiday Sewing Ideas: Celebrate a DIY 4th of July eBook delivers a holiday themed tote bag (pg. 5), patriotic pillows (pg.15) and American flag children's clothing (pg. 21).

Download the 6 Holiday Sewing Ideas: Celebrate a DIY 4th of July eBook for FREE at http://www.allfreesewing.com/4th-of-JulyProjects/6-Free-Holiday-Ideas-Celebrate-a-DIY-4th-of-July-eBook

Website visitors can also find the eBook under the "4th of July Projects" category on the AllFreeSewing homepage.


Contact:
Kirsten Kwon
Editor
AllFreeSewing.com
AllFreeSewing.com is a property of Prime Publishing LLC
About AllFreeSewing.com:
AllFreeSewing.com is an exciting resource for all things sewing - from expert tips to project ideas for every style and skill level. We also publish Sewing It Up, a free e-mail newsletter, publish sewing eBooks, and create sewing related product promotions, contests, and giveaways.

Prime Publishing LLC was established in 1995 as a traditional niche book publishing company. Today, we are an Internet Media Company that operates web site communities and e-mail newsletters in niche areas such as crafting and cooking. To learn more, visit www.primenewsletters.com.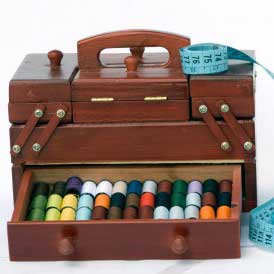 Something worth saving?
SAVE all your favorite patterns
ADD personal notes
QUICKLY reference your patterns