Simple Sewing Projects: 16 Easy Sewing Projects for Beginners Offers Fuss-Free Crafts for the Novice Sewist
AllFreeSewing.com releases new eBook on beginner sewing projects.

November, 13, 2013 - Northbrook, IL - The history of sewing is long and vexed. Evolving from an initial human need to a booming industry at the turn of the 19th century, the skill has been passed from one context to another. Over the last several years, the editors of AllFreeSewing have noticed the craft return to a private sphere, occupying people's free time because of artistic endeavors or financial savviness. Call it the onset of technology and therefore greater access to information, the point is more individuals are learning how to sew.
AllFreeSewing has noted an increasing wave of beginner sewers who want to take their place in the historic craft; site visitors are immediately drawn towards simple sewing projects that require only the most basic skill set to complete. In response to these newbies, AllFreeSewing proudly presents, Simple Sewing Projects: 16 Easy Sewing Projects for Beginners.
A 2012 article from The New York Times states, "Once the domain of apron-clad matrons tasked with domestic busywork, sewing, like knitting before it, is making a comeback." Further statistics from this article note the increase in sewing classes in the 3rd ward in Brooklyn. A more recent, 2013 article from The New York Times discusses an increased demand for American-made goods rather than those overseas. There's no question that sewing has made a comeback, but some may wonder how they can start.
In the free eBook, Simple Sewing Projects: 16 Easy Sewing Projects for Beginners, readers will find an abundance of fuss-free crafts that range from wearables to accessories. Before any novice attempts to tackle the dreaded arm scythe or inverted zipper, they would do well to consult this collection of free and simple sewing projects.
Download Simple Sewing Projects: 16 Easy Sewing Projects for Beginners for free at http://www.allfreesewing.com/Accessories-to-Sew/Simple-Sewing-Projects-16-Easy-Sewing-Projects-for-Beginners-Free-eBook. Website visitors can also find the free eBook under the "Accessories to Sew" category on the AllFreeSewing homepage.

Contact:
Annie Rosean, Editor
AllFreeSewing.com

About AllFreeSewing.com:
AllFreeSewing.com is an exciting resource for all things sewing - from expert tips to project ideas for every style and skill level. We also publish Sewing It Up, a free e-mail newsletter, publish sewing eBooks, and create sewing related product promotions, contests, and giveaways.

About Prime Publishing:
Prime Publishing LLC was established in 1995 as a traditional niche book publishing company. Today, we are an Internet Media Company that operates web site communities and e-mail newsletters in niche areas such as crafting and cooking. To learn more, visit www.primenewsletters.com.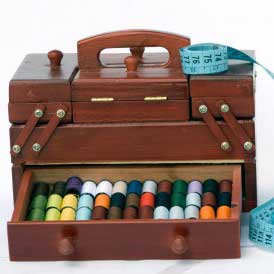 Something worth saving?
SAVE all your favorite patterns
ADD personal notes
QUICKLY reference your patterns