AllFreeSewing.com Releases a Free Back to School eBook

September 7, 2011--Northbrook, Il--Children in most American families have already gone back to school for the year. In recent weeks parents have flocked to stores with lengthy school supply lists needing art supplies, lunch boxes, bags, and clothes. When buying these items it's rare to stop and think about where they came from, who made them and what it cost them. Though many overseas companies producing school supplies and clothing for children compensate employees fairly and hire those only age appropriate, some are out to produce cheaply priced items no matter the cost.
According to the article "2010 Sweatshop Hall of Fame," by the International Labor Rights Forum, the top abusers of sweatshops include companies that Americans often head to first for school supplies, companies that include Kohl's, Gymboree, and Wal-Mart. Rather than being dependent on these companies, it's great to have the option of making clothes and products with the help of AllFreeSewing.com.

When you make your own dresses, bags, and lunch boxes there's no question about where it came from. According to an article from ABC, "Made in America: Where Are American-Made Textiles?", it's nearly impossible to find fabric not made overseas, but there are plenty of American companies that ensure favorable working conditions for their employees. While these companies provide Americans with reasonably priced, guilt-free fabric, it's still difficult to be certain when it comes from such far away places. In the article "Sweatshop-Free Clothing," found on Green America's website, a compiled list of sweatshop-free companies is provided; companies that are in need of more support if they're ever going to be true competitors.

You can find guilt-free satisfaction transforming 3 yards of fabric into a beautiful little girl's Jackie O Dress, as featured in the eBook "6 Free Sewing Projects to Make for Going Back to School," If you're not interested in contributing your dollar to companies with sweatshops, a creative and enjoyable alternative is making products and garments yourself.

Rather than always buying clothing, it's both fun and economical to make items yourself. The editors of AllFreeSewing.com have complied this Free E-book with 5 other projects for back-to-school items including lunch boxes, t-shirt bags, and even umbrellas. Sewists are skilled and creative enough to recycle old materials and turn them into in to something unique. AllFreeSewing.com has many projects for making adult and kids clothes. Check out this URL to get your copy of "6 Free Sewing Projects to Make for Going Back to School": www.allfreesewing.com/Sew-for-Kids/6-Free-Sewing-Projects-to-Make-for-Going-Back-to-School-eBook. Enjoy the freedom of making your own clothes.




Liza Tuchfarber
Editor
AllFreeSewing.com
AllFreeSewing.com is a property of Prime Publishing LLC
About AllFreeSewing.com:
AllFreeSewing.com is an exciting resource for all things sewing - from expert tips to project ideas for every style and skill level. We also publish Sewing It Up, a free e-mail newsletter, publish sewing eBooks, and create sewing related product promotions, contests, and giveaways.

Prime Publishing LLC was established in 1995 as a traditional niche book publishing company. Today, we are an Internet Media Company that operates web site communities and e-mail newsletters in niche areas such as crafting and cooking. To learn more, visit www.primenewsletters.com.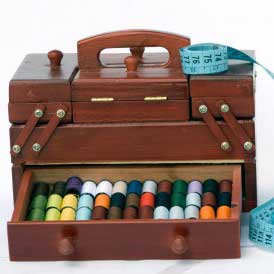 Something worth saving?
SAVE all your favorite patterns
ADD personal notes
QUICKLY reference your patterns