23 Maternity Clothes Sewing Patterns
Oh, baby! These DIY maternity clothes ideas are some of the prettiest, stylish, and comfortable around.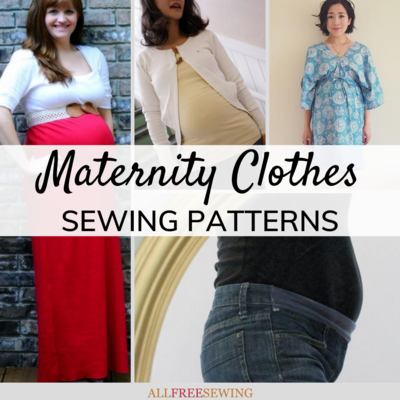 Do you know a lucky lady who's pregnant? If you're the pregnant one, congratulations! With all the planning you need to do to prepare for this major change in your life, the last thing you want to worry about is what you'll wear while your belly grows.

With this page, 23 Maternity Clothes Sewing Patterns and Tutorials, you can learn how to make maternity clothes in no time. Save time, money and the extra stress of shopping - once you know how to make maternity clothes, you can create the wardrobe that best fits your needs (and comfort level!).

Maternity clothes can be frumpy and unflattering, but with these projects, you can create trendy maternity clothes so don't have to ditch your fashion sense during your pregnancy. If you're making maternity clothes for a friend or family member, check out these projects and you can give them what they really need.

Use this cute collection of maternity sewing patterns to learn how to make maternity clothes. With these easy tutorials, you can learn how to make maternity clothes from existing items in your closet. Refashion old, baggy tops into something more flattering for you and your growing belly.

Take those jeans that almost fit and learn how to add some stretchy knit fabric to sew your own maternity jeans and pants. Learn how to create the best skirts and dresses for your new shape. Sew your own maternity wardrobe that fits your bump without sacrificing your personal style. 

Sign Up For More Free Patterns >>>
Table of Contents
DIY Maternity Jeans, Pants, & Shorts Tutorials
If you are wanting to sew maternity clothes, get ready for these awesome tutorials. Learn how to make maternity pants or DIYs to do pregnancy extend pants. You'll love these more and more every month of your pregnancy, especially when you have these creative refashions and tutorials. You are going to appreciate making DIY maternity jeans and pants instead of spending extra money on store-bought versions.
How to Make Maternity Skirts and Dresses
When it comes to maternity clothes ideas, the most comfortable may have to be a well-fitting skirt or dress. There's no reason you can't be fashionable and still save money as your tummy grows. Take a look and make one or two yourself and get ready to sew maternity clothes that you'll feel comfortable and happy in!
Maternity Top Patterns
Design your own maternity shirt with these fashionable tutorials, patterns, and upcycling ideas. Nothing is more comfortable than a t-shirt and there's no reason a growing stomach has to put an end to your comfort. These are perfect!
Your Recently Viewed Projects