No-Sew 101: 15 Basic Tools for the No-Sew Crafter
This easy guide to no-sew tools is a must-read for sewing beginners!
By:
Katie King for runningwithagluegunstudio.com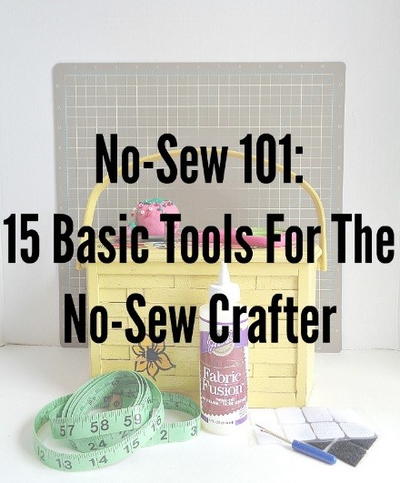 No-Sew 101 15 Basic Tools for the No-Sew Crafter
Hello everyone! My name is Katie and I blog over at Running with a Glue Gun. Today I'm going to be talking about 15 basic tools for the no-sew crafter!

Depending on your sewing experience, you may look at a sewing project or think of picking up a sewing book and want to run in the opposite direction. If that is you, then that is ok! This is because no-sewing is a great way to get into regular sewing but in little baby steps. Also, if you're someone who is short on time, no-sewing is a great alternative compared to regular sewing!

Today for all the no-sew crafters out there, I put together a list of 15 basic tools that no-sew crafters should consider having in their no-sew tool box. Now you may be looking at some of these supplies and be thinking, these are sewing supplies! Well, no one ever said that no-sew crafters couldn't benefit from a few sewing supplies. I promise you, (if you're a no-sew crafter), everything I listed will come in handy!
Looking for a great no-sew project? Then you'll love this fun tutorial for how to make galaxy print! How to Make Galaxy Print
No-Sew 101
If you're new to sewing, then this guide of no-sew tools is a definite must-read! 
Basic Tools
It's time to get back to basics with tools that every no-sew crafter (and sewing enthusiast) needs in their craft room.
Sewing Pins: Sewing pins are a must have item! Whether you sew by hand, sew on the sewing machine or are a no-sew crafter, having sewing pins is really a no-brainer. This is because even for a no-sew crafter, you will most likely be pinning fabric together at some time or another.

Tomato Pin Cushion: Having a place to store and keep your sewing pins sharp is very important. A tomato pin cushion is a very inexpensive way to do both and it comes in a variety of fun colors to fit your no sewing decor!

Seam Ripper: A seam ripper is a great help to a no-sew crafter if you're working with fabric in which you have to remove stitches, buttons, and so forth. Having one on hand is always a good idea because you never know when you may need it!

Tape Measure: Having a tape measure is important whether you're sewing or not sewing because you really shouldn't cut twice and measure once!

Fabric Marker: Having one or two fabric markers on hand is great when you're doing those larger no-sew projects. Simply because fabric markers allow you to mark your fabric, without staining or ruining your fabric.

Iron: Having an iron is just as important as having any other basic no-sew tool, for two reasons. The first reason is that if you're using items like iron-on tape, having an iron is the key to avoiding sewing. Finally, the second reason is that 9 times out of 10 when you get your fabric home from the craft store, it is a wrinkly mess! In most cases, people do not want wrinkly craft projects. So having an iron is a great way to smooth out all those wrinkles from that fabric or trim that you may have bought from the clearance bin.
Cutting
Keep your cutting skills on point with these no-sew essentials.
Fabric Scissors: Having a good pair of sharp fabric scissors is a must for any crafter! Whether you're sewing or not sewing, having a pair of fabric scissors will make life a lot easier. Simply because you will be cutting out fabric, so you might as well invest in a good pair of fabric scissors.

Rotary Cutter: Like a good pair of fabric scissors, having a rotary cutter on hand can definitely make your fabric cutting experience much more enjoyable. With that being said, how a rotary cutter is different from a pair of fabric scissors is that it looks like a pizza cutter and is great for cutting long strips of fabric. From a no-sew perspective, having a rotary cutter can come in handy on those bigger projects and give you those nice clean, ''fray-free'' cuts that you are looking for!
Adhesive/No-Sew Products
If you've never worked with adhesives, these products are great for sticky situations.
No-Sew Fabric Glue: No-sew fabric glues comes in all shapes and sizes depending on the no-sew fabric job you're trying to accomplish. The pros of using a no-sew fabric glue are that (obviously) you don't need to sew, the glue is flexible when completely dried, and the glued fabric can be thrown into the washer or dryer.

When looking for fabric glues, try to first consider the no-sew job you are trying to accomplish. This is because (much like normal glues) fabric glues can come in all types of ''strengths''. For example, you can buy fabric glues which are designed for hemming curtains (a simple project) or buy fabric glues which are designed for adding heavier embellishments to fabric (a more in-depth project). Either way, planning and researching your fabric glues ahead of time will help you to create that project perfectly!

Fray Block: Fray Block is a great product to have when adding those finishing touches to a project. If you've never heard of Fray Block, it's a product designed to prevent fabrics, ribbons, and other items from fraying. To use the product, you simply apply a little amount to the end of (let's say) a piece of ribbon and then set it aside to dry. Once the ribbon is dry, it should fray no longer and be able to be put into the washer or dryer. Much like no-sew fabric glue, fray block is designed to make your no-sew life much easier!

Velcro: As a no-sew crafter, you are probably trying every which way to avoid a needle and thread. With that in mind, items like sticky-back Velcro can make the dream of not using a needle and thread possible! Sticky-back Velcro is essentially what it sounds like; it's Velcro which has a sticky-back. Using sticky-back Velcro can help you to avoid sewing on buttons or zippers. Besides the ease of use, sticky-back Velcro also comes in a variety of colors and styles, making it another tool which is perfect for the no-sew crafter.

Iron-on Tape: Iron-on tape or iron-on adhesive is a double-sided tape which is designed to bond fabrics together without the need for sewing! This type of product is great for hemming or for those projects that you want to get done in a pinch. Besides iron-on tape, this type of no-sew adhesive comes in a variety of styles. For example, it can come in tape, sheets, or even fusible interfacing.
Extra Tools
Even no-sew projects need a little help sometimes.
Self-Healing Cutting Mat: A self-healing cutting mat is a great extra supply to have on hand whether you're sewing or not sewing. This is because having a place where you can cut fabric on without damaging your work surface is important, along with having space where you can cut out those bigger pieces of fabric. Even if you buy a smaller self-healing cutting mat, it will make cutting out fabrics of all kinds much easier!

Seam Ruler: A seam ruler is a device that allows you to measure and then mark your fabric. This handle little tool is great to have on hand simply because it makes measuring much easier. Also, it's a big help when trying to hem or fold fabric in a certain way.

Storage: Having a place to store all of your no-sew supplies can really save you some headache in the future. You can use many different items to store your supplies in, depending on how many supplies you actually have. For example, you could use a traditional sewing box, a fancy craft storage box, or a simple shoe box. No matter the storage box, creating a space to store all your supplies will help you to know what you have and keep your supplies in good shape!

As you can see, for a no-sew crafter you do have many tools at your disposable! So grab a few of these supplies, find a fun no-sew project, and start creating!  Also, if you want to learn more about some of the items of this list check out this Craft Guide post, which discussions 10 of these items, in more depth.
Want even more no-sew projects? Then check out how to give your jeans a cool, vintage vibe with this tutorial! How to Dye Jeans with Tea
What no-sew products do you use? Let us know below in the comments! 
Free projects, giveaways, exclusive partner offers, and more straight to your inbox!
Tags / Related Topics
Your Recently Viewed Projects
Images from other crafters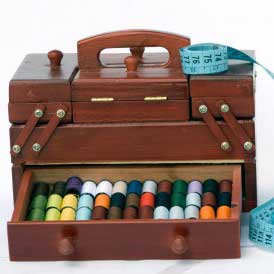 Something worth saving?
SAVE all your favorite patterns
ADD personal notes
QUICKLY reference your patterns