Types of Fabric Glue: Best Glue for Fabric (+ the Worst!)
When looking for the best glue for fabric crafts, what should you use? This guide will go over the best (and worst) glues for fabric.
Updated November 01, 2022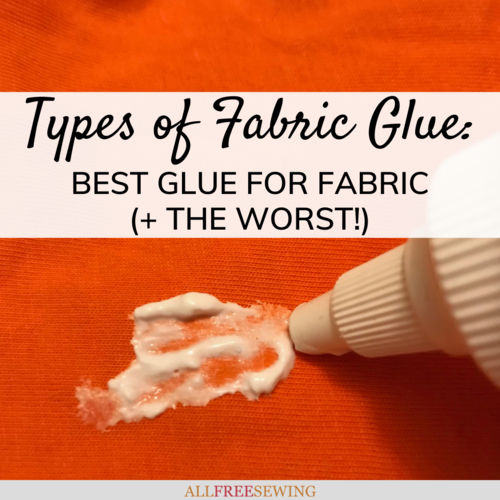 When selecting a glue to use on fabric there are so many choices. When it comes to types of fabric glue, which are used for what?

And, more importantly, what is the best glue for fabric? Should you go with what you already have around the house, or purchase a glue specifically for use on cloth?

While it somewhat depends on the task you are trying to achieve, there are a few kinds of adhesive that usually work well on fabric. After the best glues, this guide will also go over some of the worst glues for fabric so that you'll be fully prepared for your next no-sew fabric project.

Let's discuss the various types of glues that are available and whether or not they can be used for fixing torn fabrics, attaching adornments, and more! 

Note: Different fabrics and glues have their own unique properties, so it's best to do a sample swatch before deciding on an adhesive to use for your project. What might work for one material might not hold on another, and vice-versa.

Sign Up For More Free Patterns >>>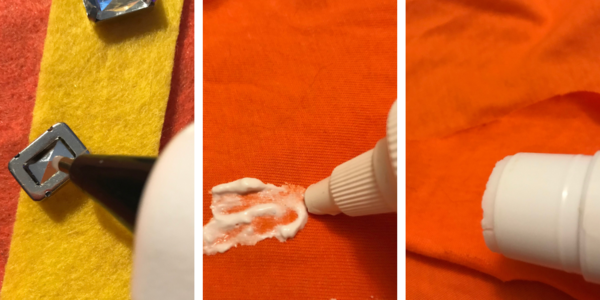 The Best Glues for Fabric
Fabric Glue:
As the name suggests, fabric glue is made for use specifically on cloth. There are many varieties available for purchase at craft and sewing supply shops, as well as online.

The majority of fabric glues will dry clear and are washable, depending on the project. Most are also meant to be permanent, so apply carefully.

A previous blog post covered Dritz's Liquid Stitch™, which is a great product for mending small holes and tears in fabric. If applied correctly, it should last for at least several washings and wearings.

Fabric glue is also useful for attaching various embellishments and adornments to fabric. Like with any kind of adhesive, do a test patch on a sample swatch to make sure the materials you're using will hold together.

Also, wash any glued garment or item carefully (preferably by hand) to prevent any glue transfer or damage.
 
Fusible Interfacing:
Fusible interfacing is a two-sided synthetic interfacing material that is used to stabilize and strengthen fabrics. One side is fabric-y, while the other is coated in a glue that melts and then adheres once heated (usually with an iron).

It's most often utilized to stiffen collars and waistbands, though fusible interfacing is also useful for repairing small tears in cloth. Applied to the back or inside of a garment or other fabric item, a small patch of this adhesive sheet will prevent further tearing and rips.

There are different thicknesses (or "weights") of interfacing, so try to pick one that is close to the fabric you are using. Additionally, this material is also made in a thin strip that comes on a roll (known as fusible bonding tape), which is perfect for small repairs.
 
Hot Glue:
A hot glue gun can also be used to attach embellishments to fabric! A favorite of crafters everywhere, this adhesive becomes very fluid when it warms up in the applicator gun.

Because most fabrics are porous, hot glue is a great option because it fuses into the weave and fibers of the fabric to create a strong bond.

Hot glue should last for quite a while on the fabric, and it's waterproof! Just be careful not to wash the item in hot water or machine dry it (or the glue could heat up and melt).

The image directly below shows hot glue being applied to the back of an embellishment jewel for fabric.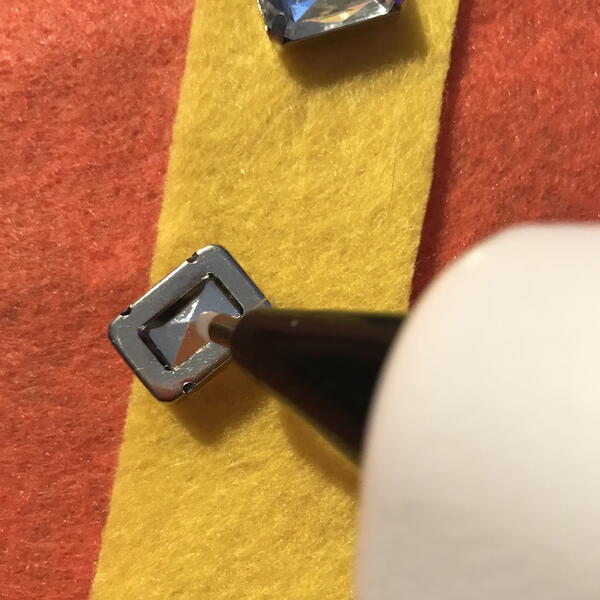 The image below shows hot glue after the embellishment jewel was glued and set on for fabric.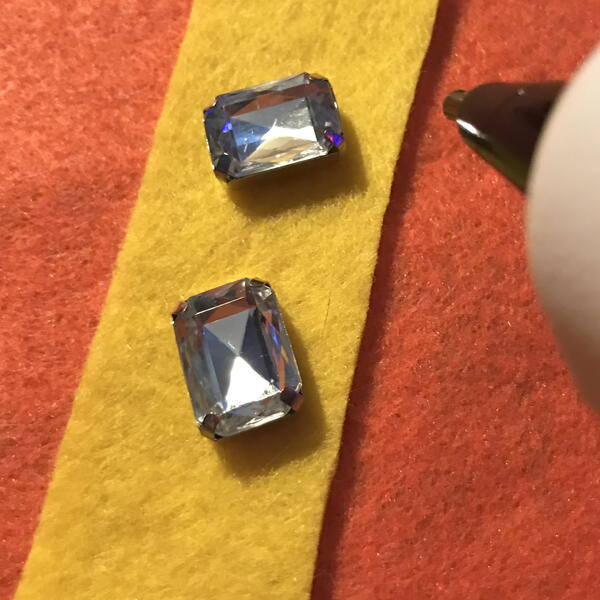 However, I wouldn't recommend a hot glue gun for fixing tears in fabric because it is a little too messy and hard when dry. Read all of the manufacturer's directions before using a hot glue gun because it does get very warm.  

The image directly below shows ripped fabric.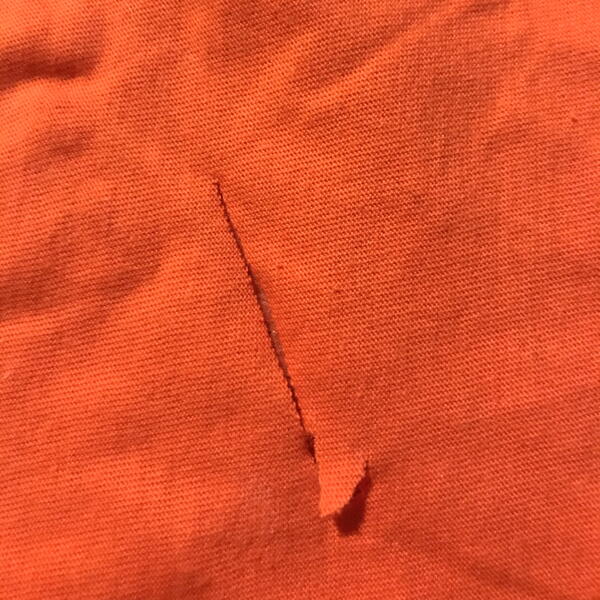 The image directly below shows hot glue applied to the rip on the fabric.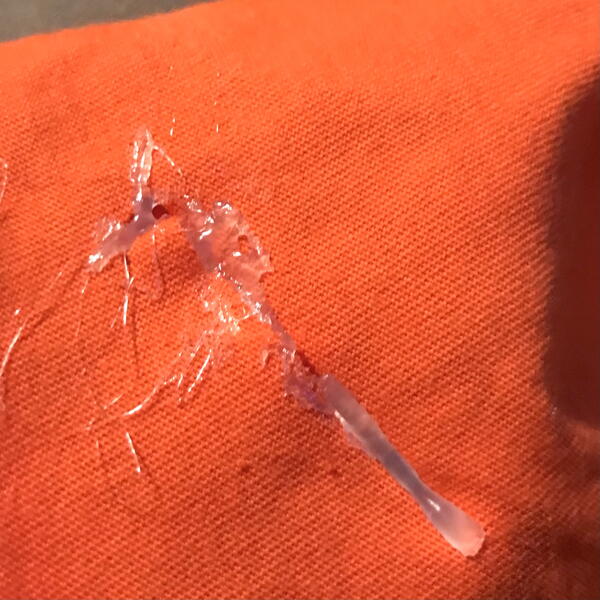 The image below shows hot glue applied and dried to the rip on the fabric.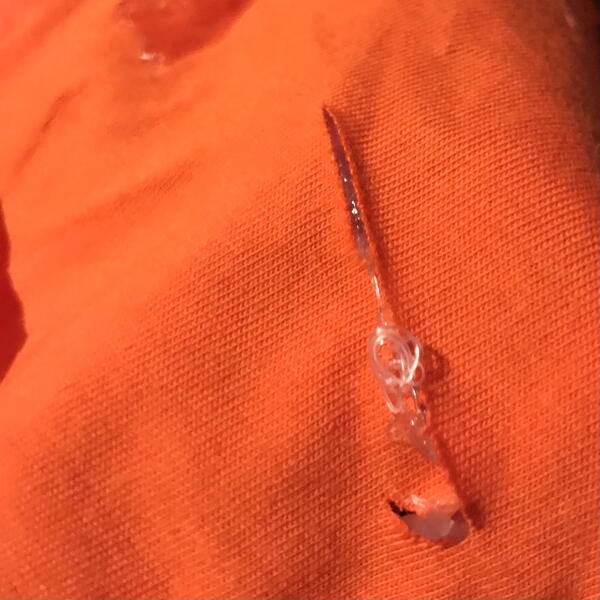 And now for the worst glues to use on fabrics...
 
The Worst Glues for Fabric
All-Purpose Craft Glue:
The white bottle of glue you used in school is a craft room staple. It's inexpensive, easy to find in stores, and feels comfortable to use (and it reminds me of childhood!). But it's not the best option for use on fabric for a few reasons.

It's water-soluble (so it can wash off) and the bond isn't as strong as most fabric glues. Also, because it's thick it can seep through the fabric and become visible on the top side of the material. Therefore (unfortunately) it is not a top pick for use on fabric.

The image directly below shows applying craft glue to fabric, and the images after show what can happen.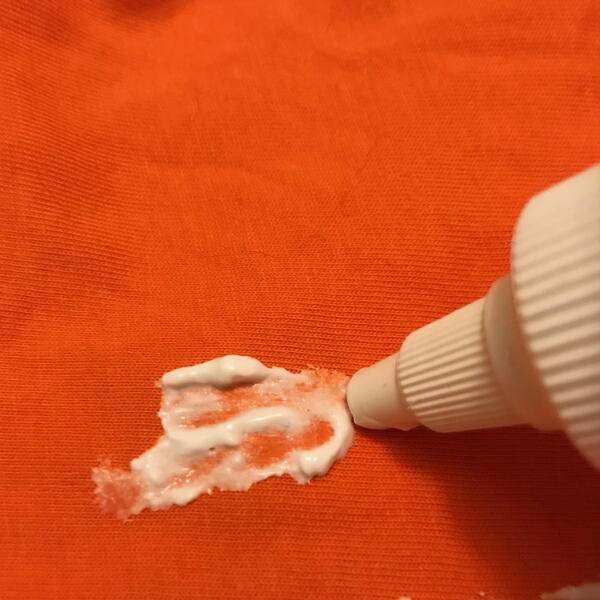 The image below shows craft glue transferring on the fabric.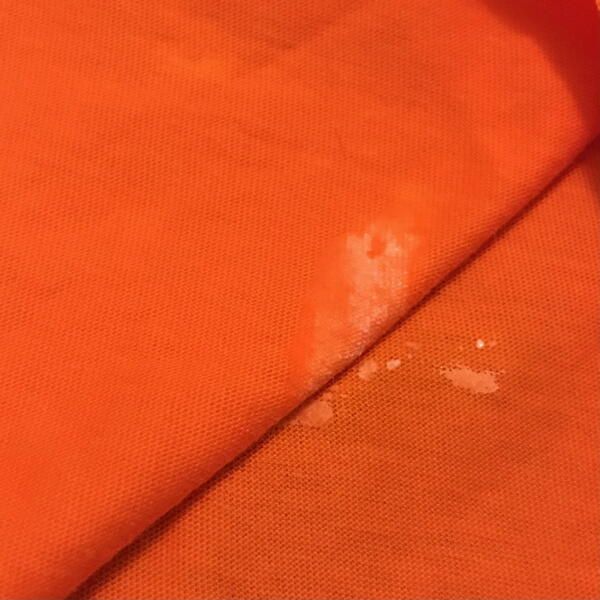 The image below shows craft glue seeping through the fabric.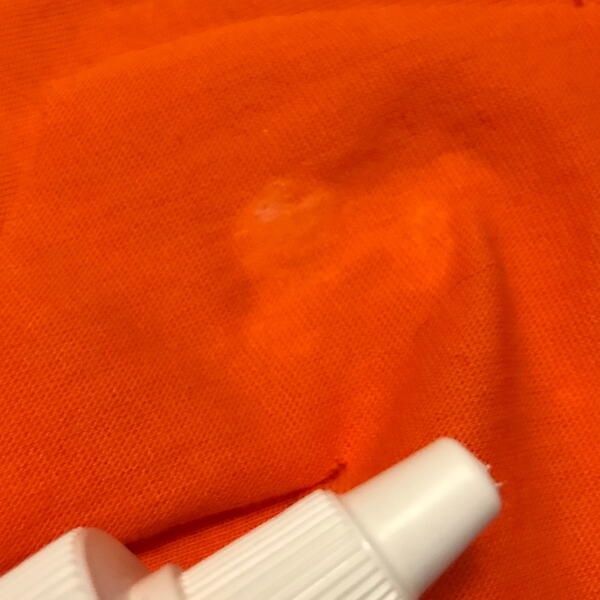 Glue Sticks:
While they are amazing at connecting paper, wood, and even small pieces of fabric (for scrapbooks, mood boards, etc.), glue sticks don't generally provide lasting adhesion on cloth.

Glue sticks are so convenient and easy to use, but are water-based and will most likely wash off. For quick craft projects they would probably work in a pinch, but investing in a glue made just for fabric is a better choice.

The image directly below shows applying a glue stick to fabric, and the images after show what can happen.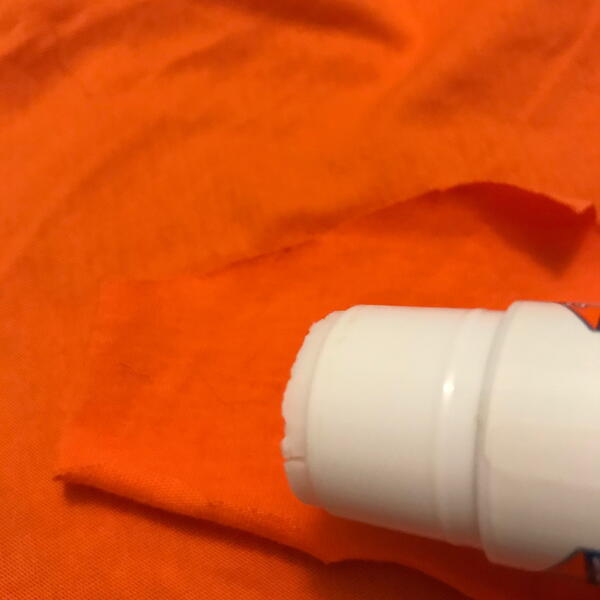 The image below shows glue stick adhesive showing through the fabric.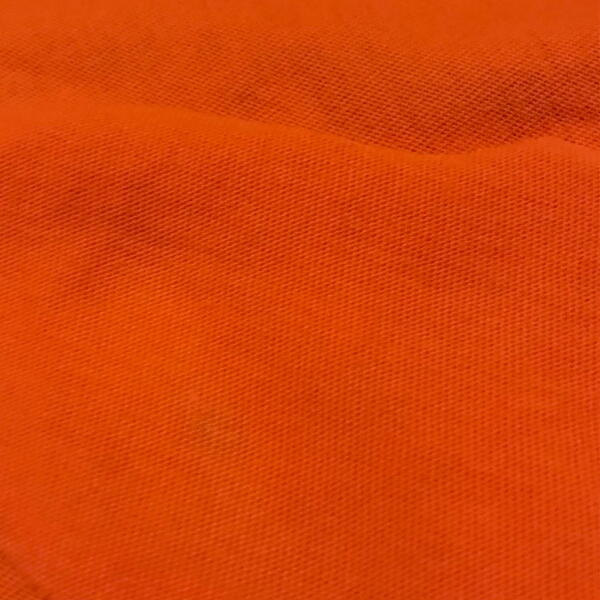 The image below shows a novelty gem not sticking with the glue stick adhesive.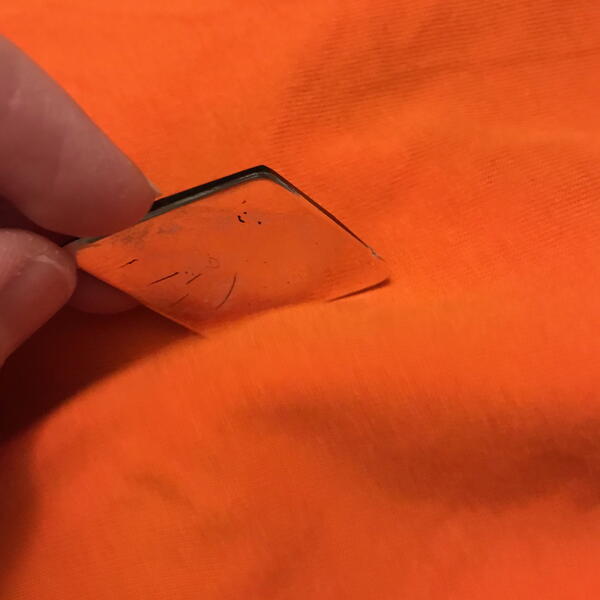 Superglue:
Like the aforementioned glues, superglue might also be tempting to use on fabric for repairs or attaching decorations. This is not recommended for a few reasons.

It will eventually crack at any bends, it might show through fabric because of the runny consistency, and it could potentially damage the fabric and adornments. Superglue has been used in costume or wardrobe emergencies, but it is not a permanent or ideal choice.
 
Spray Adhesive Glue:
In general, spray glues don't work very well on fabric because of the lack of precision during application. Meant more for paper crafts, spray adhesive leaves a thin layer over the surface you are working on.

While it might seem like a quick solution to attach something to fabric using this glue, it would most likely go onto areas that you don't want to be sticky.

If spray glue is the only option, cover the sections that won't be glued and/or spray it onto the adornment then attach to the fabric, avoiding the sides that will be visible.
 
Free projects, giveaways, exclusive partner offers, and more straight to your inbox!
Tags / Related Topics
Your Recently Viewed Projects
Images from other crafters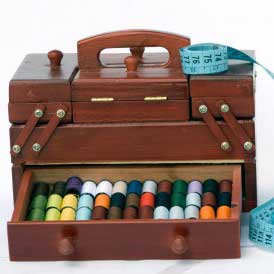 Something worth saving?
SAVE all your favorite patterns
ADD personal notes
QUICKLY reference your patterns