Types of Clothing Closures
Learn all about the types of fasteners in garments, purses, bags, and more!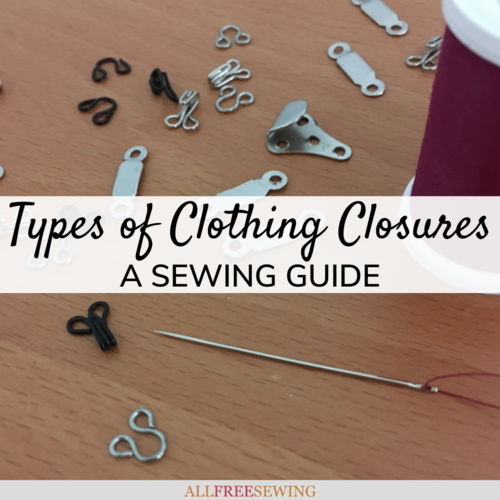 Clothing and sewn accessories need a way to stay closed and secure, which is usually done with buttons. Since regular buttons have been covered on AllFreeSewing in the Different Types of Buttons guide, here is a detailed look at other types of garment and accessory closures.

This page, Types of Clothing Closures, focuses on fastener options outside of buttons and zippers. From hook-and-eyes to toggles, learn all about garment closure alternatives to the traditional button!

Some of these, such as frog and toggle closures are usually used as decorative fasteners for clothes but others, like loops and snaps, have more of a utilitarian purpose to close garments.

It's also not just clothing! Though you'll find all of these closures on various types of clothing, many are also used for bags and purses, decor, or other sewn accessories you may make or have come across. It all depends on the function. Take a look at the popular fastening options below and learn something new.

Sign Up For More Free Patterns >>>
 
Types of Clothing Closures
Scroll down to learn about the following types of closures for clothing:
Snap Fasteners
Hook and Loop Fasteners
Hook and Eye Fasteners
Tie Closures
Loop Closures
Frog Closures
Toggle Fasteners
Snap Fasteners for Clothing
Snap closures are one of the most common fasteners for clothing and accessories. They come in a variety of sizes and finishes, can be made from metal or plastic, and are applied at spaced intervals like buttons.

Snaps either be sewn on or applied with a hand-held plier tool (depending on the type). The pieces go on the inward-facing sides of overlapping material. One piece is flat with a small hole, and the other has a rounded part that fits into it when snapped together.

Snaps are great for active-wear and other kinds of garments that are made with materials like rip-stop nylon. This is because the force of pulling open snaps can rip a very thin or delicate material.

It's always a good idea to reinforce the area where you'll be placing the snaps with interfacing or another stiffening material in between the layers.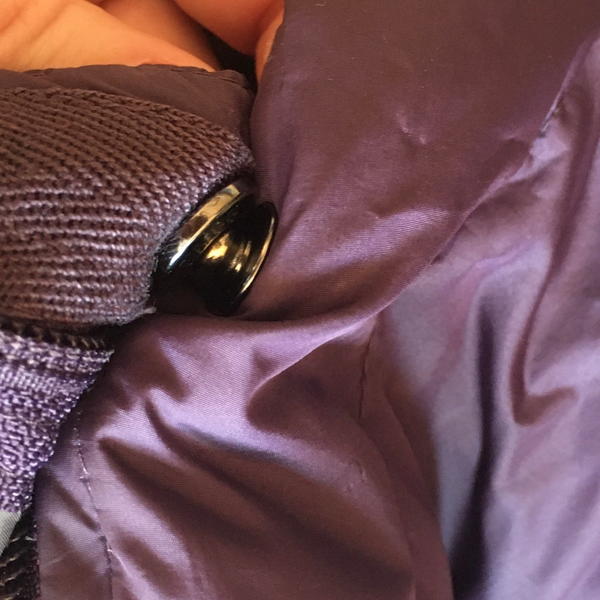 Hook and Loop Fasteners (Velcro®)
Another popular closure is the hook-and-loop, commonly known by the brand name Velcro®. Today it's found on everything from coats to shoes to pants, and was a revolutionary product when it started to be used commercially in the 1950s.

Hook-and-loop still continues to be one of the most frequently used materials in the manufacturing of clothing and other goods and is a patented product. Practical, inexpensive, and effective, it's perfect for incorporating into a variety of sewing projects!

Consisting of two strips of nylon or poly material, it works by attaching the little flexible "hooks" on the rough piece to the "loops" of the softer piece. Then it can be opened by simply pulling them apart!

It can be sewn on (recommended for items that will be worn frequently) or purchased with self-adhesive backing attached (for use on items that aren't being worn). When sewing on a hook-and-loop fastener, work carefully to stitch a little bit inward from the edges, and completely secure both sides so they do not come off over time.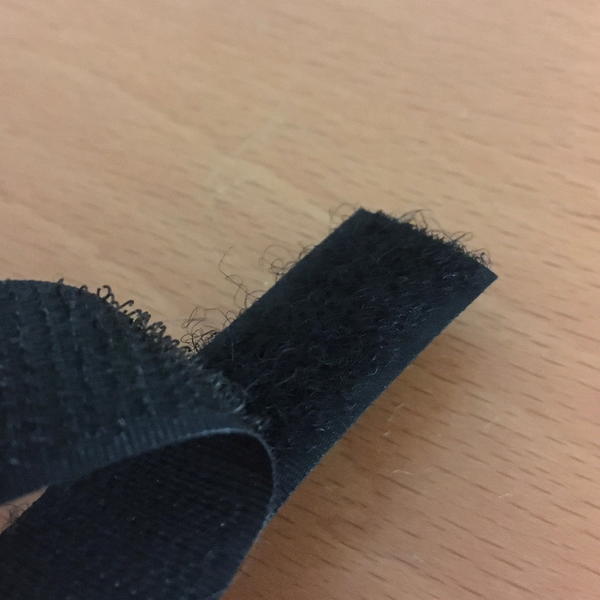 Hook and Eye Fasteners for Clothing
Hook-and-eyes lay quite flat and can close up small areas invisibly. These are typically very small (and sometimes a bit difficult to open and close), but the result is definitely worth it. Consisting of two parts (the angled "hook" and the rounded "eye" that it goes into), they are most commonly used on undergarments like bras.

They are also often found at the top of a zipper on a dress or skirt. This allows the zipper to remain together, reducing the chance it will come unzipped when a person is wearing the garment.

Most hook-and-eyes are inexpensive and made from metal that is coated in a variety of colors. They can be easily hand-sewn onto fabric and are usually placed so the fabric lines up flush instead of overlapping (except when used as a waist tab closure).

Always test the placement of the parts before completely securing them so that they line up correctly.
 
Tie Closures for Clothing
Two strings or straps can also become a tie closure, which is typically formed into a bow or loose knot. These are most often found on the waistband of lightweight items like beach wrap skirts or used on utilitarian garments like scrubs.

Fastenings can be made from extra self-fabric (the same material used to make the clothing or other item), or in a contrasting color or pattern.
Loop Closures
A loop closure that goes around a button or peg is most often seen on sewn purses and jewelry rolls. It's such a useful type of closure for accessories as it is easy to open and close but still stays secure. The loop shape can be made from fabric (self or contrasting), cording, or even elastic.

This kind of closure must be sewn on very carefully, allowing a bit of tension when closing the loop over the larger piece. Doing this will keep the loop from stretching out and coming undone. Loops can be attached by hand or connected with a sewing machine.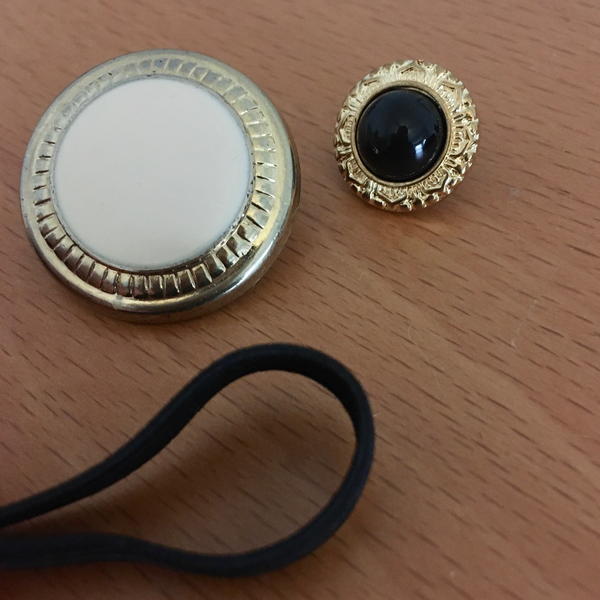 Frog Closures for Clothing
This kind of fastening is typically used on traditional-style dresses from China, European military garments dating back to the 17th century, and sometimes on other coats or outerwear.

It consists of two sections (one on each lapel), made from braided cording swirled around in circular patterns and then hand-stitched to hold it in place. The looped side of the frog closure then goes over either a knot made from the same material or a button that is held by the other side.
 
Toggle Fasteners for Clothing
As the bulkiest of all the closures, toggle clasps are mostly reserved for thick jackets and duffel coats. Similar to a frog closure, toggles come in two parts: a loop and a button or piece of horn that the loop goes over.

One part is attached on each side of the lapel, usually in spaced intervals. Toggles tend to be large and made from either strong nylon material or even leather, and are designed to be a prominent feature on the garment. They are typically sewn on by machine to reinforce the material for lasting wear.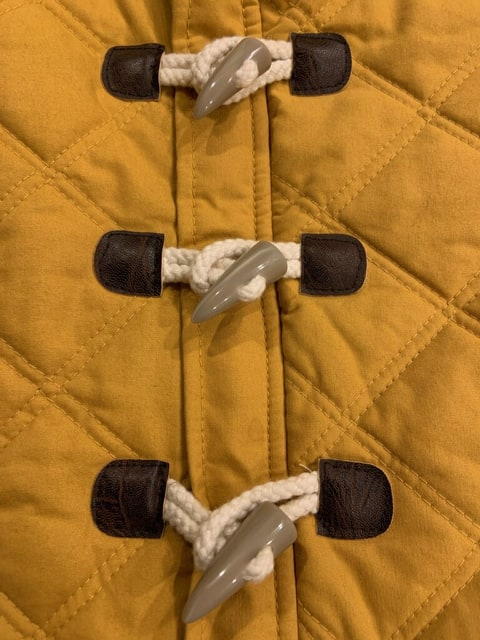 Free projects, giveaways, exclusive partner offers, and more straight to your inbox!
Tags / Related Topics
Your Recently Viewed Projects
Images from other crafters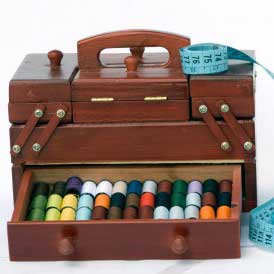 Something worth saving?
SAVE all your favorite patterns
ADD personal notes
QUICKLY reference your patterns