Different Types of Buttons: A Guide for Sewing
When it comes to different kinds of buttons, what's out there? Learn all about buttons with this guide on the types of buttons for sewing.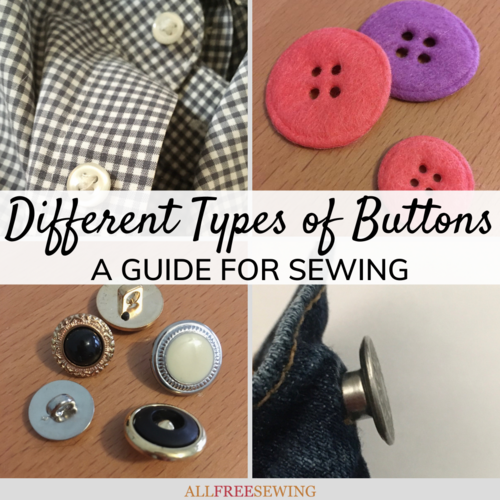 Buttons are an essential part of sewing so many kinds of garments and accessories. They are most commonly used to help close and secure clothing, from shirts to coats to skirts and more.

With this page, Different Types of Buttons: A Guide for Sewing, you will learn all about buttons that are most commonly used in tailoring.

There are a variety of sizes, shapes, and styles of buttons available, which can definitely be overwhelming. Use this handy guide to understand the various kinds of buttons and their primary uses!

After reading this, you'll understand the types of jacket buttons, clothing button types, along with those used for shirts and similar garments, jeans, and those pretty buttons that tend to be on the decorative side (but still functional!).

Sign Up For More Free Patterns >>>
 
This guide, Thread for Sewing Machine: What's Best?, goes over everything you need to know about selecting the right thread for projects you want to make.

>> Thread for Sewing Machine: What's Best?
Types of Sewing Buttons - Overview:
Below, you'll find more detail about some of the most common/popular buttons. Some of these types overlap as some include the shape, the number of holes, or what material they are made with or are used for. Here's a list of most sewing buttons you may encounter:
Coat buttons (scroll to learn more)
Shell buttons
Fabric buttons
Plastic buttons
Metal buttons
Wooden buttons
Shirt buttons (scroll to learn more)
Stud buttons
Lapel buttons
Leather buttons
Jean buttons (scroll to learn more)
Decorative buttons (scroll to learn more)
Glass buttons
Snap buttons
Polyester buttons
Types of Coat Buttons
Buttons that are made specifically for use on heavyweight coats and jackets tend to be large in size. They are bulky in both width and height (typically 1" to 1.5" across or so) and therefore the buttonholes are larger and more securely sewn.

Some jacket buttons types are two- or four-holed (where the thread goes up and through the top of the button), while others have a solid top with a rounded loop on the reverse side where it attaches (shank buttons).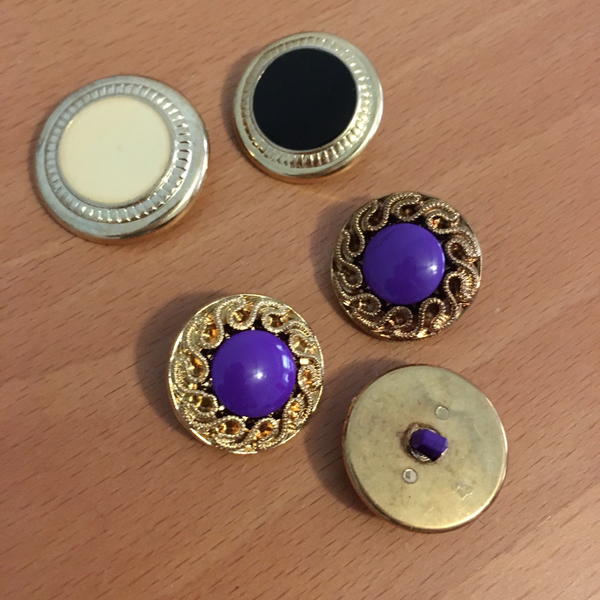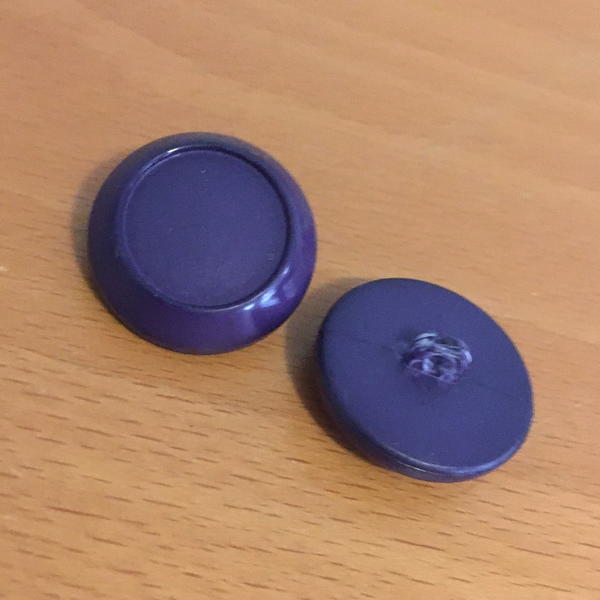 Coat buttons are usually made from metal or thick plastic to stand up to regular wear. Additionally, on garments like a pea coat, the metal buttons are sewn in a double-breasted pattern so they stand out as a decorative feature.

When choosing buttons for your coat project, consider the style you are going for, the color scheme, the length of the garment, and how easily the buttons can go through buttonholes made in the fabric.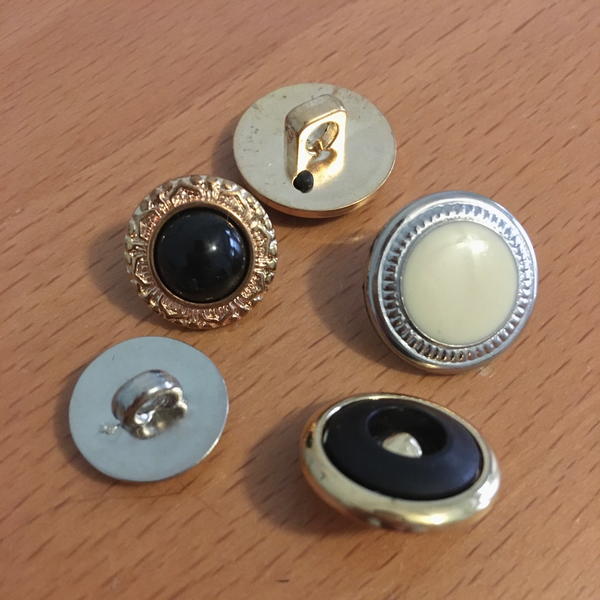 Shirt Buttons Types
Buttons made for shirts (especially dress shirts and blouses) tend to be smaller in size than coat buttons. Most are between 3/8" to 1/2" wide, and often made from plastic, metal, or even shell.

The small size allows them to lay flat, layer more smoothly under sweaters, and wash and dry clean easily. This is usually a less expensive kind of button, and they can be purchased in large quantities.
Extras of this type of button are often included with shirts and other garments. They are usually in a small plastic bag attached to the hang tags, or even sewn into the hem or side tags inside the shirt.

This allows you to easily replace the buttons if one breaks or falls off. If you are sewing on a replacement button, be sure to match the thread color and finish to the existing kind. Sometimes the manufacturer even includes extra thread for this purpose!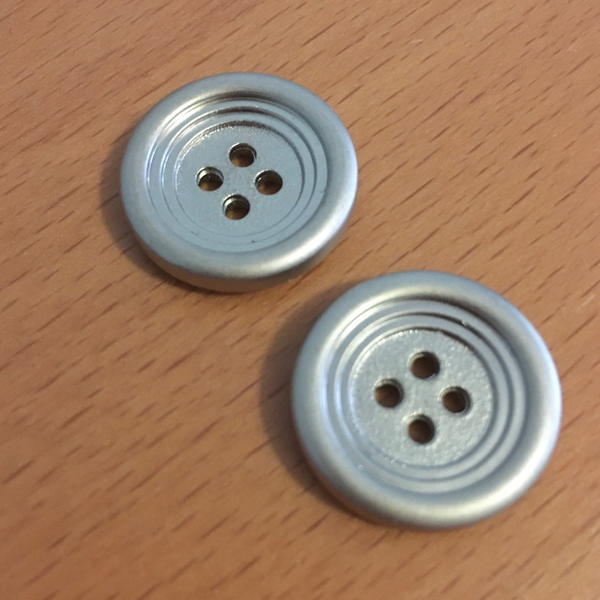 Types of Buttons on Jeans
Types of buttons on pants aren't all the same. Jeans usually have metal buttons, and they are often embossed with the brand's name or logo. Meant to withstand repeated washing and rough wear, buttons used on denim pants are larger than shirt buttons, but usually not as big as coat buttons.

They are typically about 3/4" wide, with a rounded loop on the underside instead of holes through the top.

Buttons on jeans are almost always no-sew. They consist of two pieces, and the flat back part is a spiky tack that is hammered into the front part for durability.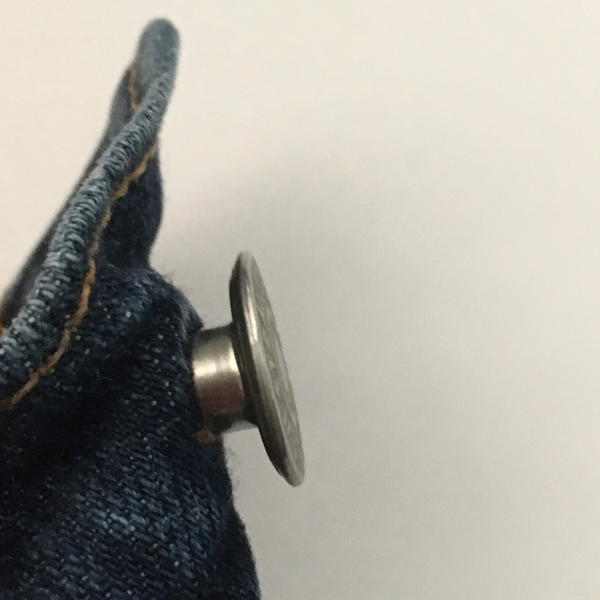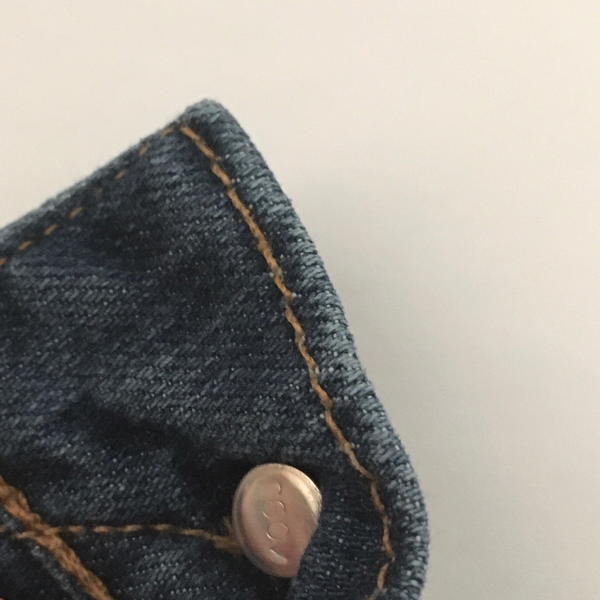 On this page, learn the types of buttons you'd find on pants, then how to sew certain types of buttons on pants.

>> How to Sew a Button on Pants
Buttons for jeans are also fairly tall, with a large distance from the top to the end of the loop at the bottom. This is to allow the button to accommodate the thick denim waistband.

Almost all pairs of jeans have a button at the top of the fly closure. Many have a total button fly instead of a zipper, though the buttons below the top one are usually hidden by a tab of fabric.
Types of Decorative Buttons
Other kinds of buttons are more decorative, but even these can be functional. Pearl buttons are a great example of an embellishment that is also a closure, especially for dressy garments. Buttons can also be made from felt, mother-of-pearl, wood, glass, silk, and many other materials, both natural and synthetic.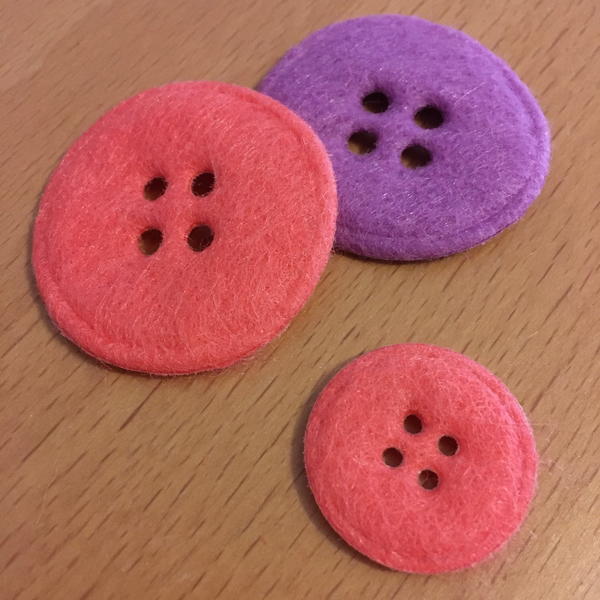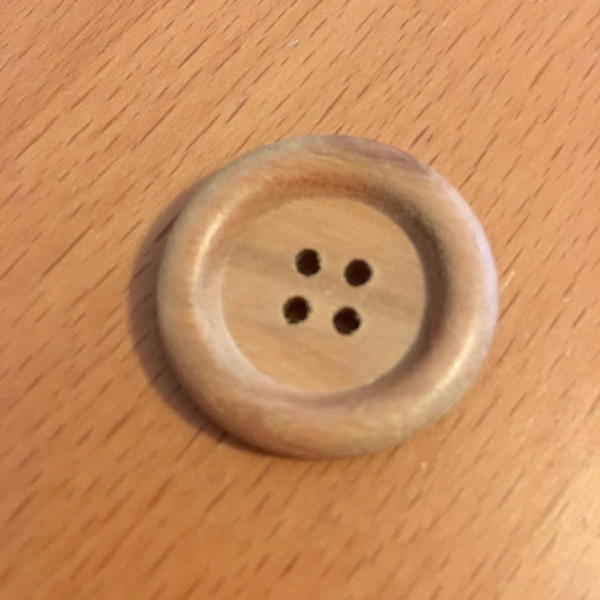 Free projects, giveaways, exclusive partner offers, and more straight to your inbox!
Tags / Related Topics
Your Recently Viewed Projects
Images from other crafters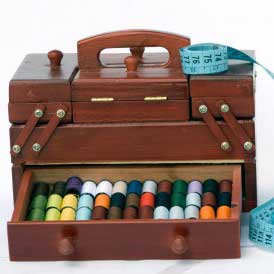 Something worth saving?
SAVE all your favorite patterns
ADD personal notes
QUICKLY reference your patterns