Sewing For Beginners
Bonus: Get our newsletter & special offers for free. We will not share or sell your email address. View our Privacy Policy

17 Types of Sewing Needles (and Their Uses!)
Learn all about sewing needles with this informative resource.
Updated November 22, 2022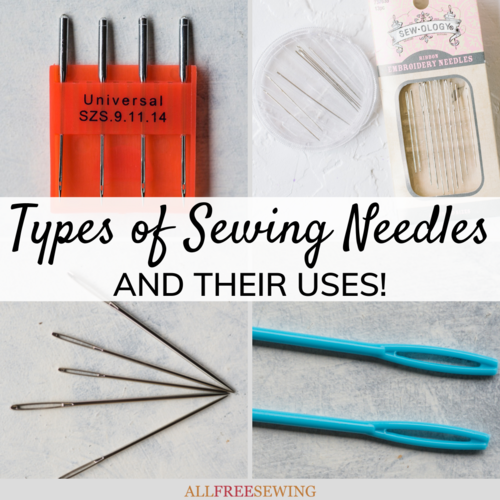 What Types of Needles are There?
There are so many different sewing needles available to sewists, it is sometimes difficult to know if you have chosen the correct needle for your project.

On this page, we're going over 17 Types of Sewing Needles and their uses! We have compiled this guide to help you understand needles better and perfect your sewing.
 
In this sewing needle guide, we will first go over the difference between hand sewing needles and machine sewing needles, including which types are available for each style.

Once you have read about the two varieties of needles, you can learn in detail for which fabric each type is used. In the Types of Sewing Needles and Their Uses section, find out what each needle looks like and what is used for.
 
We even have two "anatomy of a needle" diagrams for a quick look at the differences. Never choose the wrong needle again. With this resource, you will be able to find the best sewing needles, hand or machine, when shopping for your next sewing project.

Can you use hand and machine needles interchangeably?
No. If your sewing machine needle breaks, you cannot replace it with a hand needle and vice versa. As you will learn below by looking and reading about the different parts of needles, the end of each needle is different and will not work for a different type of sewing or way than it was made to be used.

Sign Up For More Free Patterns                                          
Table of Contents
Hand Sewing Needles Types
Hand sewing needles come in a variety of sizes and levels of sharpness. They also feature different size eye holes for thinner or thicker thread.

Hand sewing needles are meant to be held and maneuvered by hand, which is why they are lighter in weight and simple in style. You will always want to make sure the thread fits into the eye of the needle you are planning to use.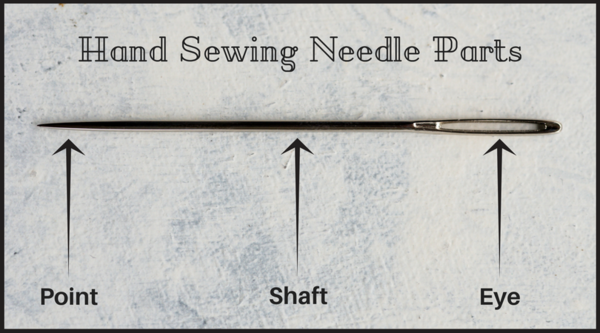 The hand sewing parts are shown in the image above. As you will see in the machine sewing needle anatomy in the next section, the eyes are in different places on hand vs machine sewing needles. You will thread the needle through the top, through the eye of the needle. The point of the needle is on the opposite end.
 
Once the needle is threaded, you will push the needle point through the fabric and then back up to stitch. Because hand sewing can cause calluses and injuries from the point, professional sewists wear gloves or thimbles to protect their fingers and hands.
 
The most common hand sewing needles types available include ballpoint, beading, chenille, darning, doll, embroidery, general purpose, leather, milliners, quilting, upholstery, and tapestry.

In the Types of Sewing Needles and Their Uses section down below, you will see what each of these needles is used for, which will help you choose what you need for your next sewing project.
 
Machine Sewing Needles Types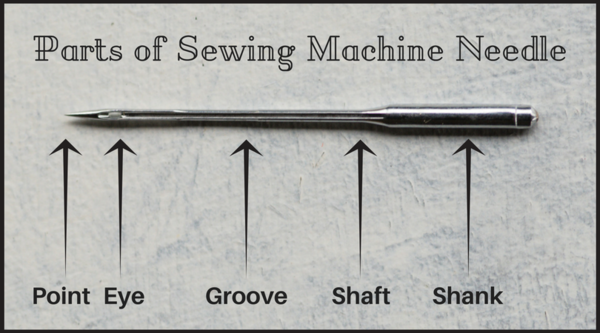 As you can see in the image above, the end opposite the point is thicker than on hand sewing needles. This is so that the needle can be fitted into the machine. Machines have a particular shape for the needles and these needles are clicked into place.
 
Machine needles also have the size shown on the needle, which hand sewing needles are too tiny to include. Sewing machines each have different pieces, options, and accessories, so not all machine needles work on all machines.
 
For example, if your sewing machine does not have a zigzag stitch feature, you cannot use a twin or triple needle (multiple needles together).
 
The most common machine needles available include ballpoint, denim, embroidery, hemstitch, leather/wedge-point, metallica, quilting, sharp, stretch, topstitch, twin, triple, and universal.

It's also important to remember to use clean, new needles with each new project, as well as the correct type. Sandra from Power Sewing says,

"I always start with a brand new 70/10 HJ needle whenever I make buttonholes and wrap the buttonhole area top and bottom with Solvy. Perfect buttonholes every time."
Take a look at the next section to find out all about machine needles and which needles you should choose for your next set of projects.  
Types of Sewing Needles and Their Uses
Although there are even more needles than mentioned on this page, these are the most popular and common types of hand sewing needles and machine needles you will find. There are even a few less common needle types described below.

Most likely, if you are looking to sew, you will find the needle type you need listed and explained here.

Ballpoint Needles: Available for both hand and machine sewing. These needle types have a rounded tip instead of a sharp point. This is ideal for sewing knit fabrics because it does not damage them.

Beading Needles: Available for hand sewing. This is a long and thin needle used when sewing on beads, pearls, sequins, and those sort of embellishments. In order to fit through smaller bead heads, the eyes of these needles are incredibly thin. The needle is very delicate, which means sewing on thinner fabrics is suggested when using this sewing needle type.

Betweens Needles: Available for both hand and machine sewing. Also known as quilting needles, this type is small but sharp and long so that it can push through several layers of fabric. It is ideal for quilting because of the inconspicuous, tiny holes it forms while moving through the layers.

Chenille Needles: Available for hand sewing. This needle is larger and has a very sharp point. Chenille needles are primarily used for adding decoration to sewing projects, particularly heavy fabrics. This needle is very similar to a tapestry needle but is sharper.

Darning Needles: Available for hand sewing. Also known as cotton darners, these hand sewing needles are used to darn and so they have long eyes, sharp points, and are longer in length.

Doll Needles: Available for hand sewing. These needles are very thin and sharp. This type of sewing needle is used for sculpting for doll features on sewn doll projects.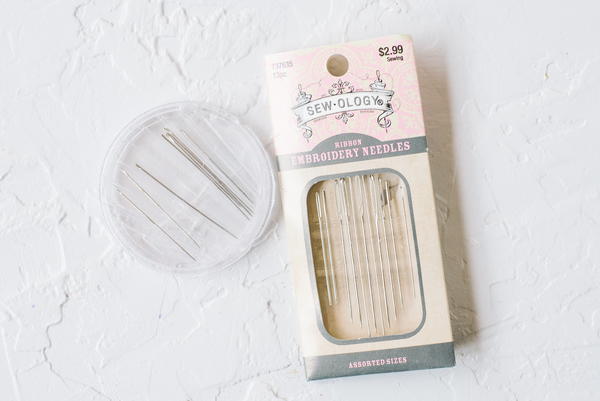 Embroidery Needles: Available for both hand and machine sewing. Also known as crewel needles. If you have seen hand sewing needles with large eyes, there's a good chance they were embroidery needles. Because decorative thread tends to be thicker, a large eye is needed. These needles are also long and thick.

Hemstitch Needles: Available for machine sewing. Also known as wing-style needles, this type creates tiny holes in the fabric while sewing. It should be used with natural fibers.

Leather Needles: Available for both hand and machine sewing. Also known as wedge-point needles or glover's needles, these have a triangle or wedge shape near the tip to help cut through thick materials such as leather, suede, vinyl, and similar fabrics.

Upholstery Needles: Available for hand sewing. Often curved, these needles are one of the more unique sewing needle types. When curved, these needles can reach difficult places to sew. These needles are long and thick.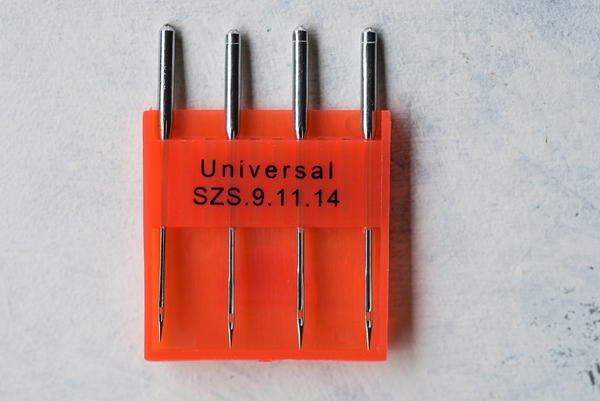 Universal Needles: Available for machine sewing. Slightly rounded but a good go-to needle for many projects, but won't harm knits and weaves.

Straight Point Needles: Available for both hand and machine sewing. Also known as sharps, these are the general purpose needles that work for most projects because they are small and sharp and won't show needle holes as larger points may.

They are a favorite of Maria from Sew Jewish, who works on decorative pieces often. She says,

"I do a lot of machine applique with silk fabrics, especially silk Dupioni, for projects like challah covers and the decorative pieces of prayer shawls. For machine applique with silk and silk-like fabrics, I use a "sharp" needle -- that's the name of the type of needle rather than a description. Larger needles can make visible holes in the fabric, but the small, precise tip of the sharp needle works wonderfully."

An example of her machine applique is shown below.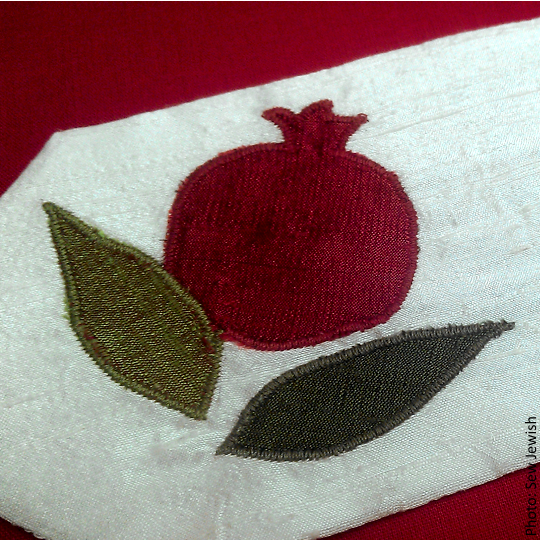 Tapestry Needles: Available for hand sewing. This is another type of sewing needle that has a large eye. It's a large needle that has a blunt point. Aptly named, this needle is ideal for hand stitching and adding decorative touches, such as is down with tapestries.

Topstitching Needles: Available for machine sewing. A special needle used with a machine to add stitching to the surface. It has a very sharp point and large groove and eye so that it will hold thick topstitching threads.

Twin Needles: Available for machine sewing. Also known as double needles, there are special dual needle attachments for the machine. It is used for hemming, heirloom, topstitching, and other decorative stitching.

Triple Needles: Available for machine sewing. This machine sewing needle type is the same as the twin needles mentioned right above except that there are three needle shafts that can be used to decorate and hem.

Yarn Needles: Available for hand sewing. Also known as yarn darners, these plastic needles are perfect for sewing yarn for crochet, knitting, and similar projects.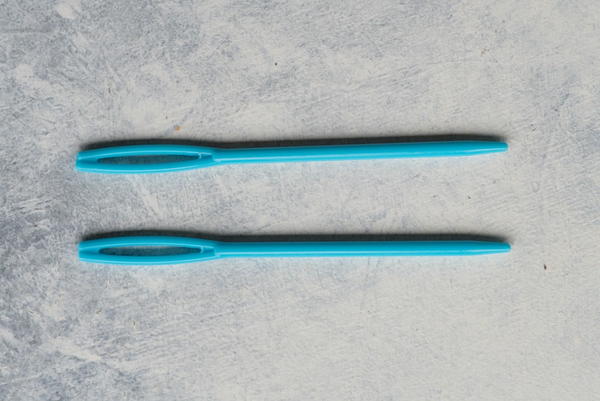 About the Author:

Krista Childers is the Senior Content Editor for AllFreeSewing. She has a passion for creative writing and trying every craft at least once. Find more of her work here: Krista Childers
Free projects, giveaways, exclusive partner offers, and more straight to your inbox!
Tags / Related Topics
Your Recently Viewed Projects
Images from other crafters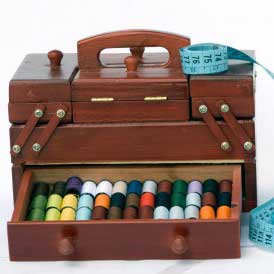 Something worth saving?
SAVE all your favorite patterns
ADD personal notes
QUICKLY reference your patterns