How to Make a Baby Bib (+12 Free Bib Patterns)
Learn how to make baby bibs with snaps. We also have bonus free baby bib tutorials for you to check out.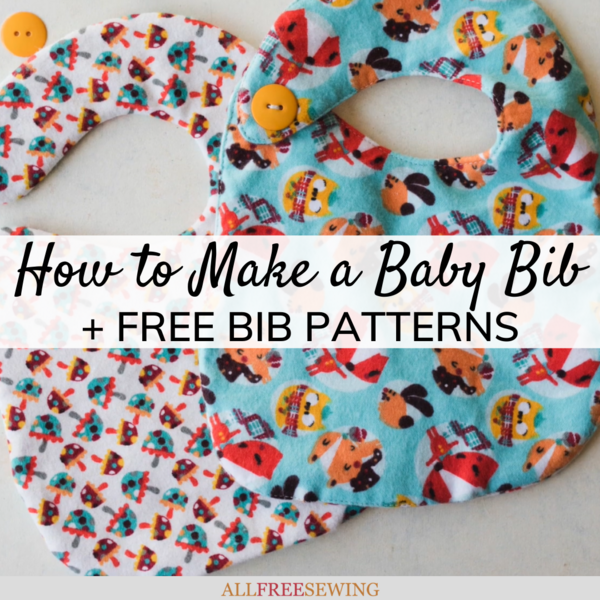 Why buy when you can DIY baby bibs? Not only does making your own baby bibs for your own child or for your next baby shower keep costs down, but sewing them yourself allows you to create customized and personalized bibs that everyone will adore. And if you're looking for easy baby bibs to make, then you've come to the right place.

We have baby bibs patterns you need to see! First, one full tutorial (and video) that shows you how to make a baby bib with a printable template. After that, browse through the 12 bonus tutorials and free patterns from other designers.

You are going to love our easy baby bib tutorial because it's simple to follow, easy to do, and there's a video here to help any visual learners out even more.

With this page, How to Make a Baby Bib, we are sharing our tips, tricks, and tutorials to help you make the cutest and most functional baby bibs. After our simple tutorial, scroll down for the other great tutorials and free patterns. We tried to include a variety of bib types so that you will be sure to find one that is ideal for your little one.

Plus, if you're on the hunt for even more baby sewing patterns, then be sure to check out our category Sewing for Baby. It has every type of pattern and tutorial imaginable. Once you start browsing these ideas, you'll never need to shop for baby gifts ever again.

Interested in more helpful information and inspiration? Sign up for our free newsletter!   
How to Make a Baby Bib:
This delightful baby bib pattern tutorial is from our friend Mary Beth Temple. This tutorial comes with a free printable bib pattern. These instructions will show you how to use the template to make baby bibs with simple snaps. It's also reversible!

This DIY baby bib is easy, fun, and super cute. This design is not only easy to create but it's completely machine washable and sturdy. It will hold up to any baby's mess. If you would like to watch the video version of this pattern design, click here for the Adorable Sewn Baby Bib video tutorial.
 
Materials:
Sewing machine
Free baby bib template PDF
2 pieces of 9-1/2" x 13" or larger coordinating colors of cotton fabric (this pattern uses flannel)
Cotton or preferred type of batting, 9-1/2" x 13" or larger
Marking pencil
Needle and thread (for hand sewing snaps)
Large snaps
2 buttons of the same size or larger than the snap (optional)

CLICK ON ANY IMAGE TO ENLARGE.
 
Print out the two pages of the template. Cut out and tape together the three pieces to make the bib template.

Note: This bib template does not include a seam allowance. When you cut, trace, or sew your bib, keep this in mind and adjust the pattern as needed.

Lay out your two pieces of coordinating fabric on a flat surface, one on top of the other, faces together, with the wrong side up. Use a marking pencil to trace your bib template onto the wrong side of the fabric. Cut out the two pieces of fabric. Add extra space for the seam allowance if needed.

Using the template, trace and cut out the bib on cotton batting, adding extra space for the seam allowance if needed.

At this point, you should have your two bib pieces and one cotton batting bib piece. Layer them similar to as before but including the batting. Batting, then the two bib pieces faces together, as shown.

Note: Pin together if desired.

Stitch all the way around through all three layers, but leaving a few inches open on the bottom to turn the bib out (lock stitch on either side of the opening to keep stitches from stretching when turning out).

Cut around your seam allowance, relatively close. After you trim it, make some diagonal/v cuts around the curves to help your edges lay flat.

Turn out using the opening at the bottom you created. Carefully pull between the two fabrics outwardly until completely right side out and with the faces visible. Then turn up the opening and press.

Topstitch an 1/8- or 1/4-inch stitch all the way around to finish and close up the hole.

Sew snaps to attach the bib neck to the bib base. Strongly sew on a button to either side to accent the snap if desired (but make sure the button is secure because it could be dangerous if baby gets to it).

Your bib is finished! Repeat this process to make as many more as needed.
Your Recently Viewed Projects