Fab Flower Fabric Wreath DIY
Learn how to make a pretty fabric floral wreath to display any time of year. This fabric flower door decor is a must-make for the ultimate welcome!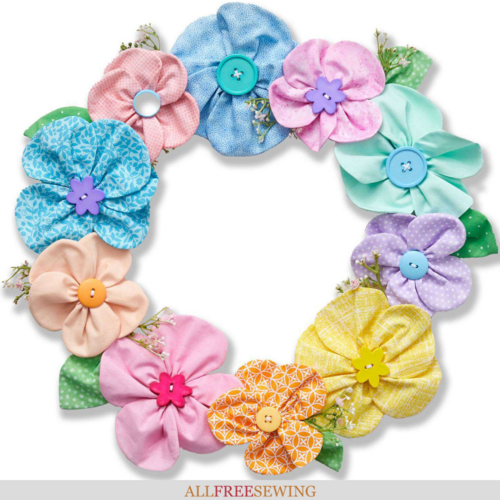 If spring has sprung or you're ready to craft and celebrate it any time of year, then you'll want to see this Fab Flower Fabric Wreath DIY.

With this free pattern and tutorial, you will learn how to make a fabric wreath that's perfect for the spring season. The fabric flowers are patterned and colored with pastels and geometric designs that make you think of spring.

The centers of the flowers are pretty, too! Use fun floral or circle buttons to complete each flower. There are even lifelike leaves and sprigs to make this DIY fabric wreath a seasonal must-make.

They say that April showers bring May flowers but you can grow your own fabric flowers any time of year with this fabulous floral fabric wreath tutorial in your sewing room. You may even want to keep it up for summer to brighten your day and the days of your guests.

It doesn't even have to be used solely as a wreath. It looks just as beautiful as a centerpiece on any table.

Scroll down for the instructions. There's also a free PDF near the bottom of the page (after the instructions), so you can print and keep it around for when you want to make a new one.

Also, why stop at spring? By changing up the colors, you can make one for every season. Your imagination (and maybe fabric stash) is your only limitation.

  Join Sewing It Up For More Free Patterns, Tutorials, & Guides >>
                    
May Flowers Spring Wreath DIY
Skill Level: Beginner
Project Type: Make a Project
Time to Complete: Under an hour
Sewn By: Hand

Materials List:
• Coats & Clark Dual Duty XP® Thread
• Coats & Clark® Button & Craft Thread
• 1/8 yd (11.43cm) assorted pastel solids/prints
      Note: (1) 3-1/2" x width-of-fabric (8.89cm x WOF) strip will make one flower.
• 1/8 yd (11.43cm) or scraps of assorted green prints, for leaves
• 1 yd (.91m) neutral color tulle
• 14" (35.56cm) wire wreath frame
• Assorted sew-through buttons, 1"-1-1/2" (2.54cm-3.81cm) diameter
• Assorted small flower sprigs
• Pattern tracing cloth
• Hot glue gun and glue
• Petal and Leaf Pattern (page 3 of PDF)
• Standard sewing notions

Notes:
• The featured wreath has five large flowers, five small flowers, and five leaves. This number can vary depending on how you position them on the frame.
• The finished size is approximately 16" (40.64cm) in diameter.
 
Spring Wreath DIY Instructions:
Preparation: Trace the large and small petal shapes from the printable PDF onto your tracing cloth and cut them out.

Cutting: WOF=width of fabric
From the assorted pastels, cut: (5) pairs of petals of the same size/color for each flower.
From the assorted greens, cut: (2) leaf of the same color for each leaf.
From the tulle, cut: (6) strips, 6" x WOF (15.24cm x WOF) Seam allowances are 1/4" (.64cm).
 
Assembling the Fabric Flowers
With right sides together, sew around each petal pair, leaving the straight edge open for turning. Backstitch at the beginning and ending of the seam.
 
Trim the seam allowance to 1/8" (.32cm) and turn the petals right side out. Press the edges to shape.
 
Sew a gathering thread along the petal straight edges, sewing continuously from one to the other of the five petals. Pull on the bobbin thread to gather up and tie it off as tightly as possible. Tie the ends of the gathering threads together to form the flower shape.
 
Take a few stitches by hand using Button & Craft thread across the center flower edges and pull the thread to form a small hole in the center. Stitch a button over the opening, pulling the center edges closer together. Repeat for all the flowers.
Assembling the DIY Spring Wreath
Wrap the wreath form with netting to cover the wire and secure the net ends together by tying.
 
Lay out the flowers and leaves as desired on the covered wreath form.
 
Glue the flowers and leaves in place.
 
Tuck in some sprigs of tiny floral stems and glue them in place.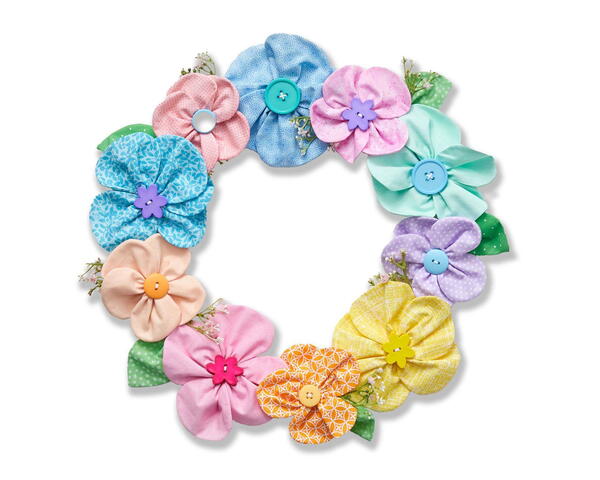 Your Recently Viewed Projects