150+ Free Bag Patterns to Sew (Ultimate List)
Welcome to the ultimate page for bag sewing patterns! General bags, purses, totes, drawstring, diaper, clutches, coin, and many more!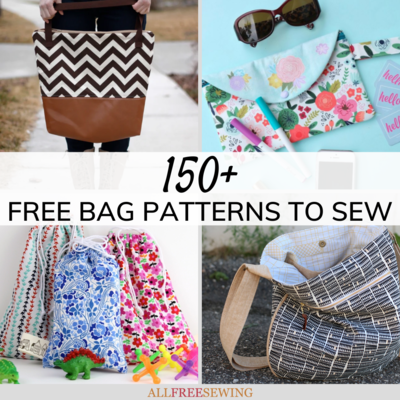 Get ready for the ultimate list of free bag patterns to sew, plus several tutorials, too. Do you know how to sew a bag? If not, then you'll appreciate our page full of DIY bags and how to make a bag sewing tutorials for you to try out!

Not to mention all of the variety in this list. Bags and purses can be expensive to buy in stores, but you can make bags that last longer and look even better with these free sewing patterns and sewing tutorials. We also have much more than purses and standard bags.

Whether you like DIY tote bags, purses, handbags, clutches, backpacks, or are looking for something even more specific, like a diaper bag, you can find easy sewing projects for all of these kinds of bags. You can sew a bag that looks even better and fancier than a designer purse with any of these sewing tutorials.

Some people say that the bag you carry and what's in it can define you. If you like to haul around your DIY tote bag with as many things you can carry, people might see you as the go-to person when they need some extra chapstick or even an extra pair of socks. If you like to carry only the necessities in your DIY clutch purse, you're more of a jet setter and traveler with the ability to flit to another continent at a moment's notice.

If you're a handbag kind of girl, you're flexible; you've got the necessities and a few extra belongings all organized and can be ready for a flight or a chill night at dinner and a movie. Whatever your bag says about you, you can make one all your own with any of these free sewing patterns. 

Looking for even more?
Sign up for one (or more) of our awesome free newsletters!
What's your favorite type of purse? Let us know below in the comments!
Your Recently Viewed Projects