20+ Free Tote Bag Patterns to Sew
Design a new bag big enough to hold all of your necessities with this collection of free purse patterns to sew!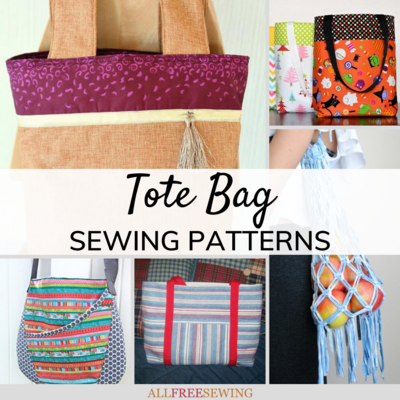 There's the clutch for a night out, the backpack for an overnight trip, the messenger bag for meetings, and the coin purse for carrying small amounts of cash and coins.

All of these free bag and purse patterns are lovely and fun in their own special ways but they are not nearly as versatile as the beloved tote bag pattern.

We think you will enjoy going through these 20+ Free Tote Bag Patterns to Sew and finding yourself at least one to make.

A free tote bag pattern can be used for so many different reasons. You can learn how to make a tote bag for library trips and outings at the farmer's market. You can even carry a classy tote bag pattern as your everyday purse!

No matter the occasion, there's a free tote bag pattern for that! AllFreeSewing loves free tote bag patterns and we have a ton of totes for you to pick through. Check out some of our best and brightest free tote bag patterns on this page.

Tote bags are probably the most popular sewn bags patterns available. It seems like no matter what new activity or device is trendy that there is a tote for that.

Also, the more we become attached to our tablets and computers, the more tote bag pattern ideas we discover being designed to keep them tucked safely away. Whether you are a new member of the totally-into-totes team or a free tote bag pattern fanatic, you will find it here!

Sign Up For More Free Patterns >>>

Plus! Learn how to make a messenger bag in 10 minutes with this amazing video tutorial from our friend Mary Beth!
Table of Contents
Your Recently Viewed Projects