3 Ways to Refashion a T-Shirt
It's amazing the things you can create with just a few plain t-shirts. Wardrobe refashion projects like this one are so inspiring. Just take some plain t-shirts and check out this free sewing pattern. Time to get creative with tees! Watch Maureen Wilson create 3 different T-shirt options in the video found at the bottom of this page.




Iron on Tree Tee:

Supplies:
Plain tee
Iron-ons or fabric markers
Buttons
Embroidery floss & needle

For the first refashion, I'll be using some iron-ons. These came in a booklet I bought at Paper Source. However, it's easy to make your own using printable iron-on paper. Alternately, you could draw a design on the tee using fabric markers.

To transfer an iron-on, place the image face down and iron from the center outward in a circular motion. It takes about a minute. Let cool, then remove the paper.

I'm going to embellish my iron-on with buttons. Use a contrasting thread for a pop of color.

Finally, I'll hand embroider a running stitch beneath the tree. This shirt has a hand-made, hipster feel.

Gamer Tee

Supplies:
Plain tee
Old tee to cut up
1/4-inch wide elastic, about 10 inches
Saucer to trace
Pencil
Sewing machine, pins, & thread
This next refashion would work well for a boy's shirt as well. My daughter calls it her Gamer Tee because the front pocket can hold her Nintendo. I'll be using a second shirt from my stash. As I've mentioned in other tutorials, I keep a large bag full of old tees to use while refashioning.

Cut a rectangle from the spare shirt. It should be several inches smaller than the width of your tee. Cut through both layers of the shirt.

Fold the rectangle in half width-wise. Place a saucer on the upper corner and trace the arc. Cut along this curve and unfold.

Now, if you wanted a polished look, you would sew these pieces right sides together, then turn and topstitch. But I want this shirt to be ultra casual, so I'm leaving raw edges. Since we're working with a knit, it won't fray, but will curl slightly in the wash.

Sew the two layers of fabric together along the curves.

Then pin the large pocket piece to the tee shirt. Sew along the top, bottom, and sides, but leave the curves open so your hands can slide in. Be sure you're only sewing on the top layer of the tee shirt.

Next I'll add a little pocket on the chest. For added interest, I'm turning my fabric so the pocket has a vertical stripe. Cut a rectangle from both layers of the spare tee, then trim the bottom into a U shape. Sew the layers together at top.

Pin the pocket to the shirt, and sew around the U, leaving the top of the pocket open.

Although my daughter loves this shirt as-is, I can't help adding a girly touch to it. Ruching sleeves is a super simple way to add femininity to a garment. Turn the tee inside out. Sew a 1/4-inch wide piece of elastic from the shoulder to the cuff. Pull the elastic tightly as you sew. When you're finished, the elastic will shrink and ruffle the sleeve.

Layers of Ruffles Tee
Supplies:
Plain tee
Old tees to cut up
Sewing machine, pins, & thread
This third shirt is flirty and fun, with layers of ruffles. You can make them all in one color, or mix a variety of patterns. You'll need old tee shirts that are at least several inches wider than the shirt you're refashioning. Cut old tee shirts into strips. Mine are about 3.5 inches wide. Remove the side seams.

Lay them out on your shirt so you can see how many you'll need. The final layer will go right beneath the arms. For this ruffle, you'll be using the hem of an old tee, because it's already finished nicely.

Now ruffle all of the strips, by sewing with a basting stitch. Do not backstitch. When you remove the strips from your machine, leave the threads long.

Unpick the side seams of the tee you're refashioning, between the hem and the underarm area.

Starting at the bottom of the tee, pin a ruffle strip to the tee. Pull the bottom basting thread to tighten the ruffle. Adjust the strip so that it fits the width of the shirt, plus a little extra so it will be caught in your seam later.

Sew the strip in place with a 1/2 inch seam. You don't need to switch your thread for different strips, just make your thread match the final top ruffle, because those are the only stitches that will show.

Remove the basting threads as you go.

Once you've added all the strips, turn the shirt inside out. Line up the side seams and pin. Sew together with a zig-zag stitch. Then trim off any excess fabric.

Bonus Project!

With all this refashioning going on, my daughter begged to design her own tee shirt. Applique is the perfect project for beginning sewers, because double-sided fusible webbing will hold pretty well, even if the topstitching is less than perfect.
Cut your design from scraps, then iron Heat'n Bond Ultra Hold to the back.

Peel off the paper backing and iron your design to the tee– there's no need to bother with pins.

Topstitch the design in place.

Refashioning plain tee shirts is economical and a lot of fun. What will you design?



Free projects, giveaways, exclusive partner offers, and more straight to your inbox!
Tags / Related Topics
Your Recently Viewed Projects
Images from other crafters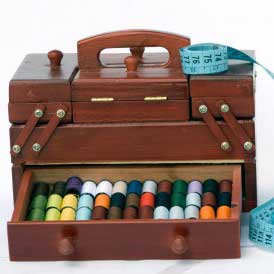 Something worth saving?
SAVE all your favorite patterns
ADD personal notes
QUICKLY reference your patterns