Girl's T-Shirt Skirt Tutorial
If you're looking for clever DIY old t-shirt ideas, then you (and your daughter!) will love learning how to turn a t-shirt into a skirt.
Updated October 22, 2018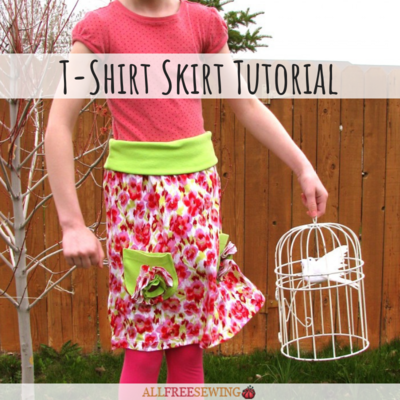 Little girls' fashion is by far the cutest, most playful, and loveliest type of clothing out there. The only downside? Girls seem to grow out of their clothes at light-speed, meaning that you're constantly buying new pieces at the store and spending money to replace entire wardrobes every few months.

Tired of spending money to make your daughter feel like the princess she is? That's why we enlisted sewist Maureen Wilson to share one of the easiest wardrobe refashioning projects you'll ever make! With this simple how-to guide, you'll learn how to transform a cheap, oversized tee into a twirly little girl's skirt.

You won't believe how fun and economical refashioning t-shirts can be. This t-shirt skirt tutorial shows you how to make a skirt that's practically free! Use materials you already have to sew up a piece your daughter will cherish all season long. You'll easily win the title of "Super Mom" after this ingenious clothes refashioning tutorial.

For more awesome free sewing projects, patterns, and tutorials, be sure to subscribe to our newsletter, Sewing It Up.


Instructions - T-Shirt to Skirt Refashion
Materials:
2 adult sized t-shirts (long sleeved is best)
2 large buttons
Needle, polyester thread, & sewing machine
You'll need two measurements. First, measure around the waist. Second, measure from hip to knee. You'll need a t-shirt that is at least 1-1/2 times bigger around your waist than your actual waist measurement. It's fine if it's bigger than that; your skirt will just be fuller.

Cut the skirt to the hip-to-knee measurement plus one inch for the seam. Leave the hem intact.

Next, we'll cut the band from a second tee shirt. First, remove the hem. Decide how wide you'd like the finished band to be, then multiply that measurement by four and add one inch. Cut width-wise to that measurement. Now divide your waist measurement by two. Add half an inch, and cut off one end of the t-shirt to that measurement. Leave one side seam intact.

Finally, we'll cut the pockets. Decide how big you want them, then add half an inch to that. I'm cutting mine at 5 inches. Use the sleeve portion of your second tee shirt. Leave the cuffs intact.

Now we'll start sewing. Use a ballpoint needle and polyester thread. Select a basting stitch on your machine. This is the longest stitch length available. Baste the top raw edge of your skirt with a half-inch seam. Don't worry if your fabric is bunching up once it's sewn. 

Put the skirt aside and work on the band. Fold it in half so that the seam is outward and on the left. Change to a narrow zig-zag or stretch stitch. Sew down the side of the band with a half-inch seam.

Turn the band right side out. Fold the edge of the band upward and in half. All the raw edges should be at the top. Align the edges and pin together.

Put the band aside to make the pockets. Turn the cut sleeves inside out. Trace a round item to make a curve about a half-inch away from the raw edge. Sew directly on top of the curve. Trim off the excess fabric. Turn the pockets right side out. Roll the seams between your fingers to give them definition.

Now, pin the pockets to the main skirt piece. Be sure you're pinning them to the top layer of the skirt only. Topstitch around the pocket with a 1/8-inch seam. Then sew the top inside edge of the pocket.

Now we'll assemble the skirt. Pull on the end of your basting stitch thread to tighten the skirt's waist. Adjust the waist of the skirt until it is the same width as your band.

Insert the skirt into the band. The raw edge of the band should align with the raw edge of the skirt. Line up the seams, and pin all the way around. Now sew with a 1-inch seam.

Remove the pins. Fold the band upward, then fold it in half so that it's ready to wear.
Instructions - Flower Embellishments
Here's how to make some cute flowers for your pockets. Trace 4 small circles and 5 large circles for each flower. Fold a large circle into fourths, and then stitch it to the center of another large circle. Repeat with the remaining large circles. Then do the same thing with the smaller circles. 

Add some stitches in the center so that all the petals are secure. Finally, add a button to the center.

Sew the fabric flower onto your skirt pocket. Make sure you're only sewing through the top layer of the pocket. Your shirt skirt is complete!
Video Tutorial
If you are a visual learner, be sure to watch Maureen's video tutorial for this DIY t-shirt skirt:


More Refashioning and Upcycling Tutorials
Now that you've sewn your daughter her new favorite skirt from a t-shirt, why not explore other ways to cleverly reuse materials? Sewing projects don't always have to require a trip to the fabric store. All of these DIY upcycling projects use materials you have on hand to make everything from home decor to couture dresses!
Free projects, giveaways, exclusive partner offers, and more straight to your inbox!
Tags / Related Topics
Your Recently Viewed Projects
Images from other crafters

Project of the Day
Beginner sewing projects need to be two things. They need to be easy and they need to be small. When you start out sewing and learning… See more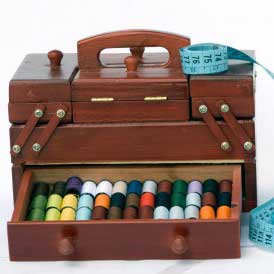 Something worth saving?
SAVE all your favorite patterns
ADD personal notes
QUICKLY reference your patterns