Free Sewing eBooks
Get ready for a sewing experience like never before! Here you'll find all of AllFreeSewing's published eBooks that range in theme from holiday crafts to project types. Designed for every sewing skill level, these eBooks are all-inclusive. The only thing you might be at a loss at when browsing through these sewing tutorials is which project to take on first. Choose your favorite eBook, download it, and begin projects that are built to last and entertain.
For help downloading our eBooks, see our help document here.
Christmas eBooks

Fall eBooks

Other Holidays

11 Sewing Room Ideas: How to Organize Your Room: Get your sewing room into tip-top shape with this eBook. You'll get all sorts of great tips and tricks to really make your room clean and organized.

8 Easy Sewing Projects for the Home Free Sewing Patterns for Home Decor: By creating a living space that shows off your sewing abilities and creativity you'll be able to express your crafty side while also saving money. All of our free sewing patterns for home decor were created with both principles in mind.

Free Sewing Patterns for Spring Fashion: 8 DIY Sewing Projects: With this delightful eBook, you'll find some amazing sewing patterns that are perfect for spring. It's going to be so easy to update your wardrobe with so many cute clothes to choose from.

11 Free Vintage Patterns: How to Sew Retro-Inspired Clothing for Ladies: Step back in time with AllFreeSewing by learning how to sew clothing inspired by past decades. This eBook is a wonderful opportunity to celebrate historical fashion favorites.

15 Sewing Patterns for Women's Dresses & Other Pretty Projects: Discover a collection full of free sewing patterns for women's clothing. Included are instructions for how to make a DIY maxi dress, skirt patterns, and more. It's the free eBook you need for spring & summer!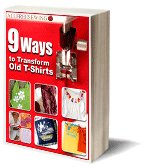 9 Ways to Transform Old T-Shirts: Learn 9 ways to transform old t-shirts using sewing techniques. With this free eBook, learn how to make clothing, accessories, and more out of old t-shirts, and how to makeover and refashion your t-shirts into fashionable articles of clothing.
Christmas eBooks
How to Sew a Gift for Any Occasion: 12 Easy Do-It-Yourself Gift Ideas: It's time to remove the stress from giving gifts, and this free eBook on homemade gifts will show you how. Learn tons of tricks from these do-it-yourself gift ideas that will speed up your process of gift-giving, reduce the overall cost, and provide ample entertainment to you.

The Sewn Christmas Gifts Guide: Find 12 free online sewing patterns for easy gifts to sew this Christmas. Find simple sewing machine projects for Christmas gifts and sewing machine embroidery projects for top holiday gifts.

6 Sew Easy to Make Christmas Ornaments: If you're looking for Christmas ornaments to make, sell, or gift, this eBook is for you! Inside 6 Sew Easy to Make Christmas Ornaments, you'll find page after page of Christmas ornaments to make, as well as other tips on how to make your own ornaments.

6 Sewing Projects for Christmas: How to Make Easy Last Minute Christmas Gifts: This eBook will become your go-to gift making aid. Sewing projects for Christmas allows you to practice your creative passion but also cross a few things off your to-do list quickly. Stop worrying and start basking in the glory of procrastination!
Fall eBooks
Homemade Halloween Costumes: 11 Kid's Halloween Costume Ideas: Save money by making homemade Halloween costumes for your child with these DIY Halloween costume ideas.

How to Make Your Own Halloween Costumes: 9 DIY Halloween Costumes: With our easy Halloween costume ideas, you're sure to have an original costume, unlike all the rest. Once you learn how to make your own Halloween costumes, you'll be even more excited about the holiday.

Give Thanks: 10 Sewing Ideas for Thanksgiving: When Thanksgiving rolls around, you'll be grateful to have this roundup of full Thanksgiving crafts. Ranging from seasonal placemats to autumnal pillows, these festive sewing projects will have you counting down the minutes to Turkey Day.
Other Holidays
6 Free Sewing Projects to Make for Going Back to School: Since you love free sewing patterns (just like we do) we're sharing 6 free sewing patterns for kids that are great for heading back to school! This eBook includes free sewing patterns for beginners, free sewing patterns for kids, and even free dress patterns.

6 Holiday Sewing Ideas: Celebrate a DIY 4th of July: Show off your patriotic side by creating fun and inexpensive sewing projects for the 4th of July! Don't miss out on a FREE opportunity to gain access to full projects, perfect for the summer holiday!
8 Easter Sewing Projects: In this free eBook, you'll find 8 adorable Easter sewing patterns. From stuffed toys to appliqued pillows to hanging Easter egg ornaments, this Easter eBook has patterns for all your Easter craft ideas. Full-color photos and detailed instructions will help you make Easter decorations for your home and Easter basket gifts for your family.

7 Easy Valentine's Day Sewing Projects: Anything you're looking to make for February 14th is included in this free eBook. Show your loved ones how much you care by making this Valentine's day so much fun - these sewing projects will help you create the perfect Valentine's Day! Make gifts, toys, and decorations with photo instructions from these 7 projects.

24 Handmade Craft Ideas from 2010: A Year of Free Crafts: In this eBook, you'll find some of the best projects FaveCrafts offered in 2010. You'll find projects to wear, decorate your home with and give as gifts. Great sewing ideas are included as FaveCrafts offers tons of sewing projects!

Sewing for Baby: 11 Small Sewing Projects for Your Little One - Your baby will be the cutest on the block when you sew these adorable DIY projects. Whatever your baby needs, you are sure to find a pattern in this eBook for them.

Upcycle T-Shirts: 10 Projects to Make for Kids: If you're looking for a way to make new clothing or accessories and still save money, check out the Upcycle T-shirts eBook. With 10 different wardrobe refashion projects, you're bound to find something that will work for your child.

12 Beautiful Tote Purse Patterns Plus How to Make a Clutch for Everyday: Find 12 free tote projects to create bags large enough for trips to the library, the gym, or the beach. Also included are simple clutch ideas so you can make smaller bags ideal for nights out or quick day trips.

Sewing Bags: Tutorials You'll Love & 15 Free Purse Sewing Patterns: Totes and clutches and purses, oh my! If you love sewing bags and purses, this is the eBook for you. With step-by-step instructions and large color photos, you'll see that even a novice sewist can feel confident taking on a free purse project.
Simple Sewing Projects: 16 Easy Sewing Projects for Beginners: Even the newbie to sewing can learn how to make bags, wearables, and home accessories. This collection of simple sewing projects offers easy tutorials to help any novice get started. Download your free copy to access easy sewing projects for beginners that will turn you into an experienced sewist.

Zipper Fun: Sew in a Zipper With These 6 Free Sewing Patterns: If you've always wanted to learn how to sew on a zipper, this is the eBook for you! Coats and Clark delivers an eBook full of simple project ideas that are sure to inspire you to jazz up your projects with zippers.

Sewing for Beginners eBook- Find 20 free sewing patterns and great resources for those learning how to sew, including guides to needles, caring for fabric, and more.

Fabulous Fabric Flower Tutorials: 7 Ways to Learn How to Make Fabric Flowers: Preserve your favorite flowers all year long by learning how to make fabric flowers. Every fabric flower tutorial featured in this eBook is completely free. From wearables to home decor projects, these fabric flower tutorials will enable you to keep those beautiful blossoms in bloom every month.

Designer Inspired Sewing: 9 Beautiful Designer Inspired Knock Off Patterns: Instead of handing over your hard-earned cash for something everyone can buy, simply take the inspiration from the designer and make your own! Your own designer knockoffs.

8 Awesome DIY Organizers: Sewing Organizer Tutorials: Find 8 organizer sewing patterns to create useful projects such as makeup pouches, coupon clutches, and mail organizers. Keep your belongings tidy and easy to find with these simple sewn organizers.

25 Sewing Crafts from Bloggers eBook- In this eBook, you'll find tutorials and patterns for everything from practical and budget-friendly clothing patterns, holiday projects, lovely bags and clutches, and decorations for your home.

9 Insanely Awesome Sewing Ideas: How to Sew a Pillow, DIY Home Decor, and More - Find professional-level projects in this eBook that range in style and project type. Compiled from companies that include BERNINA, American Quilter's Society, Coats & Clark / FreeSpirit Fabrics, Fairfield / Foamology, Simplicity, and Sizzix, these DIY designs are the perfect way to keep National Sewing Month alive year-round.