8 Easter Sewing Projects Free eBook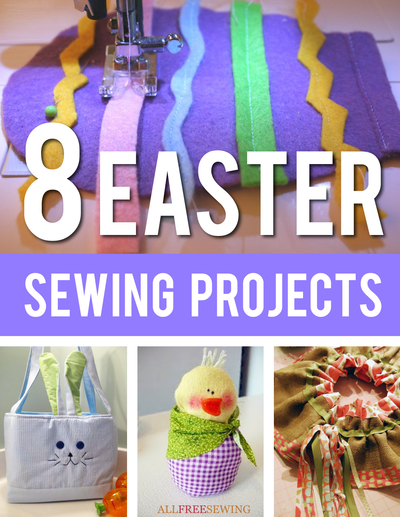 Spring is in the air, and it's time to start craft projects for Easter!

With inspiration from our Easter Sewing Projects eBook, you can complete 8 adorable, simple crafts for Easter with all those bright fabrics you've been missing all winter!

Lucky for you, Easter is coming late this year, so you'll have plenty of time to make all the Easter sewing projects you want!

The 8 Easter Sewing Projects eBook brings you 8 of the sweetest Easter sewing patterns on AllFreeSewing.com. Stitch up these Easter craft projects to make your home festive for the holiday.

You'll impress all your relatives and Easter guests with your sewing skills and decorating sense. You'll also save money on gifts by sewing your own Easter crafts to tuck inside Easter baskets.

The Easter sewing patterns you see in the 8 Easter Sewing Projects eBook will show you how to make simple crafts for Easter that you will use year after year. Some of these sewing projects are too cute to put away after the holiday!
Download your free copy of 8 Easter Sewing Projects today!

8 Easter Sewing Projects
Table of Contents
Hi Sewists,
As spring unfolds it's time to embrace projects that reflect this enchanting season; this includes Easter crafts. All of the editors at AllFreeSewing.com are pleased to present a collection of Easter projects that caputures the lightheartedness of spring with the whimsy of this age-old holiday. In 8 Easter Sewing Projects you'll come face-to-face with Easter basket sewing patterns, cute critters, and darling DIY decor.

Every one of these Easter crafts comes with full step-by-step instructions and photos from the minds behind these ingenious designs. You can download your free copy, save it to your desktop, and refer to it year after year for ideas, inspiration, and instructions on creating the perfect project for Easter; sew projects that embody the spirit of the holiday and cater to your love of sewing with the help of this lovely collection.
Happy Sewing,
The Editors of AllFreeSewing.com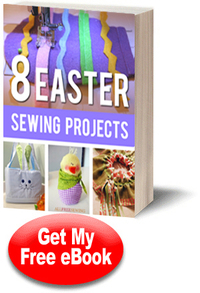 Download your free copy of the 8 Easter Sewing Projects eBook today!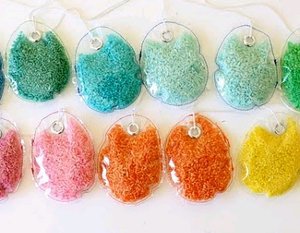 Ruffled Burlap Easter Wreath (pg. 26) - Adorn your front door with this Easter craft project! By sewing burlap and whimsical ribbons into a ruffly wreath you'll evoke the festive spirit into any visitor who so much as steps up to your front door.

Easter Egg Golf Towel (pg. 31) - Easter crafts come in all shapes and sizes, as seen in this golf towel. For an Easter basket stuffer (or just for fun) you can sew this towel in the shape of the season's famous symbol. So much more than just an oval, this Easter project will remind you of the time of year.

Colored Rice Easter Eggs (pg. 41) - This is one of our favorite Easter egg craft ideas! You can make this simple sewing pattern in just a few minutes. It's amazing how simple this handmade Easter decoration is, not to mention how cute it looks. Find out how you can sew these bean bags in time for Easter; sew projects that showcase festivity in all kinds of ways.

Bunny Peeps Bunting (pg. 46) - Peeps aren't just fun to eat! Turn them into a fun Easter decoration with this Easter project to sew. A recognizable icon during the Easter season, these little bunnies will give any guest a smile when they spot the sweets strung about your home.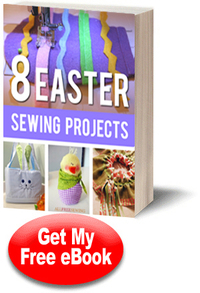 There's even more! Find out what else is in store in 8 Easter Sewing Projects by downloading your free copy today!


There are many advantages to downloading this free eBook, not the least being it can be a resource for you to check year after year. If you need help downloading this free eBook, please read up on our FAQ section here: How to Download our eBooks.

As much as you may love 8 Easter Sewing Patterns, you might also adore some of our other free eBooks. AllFreeSewing hosts several sewing eBooks for download, themed by season, project type, and holiday. Pick and choose at your leisure from our library to find out what sewing project you should make next.
With your free copy of the 8 Easter Sewing Projects you can also subscribe to the Sewing It Up newsletter to become part of an active sewing community. In subscribing to the newsletter you will receive:
Six weekly emails with free sewing patterns, tips, collection pages, videos and more.
Chances to win sewing books and products from our weekly giveaways and contests.
New FREE patterns made available to you throughout the year.
Access to our free pattern library full of over 2,500 more free sewing patterns.
The opportunity to share ideas and help others in the sewing community.
You'll get these adorable Easter sewing crafts and more when you download our 8 Easter Sewing Projects eBook for free today! This eBook is full of the best Easter sewing pattterns from our favorite sewing pattern designers and sewing bloggers. Let their creativity inspire you! Decorate your home for Easter and make Easter baskets for your loved ones without spending a cent on storebought Easter knick-knacks and gifts.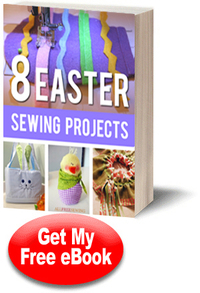 Download your free copy of the 8 Easter Sewing Projects eBook today!
What's your favorite holiday? Let us know below in the comments!
Your Recently Viewed Projects