What's Your Sewing Personality?
Discover your sewing personality and find a free sewing pattern you will adore!
Sewing is an art and anyone who says differently is just plain wrong. No matter what you like to sew or why you sew, you have a distinct sewing personality. Just like an artist we all have a style! Monet is different from DaVinci and Matisse is certainly nothing like Warhol! When it comes to making free sewing patterns, we all have our quirks and our preferences. Want to know what your sewing personality might be? Take our quiz. Just answer the following questions and we will tell you. Plus, there are patterns for sewing suggestions for each result of the What's Your Sewing Personality? below!

Pick an answer and tally up your points. Just scroll down when you are done and we'll have a project waiting for you!
1. Cost isn't an issue: which type of fabric do you buy at the store?
A gorgeous vintage lace or print. (1)
Something totally weird. I want to try something new! (2)
AS MUCH FABRIC AS I CAN BUY. (3)
I would buy a little bit of everything, so I'm prepared for future projects! (4)
2. My wardrobe is…
Classic and Old School (1)
Eclectic and Cute! (2)
Thrifty Store-Inspired (3)
Impeccable and Simple (4)
3. Which of these activities sounds like the most fun…
Watching a black and white film. (1)
Taking a class in something you've never done. (2)
A free day at the museum. (3)
Rearranging Your Closet. (4)
4. Your home looks like…
The one you grew up in. (1)
A mish-mash of knick knacks. (2)
Not too outlandish. (3)
So clean it looks like no one lives in it. (4)
5. Which of these pet peeves drives you crazy:
Buying ripped jeans in the store. (1)
People who always need a plan. (2)
Paying $5 for coffee at Starbucks! (3)
Messy spaces and unnecessary clutter. (4)
Answers:
You're the VINTAGE VIXEN! - 5 to 8 points

If your mom, grandma, or even great grandma would have worn that dress, you want it ASAP. You are a vintage vixen and you love vintage sewing patterns. Whether it is straight out of the 1950s or something right off the set of Downton Abbey, you're ready to sew anything old school. Try a vintage skirt pattern: Elizabeth Taylor's Favorite Skirt.
You're the QUIRKY QUEEN! – 9 to 12 points

When it comes to sewing, you want to make something no one else has created before. You skip the everyday patterns and head right towards the unexpected ideas. You are a great gift giver because you're all about the ideas. You sew because it means you don't have to wear the same clothes everyone else buys in the store. Try making something super cute for your home: Donut DIY Pillow Pattern.
You're the NIFTY THRIFTER! – 13 to 16 points

You love to make dresses out of pillowcases, upcycling t-shirts, and cutting corners while still looking fab. When it comes to creating, you rush towards the local thrift shop to find a way to make a thrifty sewing project. You're a master of your own budget and you can turn scraps into a work of art. Try saving money and looking cute by learning a new upcyling technique: Thrifty Refashioned Infinity Scarf.
You're the ORGANIZED DAME! – 17 to 20 points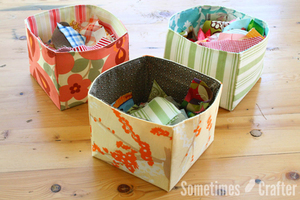 People walk into your house and are amazed at how clean and crisp everything looks. You have a designated place for everything and you're all about the DIY organizers. If there's a way to kill the clutter, you're going to use it. When it comes to picking your next free sewing pattern, you want something that is going to keep things neat.. Try making a storage bin: Adorable Scrap Fabric Basket Organizers.
How would you describe your sewing personality?
Your Recently Viewed Projects