Why You Should Submit Your Projects to AllFreeSewing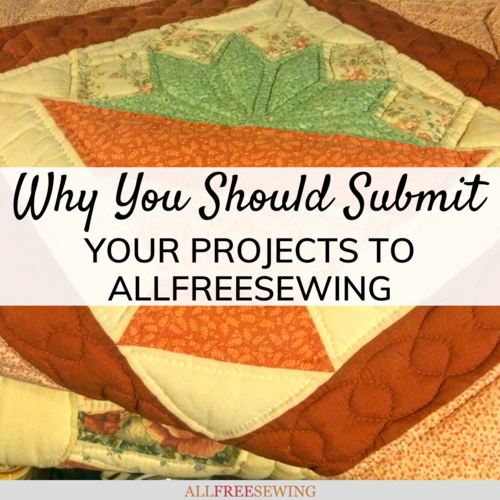 Get more traffic to your blog by submitting your projects to AllFreeSewing! It's easy, free, and a great way to grow your personal brand.

If you aren't familiar with our Share Your Project feature, also known as user submitted articles, it's an easy process for featuring your projects on our site. You may share the latest projects you've posted on your blog and/or projects from the archives that you'd like to get eyes on.

There are two main options for submitting: you can submit the full project and include a link back to your blog for more information, such as a printable PDF of instructions or a video tutorial. Or, most commonly, bloggers include a link to their blog for the full tutorial. Thus, the project you've posted on AllFreeSewing is only a "preview", so our readers need to click through to your blog to see the full instructions. It's traffic for you and content for us, which is a wonderful win-win!

How It Works:
Visit our Share Your Project page. You'll create an account if you don't have one with us already. Then you'll scroll down and "Click to Share Your Project."
Follow the prompts to share your project. You'll include the following information:
Project Type
Title
Category
Image(s)
Description of the Project (75-100 words)
Other attributes like difficulty level, technique, etc
The link to the project on your blog
OPTIONAL: Materials List
OPTIONAL: Instructions
OPTIONAL: Notes
Save and submit.
Once your project is live on the site, you'll receive an email from us with the link.

NOTE: Projects must be full tutorials, and they must be free content. Otherwise they will be declined/deactivated on AllFreeSewing. You can read our full User Submitted Articles policy here.
Your Recently Viewed Projects