8 Small Sewing Projects for Traveling
Make helpful DIY travel accessories and trays with these small sewing projects for travel.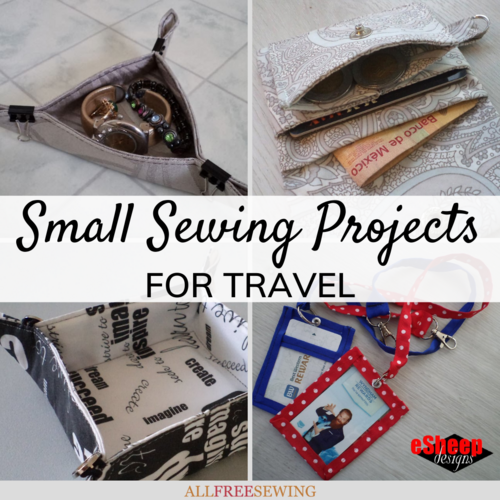 After covering roll-up toiletry totes in part 1 of this series, drawstring bags in part 2, passport and documentation organizers in part 3, what's left for part 4 of things to sew for travel?

Small stuff.

Welcome to this 8 Small Sewing Projects for Traveling page. These are things that will ease your travels by giving you some of the convenience of home (storage trays), simplifying your needs (mini wallets), and managing things you don't normally have to manage (key cards).

The advantage of these things is that they're small and shouldn't take long to sew — and who doesn't appreciate that? Plus, these creative travel accessories to sew make any journey better.

While there are many larger travel sewing projects, this page focuses on the smaller things that can easily slip in and out of pockets, bags, or set on your tray when sitting in an airplane.
8 Small Sewing Projects for Traveling
This post is set up in the same way as the previous three in this series on eSheep Designs. I will show you some of my own past projects while introducing similar ideas from fellow crafters.
A Place to Drop Things
When you're at home, perhaps you have a place to hang your keys when you come in the door. At night, you might take off your watch and ring and place them in a jewelry dish.

When you're traveling, those familiar places aren't there. Form a new habit by sewing up a tray that can corral all of your small things and keep them safe. If it can be made to be collapsible, all the better.

One of my earliest tutorials was for such a tray, the Cutting Corners Collapsible Travel Tray. (Still in use; it's permanently at our home away from home.)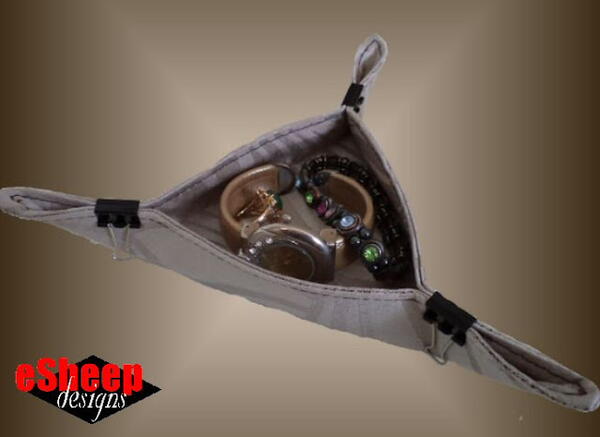 Several years later, I incorporated some of the ideas that I had after making the first one to create this second tray, the Flat Pack Travel Tray. I've given a couple of these away as gifts; one is always packed in my travel bag.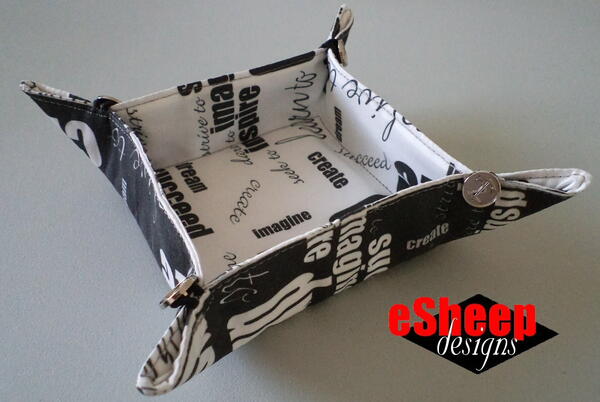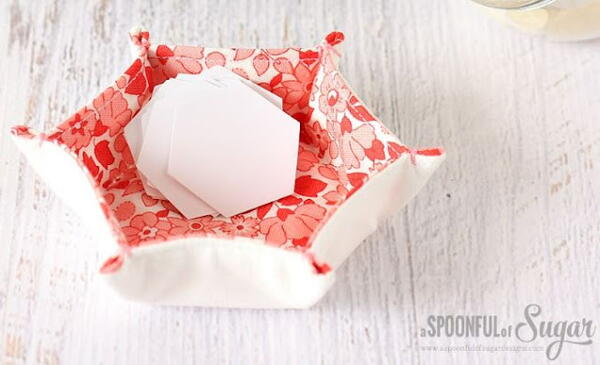 It's a hexagon-shaped tray from A Spoonful of Sugar. (It's not collapsible, but you could always change it up to be so.)
You Don't Need to Carry Five Credit Cards
Or even three. When you're traveling, don't take your normal everyday wallet, because what if you lose it or have it stolen? Much better that you only need to replace one credit card and an ID in that case than the alternative. (Many of us don't know the exact contents of our everyday wallet, potentially making the replacement chore even more challenging.)

I recommend you make yourself a minimalist wallet to carry when you're away from home. Here are a couple that I made last year, from YouTube tutorials.

The first meets the definition of being minimalist, with only three pockets. However, it can hold coins, cards, and cash, and that may be all you need in certain circumstances. As you might guess, it's a quick and easy sew.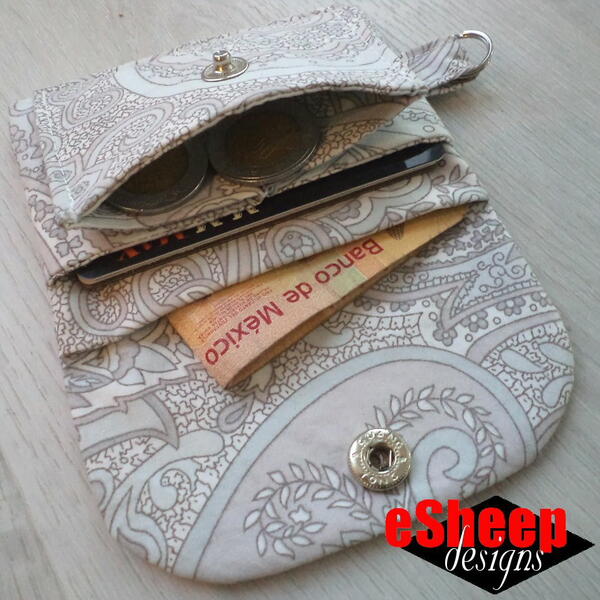 Above is my Minimalist Wallet. Credit goes to Asaco's Craft Memo. (My original post also shows two other small wallets from that YouTube channel.)

This second wallet, the Small Bifold Wallet, is not truly minimalist but is likely still a step down from what you normally carry. With traditional card slots and paper money pockets, this one also includes a zippered compartment for secure storage of coins.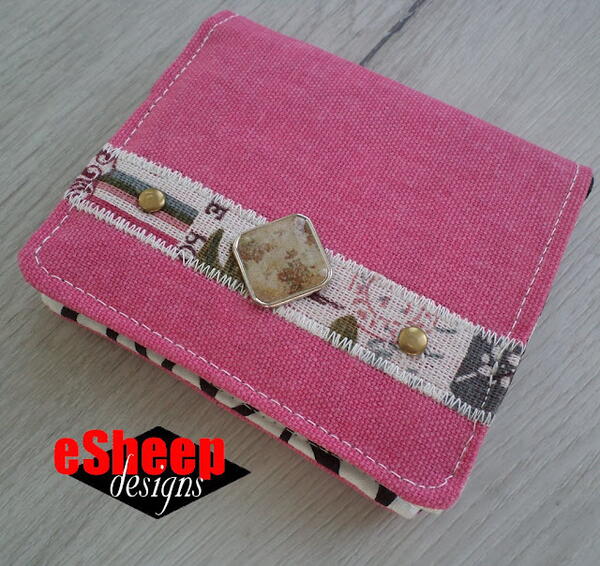 This project is more challenging to sew than the first (and not just because of the zipper), as I detailed here in my original post. Credit goes to JSDaily.

An online search for the term "minimalist wallet" will usually yield a lot of decidedly masculine options, the vast majority of them leather tooled. If you're looking for a compact wallet for a guy, check out this one: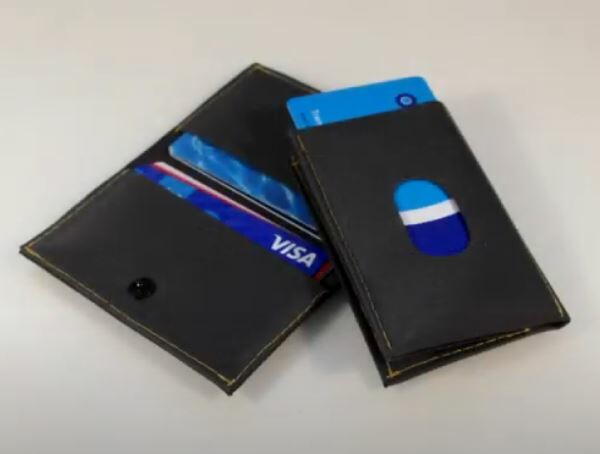 Keep Your Key Card Handy
Just as your car key is now no longer a traditional "key", neither is your hotel room key. So do you reserve a spot in your mini wallet for that or do you keep your hotel room key card in a separate place?

A lanyard is always a convenient option because it can hang around your neck — say you're at the buffet at a beach resort — or you can loop it around the straps of your tote bag or purse while on the go.

It's a truly simple thing to sew, and unless it's also meant to keep ID in view, you don't have to incorporate a see-through component by using vinyl. That said, I used vinyl in my Purse Lanyards, made out of scraps of vinyl and ribbon.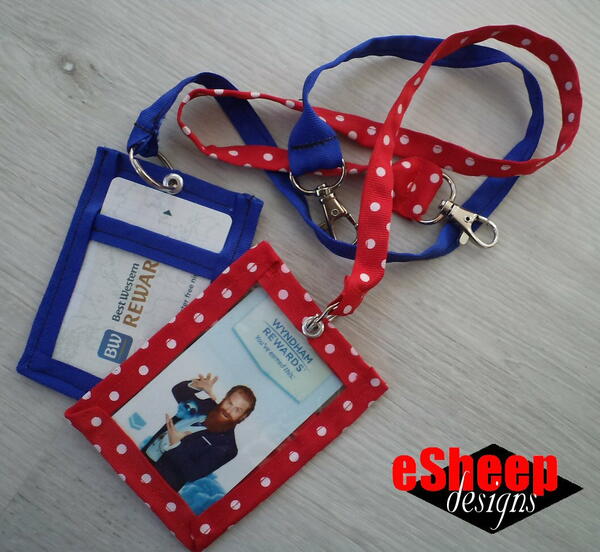 This little "wallet on a string" has two zippered compartments to protect your small stuff behind the window card slot.

Clever design and it even comes with a downloadable PDF pattern. (I recently saw a new pattern for almost the same thing selling for $4.99, so, hopefully, I've saved you some moolah if this is something you're looking to make.)

Again, if these don't turn your crank, the internet is full of similar takes on the idea. One is sure to appeal to you in time for your next trip.

Happy trails and safe travels, folks!
Your Recently Viewed Projects