38 Fabric Pumpkin Patterns (Free)
Fall is in the air! Get ready for autumn with this list of adorable fall pumpkin crafts!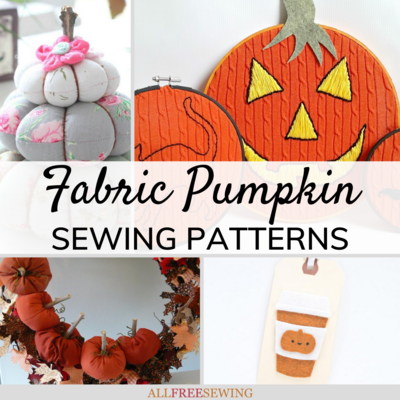 Autumn has arrived, and it's time to start decorating!

Adorn your house for the season with these free pumpkin patterns! Don't break the bank on decorations when there are so many great homemade projects available for free right here.

From placemats to wall hangings, there are plenty of free pumpkin patterns to make and sprinkle around your house. Check out these 38 Fabric Pumpkin Patterns (Free) & Other Pumpkin Crafts for some great project ideas.

There's no better way to celebrate the fall season than with these adorable pumpkin patterns.

Free and easy to make, these pumpkin crafts are the perfect thing to make to help get everyone ready for fall. Plus, they can be left out from Halloween until Thanksgiving. These free simple sewing patterns are perfect to make for yourself or to give to others as gifts.

Sign Up For More Free Patterns >>>
 
Table of Contents
Fabric Pumpkin Patterns for Fall
If you're looking for oodles of fabric pumpkin patterns to scatter all around your house this fall, look no further than this section of pumpkin-themed fall decor! Most of these pumpkin patterns aren't specifically for Halloween, so you can leave them out all autumn long. Learning how to make a pumpkin will be super easy if you just follow one of these handy tutorials. Our adorable pumpkin craft ideas are a great way to bust your fabric stash, too!
Jack O'Lantern Ideas for DIY Halloween Decor
Looking for some spookier free pumpkin patterns to adorn your home for Halloween? These 10 jack o'lantern-inspired Halloween decorating ideas are just what you need. Featuring everything from trick-or-treat bags to costumes to home decor, this collection of pumpkin crafts is sure to serve up some spooky inspiration this fall. You won't be disappointed by our wide variety of jack o'lantern projects!
More Easy Pumpkin Craft Ideas
Last but not least, check out our assortment of various free pumpkin patterns! This section has pillows, quilts, mug rugs, potholders, and more, all of which share a common theme: pumpkins! Whether you need a little pumpkin spice in your living room, kitchen, or even your sewing room, there's a DIY pumpkin project here for every room in the house.
Your Recently Viewed Projects