Should You Always Wash Fabric Before Sewing? Tips for Preparing Fabric
Is pre-washing fabric necessary when sewing? Find out with this helpful resource.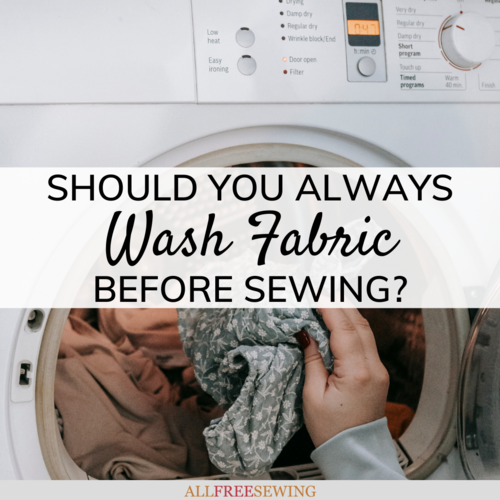 Should You Always Wash Fabric Before Sewing?
Much like many other complicated new skills, learning how to sew means learning what to do before you sew. When it comes to learning how to prepare fabric for sewing, is prewashing fabric that important?

If you are planning on making a big project, you want to make sure you prepare your fabric, pattern, and machine properly before you start sewing up your project.

All of these preparations can seem tedious and boring, but it is very important! You want to give your fabric and projects a fighting chance to be flawless! Just like you scrub down your veggies and wash your space before cooking, you need to learn how to wash fabric before sewing!

Unlike washing your clothes and linens, washing fabric is a little more complicated. Since your fabric is still very loose and might unravel, you need to learn to make sure you wash your fabric instead of destroying it!

Lucky for you, this guide goes over the eternal sewing question: to wash fabric before sewing or not! Once you read our tips for preparing fabric you'll learn everything you need to learn how to wash your fabric.

Sign Up For More Free Patterns >>>
 
Table of Contents
Should You Wash Your Fabric Before Sewing?
Before you learn how to sew and start exploring the multitude of information out there about how to prepare fabric for sewing, you should know that the debate is still out on whether or not you should wash your fabric before sewing.

Many experienced sewists choose not to clean their fabric before sewing, while others absolutely demand that it is mandatory for a great finished product. You need to make your own decision on whether or not to clean your fabric.

This also depends entirely on the type of project you are creating! Some projects might never be washed while others should always have a spin in the machine. A wall-hanging, for example, may never need to be washed and that means there is really no reason to scrub a dub it. Learn more by reading our guide, Why Do Clothes Shrink in the Dryer?

Clothing, however, is going to have a long life of washing cycles, so you want to make sure this fabric will not bleed or shrink in the machine.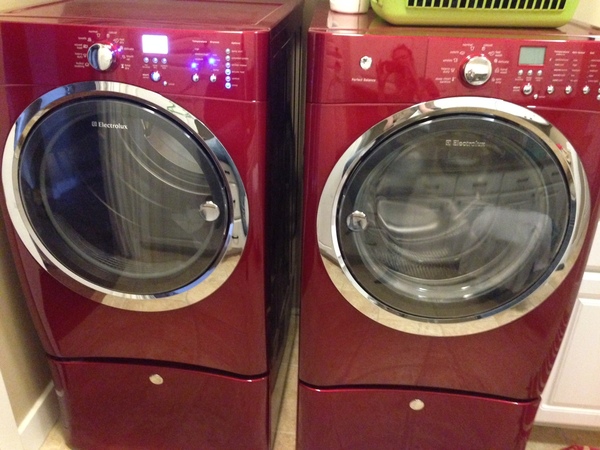 Reasons to Pre-Wash Fabric Before Sewing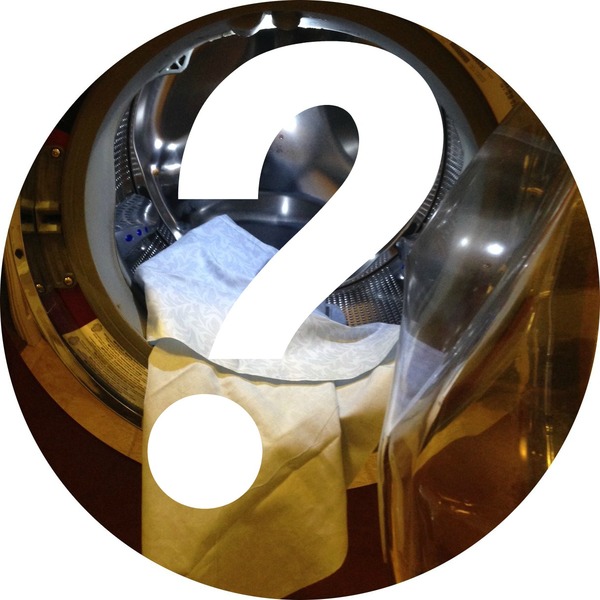 To Remove the Sizing and Chemicals in the Fabric: Much like the food in television commercials, the fabric on shelves at the fabric store are treated to look even yummier. This means they are soaked in or washed in chemicals that make them look more vibrant and to prevent wrinkling. It can be helpful to remove this, especially if you have sensitive skin!
 
To Prevent Colors Running Later: If you are making a project with several colors (like a quilt) pre-washing your fabric means that those colors will not run later when you wash it for the first time.
 
To Eliminate Wrinkles: Just like freshly washed/dried clothing items, freshly clean fabric is practically wrinkle-free. This makes pressing your fabric easier.
 
Avoid Shrinkage Later: Fabrics like cottons always shrink, so if you are making a garment you want it to fit after the first time you wear it. Washing and drying the fabric like you would the clothing item helps you ensure you are making a piece that will fit.
 
Reasons to Skip Pre-Washing Fabric Before Sewing
Issues with Washing: Washing your fabric can sometimes go horribly wrong. Fabric frays easily in the dryer and can knot up into a devastating ball! (Pssst. Keep reading for a tip on how to avoid this!)
 
Cutting Your Fabric: The sizing and chemicals in fabric make the fabric very crisp. This can make cutting precisely a lot easier than softer and washed fabrics.
 
Today's Fabric: New and quality fabrics do not run as much as fabric did five or so years ago.
 
Before You Pre-Wash Sewing Fabric...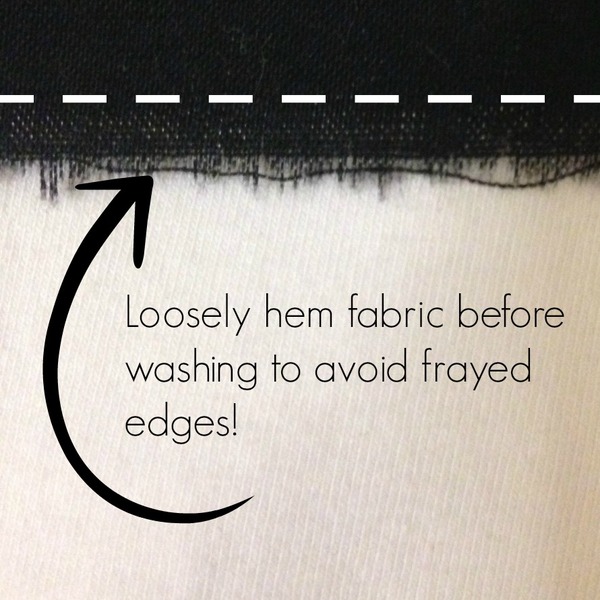 Washing your fabric for sewing can be very easy, but there are steps you should take before jumping in!
Find out how you should be washing your fabric! Just like clothing items, fabrics need to be washed in all different kinds of ways. You may need to hand wash or dry-clean some fabrics.
 
Separate your fabrics into darks and lights. If you have an especially vibrant print, wash it on its own!
 
Hint: Some sewists add a few drops of white vinegar into this cycle to prevent colors from running.
 
Hem fabric that might be prone to fraying with a very loose zig-zag or straight stitch to ensure that you don't lose too many inches to fraying.
 
How to Wash Fabric
Learning how to wash your fabric is just like learning to wash your clothes. All of the same rules apply!
Use the tips above to prepare your fabric and be sure to separate your fabric into two piles (lights and darks).
 
Put your fabric in your machine. Since this is brand new fabric, you can skip adding the detergent if you would like. The reason you are washing your fabric is mostly to prepare it rather than clean it.
 
If you are washing fabric that has been sitting in your closet or vintage fabric, you may want to use some soap to remove any dust or musty smell. Just do a sniff test!
 
Wash your fabric how you would the project you are making while adhering to the manufacturer's guidelines!
 
If you are planning on drying your fabric, dry it just like you would your final product. This is especially true if you are making a garment! You don't want to make something that fits like a glove only to wash it once and have it be uncomfortably small.
 
Your Recently Viewed Projects