How to Teach Children to Sew
At home with your children? Try these tips and tricks for teaching kids to sew!
By:
MaryRose O'Donnell, Editor, AllFreeSewing.com
Updated April 05, 2023
As a sewist, you've probably made tons of projects your kids have enjoyed. Some may even have asked about your sewing or for you to make them something.

Why not help them learn how to do it themselves? With this guide on How to Teach Children to Sew, we're going over helpful tips, advice, and providing the best starting projects to get them into this life skill.

If you have a young child who has shown an interest in sewing and you want to nurture that interest then look no further!

This article will help guide you in helping your little one become the best sewist they can be. When working with kids it is all about nurturing their interests and making them feel just as excited as you are about sewing.

You don't want to push them to do something they aren't interested in but, with these tips and tricks, you can get them excited about learning to sew! It's one of the best skills to know and they'll be thankful they know how to sew when they get older, too.

Get the latest free sewing patterns and tutorials by signing up for our Sewing It Up newsletter!                
How to Teach Children to Sew
This article covers everything you've ever wanted to know about sewing with children and teaching them to sew. If your child has shown an interest in sewing or you want to get them started because you know the benefits, you'll love this page.

Just scroll through the different tips, suggestions, and free projects for them to start with. Be sure to bookmark this page for future reference and sharing with other parents, too!
 
The Most Important Step for Children Sewing
When teaching children to sew the most important step is to make sure you are always keeping sewing fun. Sewing is supposed to be a fun and creative outlet and kids will respond best when it's kept as a fun activity to do with you. While you may be well versed in all the rules of sewing, your child does not need to be quite yet. 

Rather than correcting your child when they break a 'sewing rule' let them explore sewing and use their creativity. It may not make the most beautiful projects, but it will encourage them to keep creating.

Being told they are doing something wrong can be frustrating and a reason to quit sewing, which is the last thing you want. Nurture their creativity and let them try a variety of projects to find what they enjoy the most!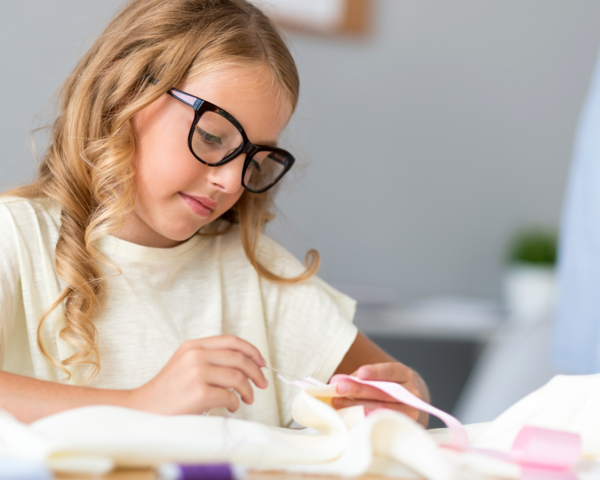 How To Get Children Started in Sewing
When you begin to teach them sewing it is best to start basic with hand-sewing as it can provide the base for them to then move onto more advanced stitches and the sewing machine. 

If your child is completely new to sewing then simply having them practice stitch is important.

Take two pieces of fabric and have your child practice sewing them together, trying to create the straightest line possible. Once they get a straight line have them practice more focusing on smaller stitches of equal size.

Once your child has figured out how to sew with some accuracy move onto projects. Generally, small projects are great to start out with because they will have a finished project to be excited about.

Small felt projects are a great idea and can be fun and creative for your kids! You can check out those felt sewing projects here to get ideas that your child may enjoy.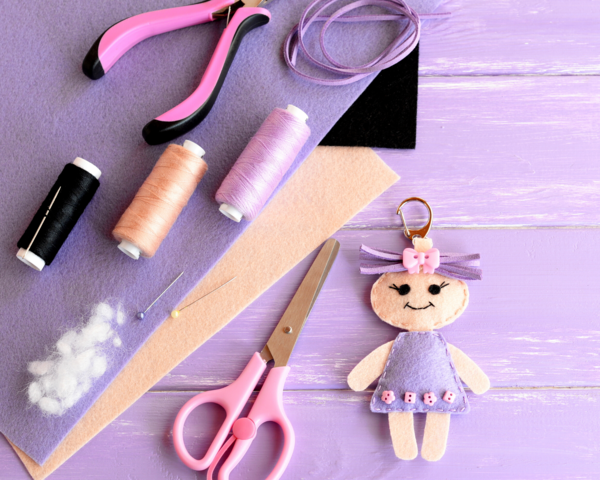 At What Ages Should Kids Start Sewing?
There isn't one answer to the best age for children to start sewing but there are some guidelines. Everyone learns at their own pace, which is why age is only one of the factors for when to start kids on sewing projects.

However, a good age to start in general is around first grade: 6 or 7 years old.

It depends on what kind of project as well. If they are using a blunt needle, such as a yarn or tapestry needle (and thicker thread or thin yarn), younger would be fine. However, when it gets to sharper needles, finer thread, and more precise fine motor skills, a child should be older.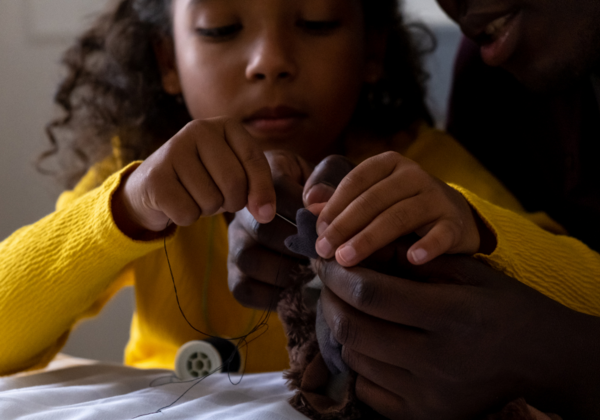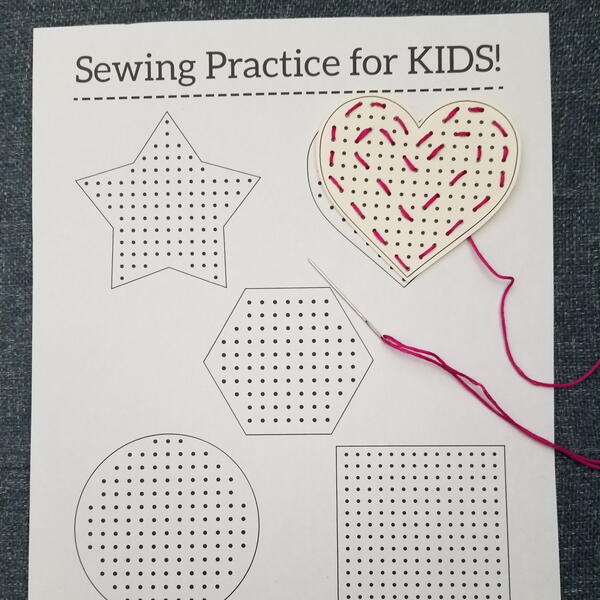 One of the most important skills related to sewing is learning how to sew a button. This guide walks those wanting to learn through it.

>> How to Sew a Two Hole Button
An Important Reminder for Sewing With Kids
Along the same lines as making sure you let your kids have fun while sewing is to make sure you let them do the sewing. While helping them with a knot or a tricky part can be useful to help them finish their projects, do not try to take over the project if it is not going the way you envisioned.

When they make a mistake, and they will make a mistake while learning, help them identify the problem, and brainstorm how you can fix it! This will get their brain working and make them feel as though they are really learning how to do something rather than being told what to do.

As your child sews more you can help them learn more advanced skills until eventually they only need to come to you for minor corrections, which is the ultimate goal.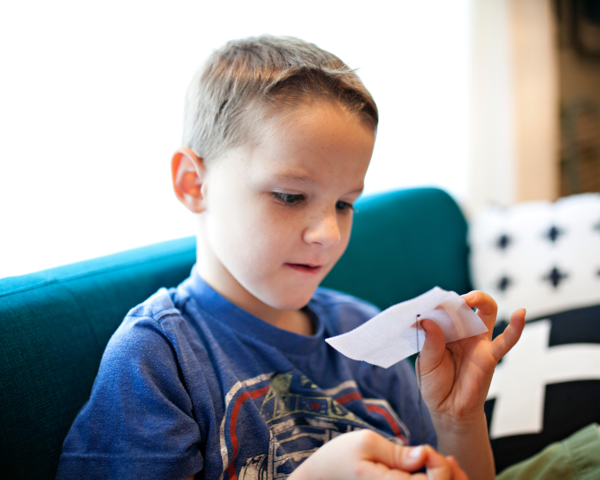 Free projects, giveaways, exclusive partner offers, and more straight to your inbox!
Your Recently Viewed Projects
Images from other crafters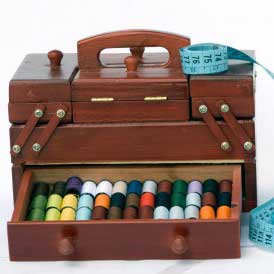 Something worth saving?
SAVE all your favorite patterns
ADD personal notes
QUICKLY reference your patterns