How Can I Get Better at Sewing Faster?
Looking for sewing help? This guide goes over tips for improving your skills and speed when sewing.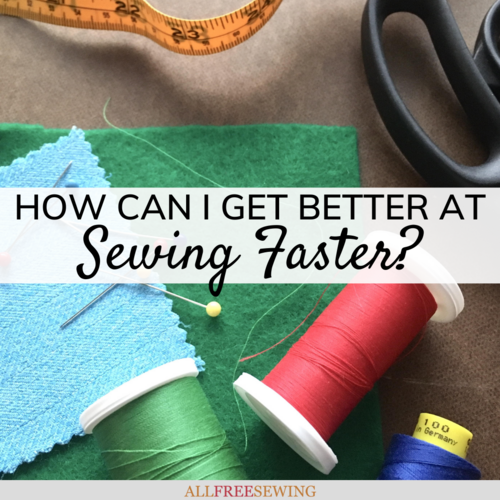 Sewing can be relaxing and fun, but it can also be very time-consuming and tiring if a project is taking longer than expected.

This guide helps with the common question, How Can I Get Better at Sewing Faster? With lots of practice and patience, materials close and ready to use, and a few more simple tips, it is definitely possible to increase your speed when sewing.

Here are some ways to learn how to sew faster, allowing you to finish more projects in less time. In order to help you learn how to sew faster, I'm going over nearly everything that can be done to help any sewist, whether they are a beginner or more advanced, improve their sewing speed!

The speed sewing tips below include ways to practice, suggestions for your sewing space and materials needed for projects you're working on, adjusting stitch speed, equipment care, and more. It's a fantastic guide, especially for beginners just getting started as well as pros who would like to get more done in a shorter period of time. Take a look!

Sign Up For More Free Patterns >>>
 
Want to Improve Your Sewing Speed? Practice, Practice, Practice!
Sewing (like most learned skills in life) takes a while to perfect. So, the more you practice, the faster you will get! I recommend doing sample swatches to try out various stitch lengths, stitch designs, speeds, fabric types, and other factors rather than using up large amounts of nice materials.

Each kind of fabric and sewing machine has its own quirks, so the more comfortable you become with them the quicker your sewing will go in the future. Remember that everyone (yes everyone!) makes mistakes when sewing, so the best way to gain confidence and speed is to become very familiar with the materials and machine you're using.

When you really get to know your sewing machine, you'll even be able to use the sounds it makes to know when it's functioning properly.
Keep Your Studio Organized
Another way to increase the speed of your sewing is to know where everything is within your studio space. From my personal experience, a few days of organizing can easily turn chaos into a streamlined system with quick results. Each crafter's idea of organization will look different, but most of us can use shelves, some kind of baskets or bins for storage, and drawer dividers for a well-planned studio.

Extra tip: Utilize the supplies you find when cleaning and organizing. Often times we forget about really fun materials we put away to use at a later date!
Set Out Your Sewing Materials Beforehand
Now that your studio is organized, arrange all of the necessary supplies and materials before you begin sewing. This will save time and allow you to work quickly without having to take small breaks to find things.

Constant interruptions (like looking for a pair of scissors or a certain color thread) can delay productivity and cause you to sew more slowly. Choose all of the supplies you'll need beforehand and set them nearby so they're easy to reach from the sewing table.

Extra tip: This is also a good way to know how soon a sewing supply or material needs to be replenished! I keep a running list on a sheet of paper in my studio so it's easy to reorder when I'm ready.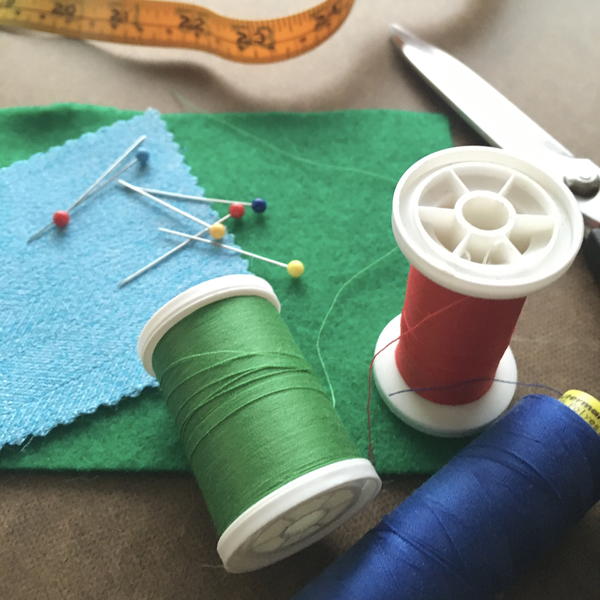 Adjust Your Stitch Speed
This might seem like an obvious suggestion, but gradually learning to sew at a faster speed setting can definitely help you finish projects more quickly. I don't recommend always using the fastest speed when sewing, and especially will not do this when winding bobbins (as it can damage the thread).

By increasing your sewing machine's stitch speed setting in increments, you'll get used to faster sewing without making as many mistakes or sewing off-course (which has happened at some point to everyone who sews).
Work on Your Sewing Pieces in Pairs
Here's an important tip I learned in fashion design school from an experienced professor. Always work in pairs! This means keep your cut pieces in pairs, and sew them one after another.

For instance, if you're making a pair of trousers and want to connect the front and back panels of the legs, pin them both and then sew one after another. It's the best way to remember all of your seam allowances used, stitch lengths, and more- leading to a faster and more accurate project.
Take Care of Your Equipment
Getting your sewing machines regularly cleaned and repaired (about once a year) can help you maintain a faster sewing speed. This prevents interruptions to your pace that can be caused by equipment malfunctions.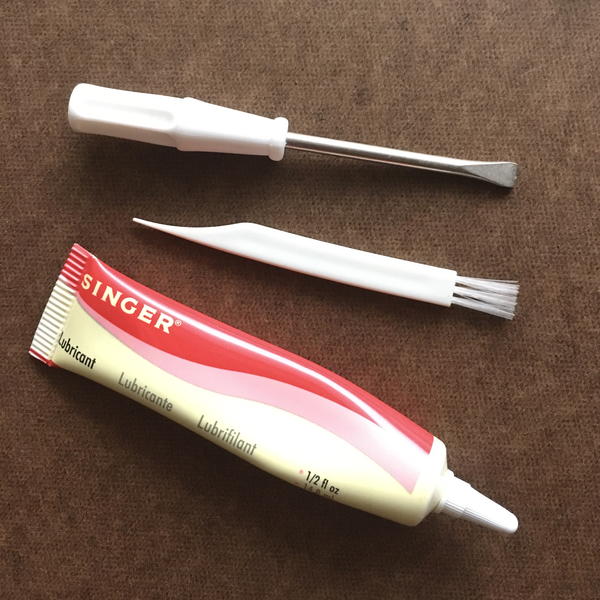 Besides professional cleanings, occasionally use a tiny dust brush to remove any thread and fabric debris, apply sewing machine oil according to the instruction manual, and regularly change the needle. All of these will streamline your work on the machine, as well as help your equipment last longer.
Your Recently Viewed Projects