15+ Serger Sewing Projects
You don't have to scour the internet. Learn how to use a serger and find free serger sewing projects all on one handy page!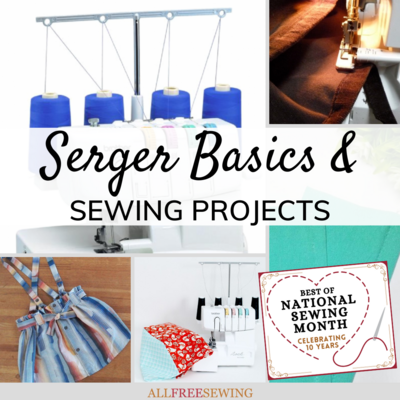 There are many sewists out there who swear by sergers, and it's no wonder why! Similar to a sewing machine, a serger is used to sew pieces of fabric together, but it does so with a twist.

Not only does a serger stitch fabric, but it also cuts off extra fabric and seals in hems with an overlocking stitch, all at once!

By using this one-stop-shop machine, you can cut your sewing time in half and produce projects that look professionally sewn. See only some of what you can do with this page full of serger basics and 15+ Serger Sewing Projects!

Your stitches will be stronger than if you use a sewing machine and your hems will be protected against fraying. In short, a serger is a godsend for the sewing process.

Itching to try out a serger yourself? Whether you want to know more about what a serger is, how to operate one, or to find free serging patterns, this collection has something for you!

In this list, you'll find everything from a guide on serging 101 to patterns for couture fall accessories. If you'd like to know more about sergers, read our guide, Is a Serger the Same as an Overlocker?

You don't have to scour the internet for serger patterns anymore. We've done the heavy lifting for you so that you can get to sewing designer-level pieces right away.

Click any link below, and your serger will do the rest! Plus, we're sharing advice from our readers who use sergers to help you before you buy or as a beginner.

Sign Up For More Free Patterns >>>
Table of Contents
First! Serger Tips and Advice from the AllFreeSewing Community
We asked our AllFreeSewing Community and our AllFreeSewing Facebook audience if they had advice for people who were looking to buy a serger or just getting started with their sergers. We received so much good advice that we wanted to share it with you:
"Sergers have the capability of giving sewists a complete professional finish." – Sarah H.
 
"Advice for buying: find a place that lets you try out a few different models before you decide what to buy. Advice for working with a serger: practice. Practice everything that your serger can do. Just go through your owner's manual page by page and try it all out, then go back and do it all again. (If you ever figure out the secret to perfect inside curves - please let me know!)" – Rebecca D.
 
"Make sure you attend classes for whatever brand/model you get and learn to thread it. In my first serger class, the instructor would not 'graduate' us until we could thread our machine from bare metal to complete, five times in a row. I have thanked my stars for that for more than 30 years." – Rebecca G.
 
"I recommend that if this is your first serger to look for something simple to work. It takes practice to use one, it's not as simple, at least for me, than a sewing machine." – Tenderheart B.
 
"I have one now. I'm surprised at how little I use it. I don't have any issue with threading it or using it. I make mostly garments, and I tend to use flat felled and French seams. So I just really don't NEED it. So my advice is - make sure you REALLY need it, as opposed to just wanting it. Otherwise, it's a waste of money and space." – Tara T.K.
 
"If you can possibly afford it, get one with automatic threading of the loopers. If you've never had a serger you won't understand the amount of frustration this can save you." – Judith B.
 
"I'd advise not to go with a cheaper machine, as much as it hurts any frugal/budget bound person. I've done that with my first (and only for now) sewing machine and regret it every time I use it now. I wasn't sure how often I was going to use it. So when the time came to buy a serger, I went with a more expensive machine (definitely more than I wanted to spend) but I don't regret it for a second. It's a pure pleasure every time. Get to know someone at a sewing/quilting store, and take a few classes. It definitely gave me courage to try sewing." – Ulia G.
 
"Read the instructions from cover to cover, it will save you a lot of heartaches, Don't go for the cheapest model, and keep it clean." – Laura M.
 
"I purchased an entry level serger because I wasn't sure that I was going to like it, but I fell in love with it. My entry level Brother serger has actually proven to be a workhorse. At present, I see no need to upgrade. However, after it no longer works; I will definitely go with a model that has more features. I'm sold on sergers." – Melinda S.
 
"Don't be afraid to use it. I bought one and then let it sit for almost 6 years because I was SCARED of it. Yup, scared. Once I learned how to use it, I was disappointed in myself that I had not learned sooner. It's an amazing tool!" – Missy T.K.
 
"I bought my most recent model (Brother) because it not only had an extension table with storage but that it had a free arm like my40-year-old Singer. The best advice is to PRACTICE threading!" – Pam W.
 
"Sergers are magnificent because they sew and finish the edge of a garment in one step. I have a serger and can't seem to live without it. I have a manual thread 3/4 Serger that I have broken and fixed more times than I can count. I would really like an automatic threading serger but can't afford it so I fix my old one." – Lane G.G.
 
"Upper looper, lower looper, right needle, left. Say that over and over." – Linda F.I.
 
"I use it all the time for quilting. My sewing the layers together is so much easier, for my arthritic hands, I also use it for basting and stretchy fabrics. I went on YouTube to watch someone sewing on the machine I have. You don't have to take classes and there are tons of tutorials out there. Also, your library is very helpful with how to books." – Laura M.
 
"They waste thread but very useful for a good finish on some fabrics. I have two sergers, one with black thread & the other with white to convert easily with other colour thread." – Esther G.
 
"You will love a server the speed you can put an outfit together is crazy. Especially for kids and myself. Leggings no problem and anything else." – Bren J.
 
"I finally realized that if I thread my machine with colors that correspond to the colors on the tension dials, I can easily tell which thread is causing a problem. Then I just cut the threads, tie on the color that I want, and pull them through rather than rethreading the machine from scratch. I also keep notes on which settings I used (tension, differential feed, stitch length) with samples so that I can easily replicate the results on later projects." – Adrienne D.
 
"I've had my Sears serger for over 30 years now and I love it. I've never had it in the shop for anything and it looks like new. I used it a lot more when the kids were little, making outfits for the girls and little polo shirts for my son. I'm over 60 so I doubt that I will ever need to buy another one but if I do I am getting the auto threader. But I still use it a lot more for crafts now." – DM H.
 
"A trick to changing colors: tie the new color to the old color with a knot and run it through slowly until you get to the needle." – Missy T.K.
 
"27 years shortly after my husband proposed to me, he asked me if I wanted a pearl necklace or a serger as my gift from him. I gave him a funny look and replied that I would get a lot more use out of a serger than a necklace. I haven't regretted my choice in all these years! I use wooly nylon in my upper looper when I make rolled hems on blankets or napkins. It gives it a nice full look." – Elaine P.
Serging Basics
Before you can start sewing all of the fabulous projects in our serging collection, you need to know how to use a serger first! These simple, beginner-friendly guides will teach you everything you need to know.

Learn everything from the varied functions of a serger to its diagrammed parts to how to thread a serger using insider tips and tricks. Once you've mastered the basics, your serging prowess can't be stopped!

If you want to know how to turn your basic sewing skill into a hot commodity, then you need to check out these serging basics. Take the plunge into professional-level sewing, and your projects will never look homemade ever again.
Serger Sewing Projects
You know all you need about how to use a serger, and now it's time to get down to business! Professional patterns are in your future with this couture, clean, and polished collection of free serger patterns.

Sew like your favorite designer without having to agonize over each stitch. These DIY serger patterns will have you looking like you just stepped off the runway every time you sew yourself a new piece.

With this trendy list, you can get vogue vibes in everything from lovely jersey tops to designer home decor. You'll never go back to your basic sewing machine again!
Serger Sewing Basics
You already know the basic ways a serger can benefit your sewing, but how do you put those techniques into practice? With these simple guides on insider serging techniques, you'll learn the tricks of the trade without paying for a single lesson.

After perusing these articles, you'll learn must-have skills that you can immediately apply to your sewing projects. You can even gain invaluable know-how on sewing your own clothes! Whether you're looking to get a custom-made fit on your pants or add a feminine ruffle to a skirt pattern, this collection has a tutorial for you.

You'll walk away from this list with the skill of someone who's been serging for decades, guaranteed.
Hemming Pants with Your Serger
Have you ever followed a pants sewing pattern only to find that the legs don't fit you? Or perhaps your kids have hand-me-down trousers that just need a few small adjustments. Learn how to hem pants with a serger, and say goodbye to ill-fitting clothes for good!
Want to learn how to sew a clean edge on knit and woven fabrics without sacrificing stretch? Though it may seem like a fantasy, you can find out how to do just that with the simple tutorial, How to Make an Easy Blind Hem.
DIY Serger Covers
If you're crazy about your serger after learning about all of the magnificent things it can do, then you should show it some appreciation! Sew a DIY serger cover that will protect your new favorite sewing tool from dust, debris, and scratches.

Not only will these serger covers prolong the life of your sewing machine, but they'll also bring a lovely touch to any sewing room. Brilliant quilted colors will have your serger looking like a decorative piece you'd be proud to put on display.
Do you have spring fever all year round? So do we! Show off your flower power with this playful Spring Flowers Serger Cover, and your whole sewing room will brighten up instantly.
Bring your quilter's spirit to your sewing room decor with this lovely, country chic Serger Cover DIY. With each side of the pattern displaying a different hue, you'll it positively lovely from any angle!
Your Recently Viewed Projects