21 Free Fabric Belt Patterns
Learn how to make a fabric belt for a dress, tunic, or just a pop of color or pattern on a plain outfit!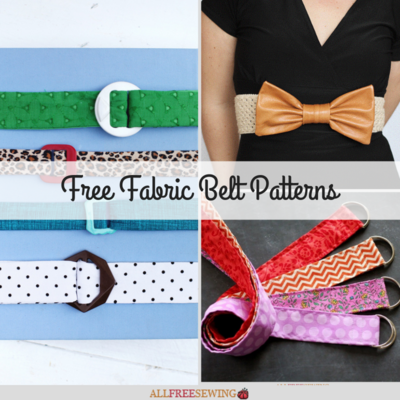 Belts: not just for holding up pants anymore! There are a wide range of uses for fabric belt patterns, from adding some shape to a shift or flowy dress, to creating some intrigue on an otherwise simple 'fit. While your standard leather fare may work just fine for some of these purposes, you'll often find that fabric belts are more comfortable, versatile, and honestly, much more cute. The best part is that these belts are a simple shape with minimal features, meaning most of them are very beginner-friendly.

Before learning how to make a belt with fabric, you first need to identify the purpose of the belt. Will you need a tougher fabric to hold up against a lot of moving around, or is your belt more of a decorative piece? It's also worth bearing in mind your current scrap stash; most fabric belt patterns require less than a yard of fabric, so you may not even need to make a trip to the fabric store. I recommend first going through these patterns and finding the exact belt you're looking for, and then shopping your stash for the fabric you'll need.

Without further ado, learn how to make a fabric belt/sash with these patterns!

Want more? Sign up for our free Sewing It Up newsletter to get our latest patterns and tutorials!
Table of Contents
What's your favorite use for belts?
Your Recently Viewed Projects