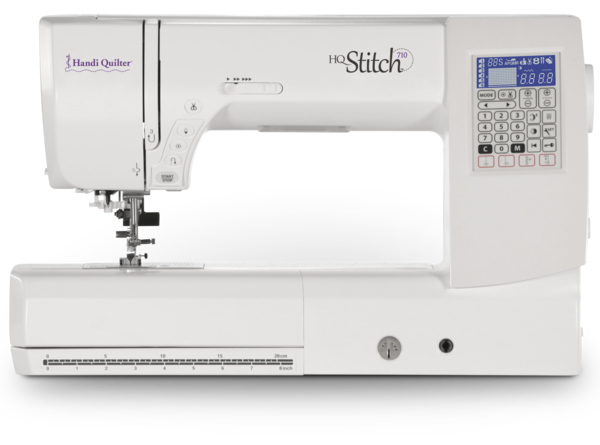 Reviewed By: Diane Harris for Handi Quilter
Beautiful stitches, handy shortcuts, the quiet relaxation of sewing with confidence—that's what HQ Stitch 710 means to me. Whether I'm creating patchwork, sewing for my family or crafting a gift, this machine makes it easy!
A generous 11" of throat space makes machine quilting a joy. Together with the dual feed foot and the quilting guide bar, I can quilt for hours—stress free. If I want to free-motion quilt, a quick change to one of the free-motion feet is effortless. I've also used the hand-look quilt stitch for something entirely unique.
Two favorite features are the stitch securing function and the thread cutter. And it's especially useful that I can combine those functions so that every line of stitching ends with securing and then snipping. That's a time-saving advantage.
I love having a straight-stitch needle plate included. There are many times when changing out the plate gives me the best possible stitch and tension and I am so happy to have the option.
For home dec sewing, HQ Stitch 710 has plenty of performance power. Its utility stitches including lock stitch, overcasting, double overcasting and blind hemstitch get a workout and never falter.
HQ Stitch is customizable to my personal preferences. My most-loved adjustment is the start-up speed: I can set the machine to ease into sewing very gently or to take off like a rocket. When I'm teaching someone else to sew, they need not worry about the 710's speed when I've adjusted it to suit a beginner.
The decorative stitches and multiple alphabets are this machine's icing on the cake. I can embellish quilts, pillows, runners, garments, paper art—the possibilities go on and on. I don't think I will ever exhaust the HQ Stitch 710. It is feature-rich and that makes it a great value that will give me years of creative pleasure.
Enter to win the Handi Quilter Stitch 710!
Your Recently Viewed Projects