Handmade Wooden Point Presser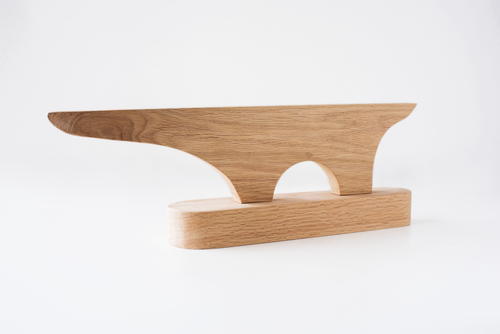 Handmade Wooden Point Presser
www.jacksonwoodworks.net
Reviewed by zzz Christine zzz Weiher, Editor, AllFreeSewing.com

Jackson's Woodworks is a fine family-owned company that offers quality products for sewers and quilters. Each product is handmade in the U.S. out of solid hardwood, so you know you're getting a durable product. Products like a Tailor's Board, a Ham Holder, Tailor's Clappers and Point Turners are what you'll find at Jackson's Woodworks, but what I'm intrigued about is the Point Presser.


The Point Presser is a beautiful piece of unfinished wood that every sewer needs to have in their collection. With a valuable tool like this you may never want to use an iron again. The top narrow surface of the point presser side acts like an ironing board; with this you can press difficult seams that are tough to reach, as well as enclosed corners on cuffs, collars and lapels. The bottom clapper side applies pressure to set permanent creases for crisp edges. When I was younger and had that crisp crease down the middle of my pant leg I didn't understand why it had to be there, but being older now and having this tool is pure perfection. The Point Press also flattens bulky seams so you will always look your finest.


Just by looking at the Point Presser you might not understand quite how it works, but it is fascinating. All you need to do is apply steam to the area you want to flatten or make crisp, press on the clapper and apply as much pressure as you can. You'll want to hold your position until the fabric and wood have both cooled and voila.


The Point Presser itself may vary in color depending on the variations of the wood being used, but that's what makes this product so unique; no two will be exactly the same. This truly is something every sewer needs and you'll be amazed every time.
Your Recently Viewed Projects