Quilting on a Budget: 15+ Tips for Stretching Your Dollar
Get all the best quilting tips and tricks for staying within a budget for your next project.
Updated April 05, 2023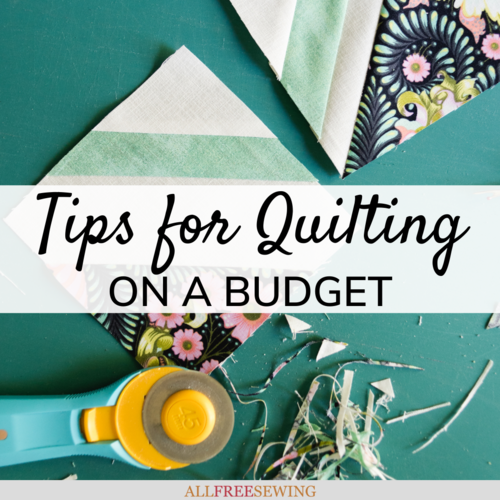 Quilting fabrics and tools can be expensive and we all want to get the best from our hard-earned dollar. When creativity is high and budgets are tight, we need to invest our quilting dollars wisely.

Today we are spoilt for choice with range after range of gorgeous fabrics and it's tempting to buy more than we need, so here are a few ideas to help stretch your quilting dollar a little further and help you stick to quilting on a budget.

If you revisit the true essence and history of quilting, you can begin to see how to stretch your dollar further.

Women have always kept their hands busy, weaving, stitching, sewing and quilting, and when supplies were short, they improvised with the tools and materials they had on hand.

Quilts were made using remnants of old clothing, linens, feed sacks, and household furnishings. No scrap was wasted and every quilt told its own story based on its eclectic mix of fabrics. Let's get back to that ideology with these suggestions and ideas for the modern world.

Sign Up For More Free Patterns
Quilting on a Budget: 15+ Penny Pinching Tips and Suggestions
The topics you will find below include Stash Busting, Fabric Organization, Quilting Supplies, Keeping Lists, Finding a Pattern to Complement Your Fabrics, Using the Internet, then Planning Ahead.

Next up, it's Quilt Piecing Tips, Fabric Sorting and Selling, Fabric Swaps, Shopping by Designer, Shopping Sales, End of Bolt Sales and Discounts, Thrifting for Vintage Items, and Upcycling and Recycling.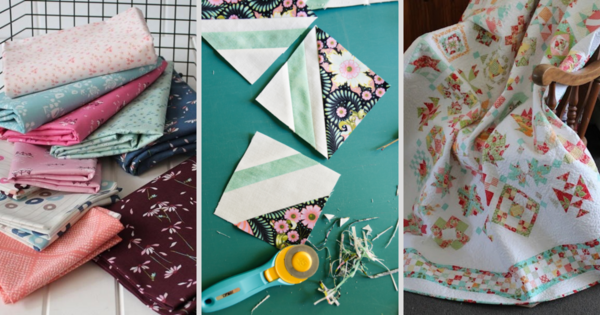 Stash Busting: Shop Your Stash Fabric
A fabric stash can be inspiring and pretty to look at but a quilt gives comfort and warmth to those you love. Regardless of the size of your stash, it should always be your first option when choosing fabrics for a new project.

At some point you decided you liked a fabric enough to purchase it, so maybe now is the time to let it shine in a new quilt. Find as many options as you can in your stash and add a small amount of newer pieces if your stash is lacking; one or two new fabrics may bring your selection alive.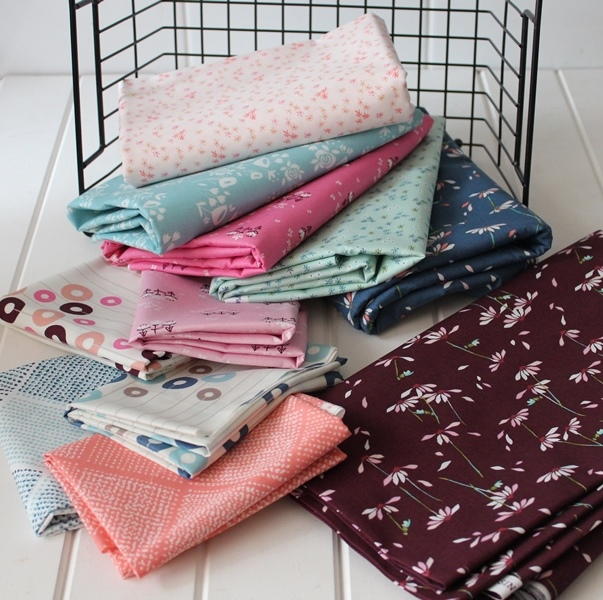 Fabric Organization: Keep Your Stash/Scraps Organized
Good organization is always the key when storing fabrics for quilting.  Invest in plastic containers to sort fabrics by size or colour and be sure to clearly label them for easy access.

Keep a container of small scraps to use for applique; plain borders are instantly transformed with the addition of applique and it's an effective use of small fabric scraps.

Left over Jelly Roll strips make great bindings for small projects, so keep them easily accessible and audition them before cutting into larger cuts of fabric.
 
Quilting Supplies: Maintain Your Tools
Your sewing machine is your biggest investment so take the proper steps to maintain it regularly. Refer to your user manual or ask your dealer to ensure your machine consistently runs in perfect condition.

Always keep your machine free of dust and remove lint and fibres at regular intervals. Store cutting tools correctly and safely to keep them sharp and rust free and purchase the best tools your budget allows.

New to quilting? Find out what tools you will need by checking out 13+ Must-Have Quilting Tools on FaveQuilts.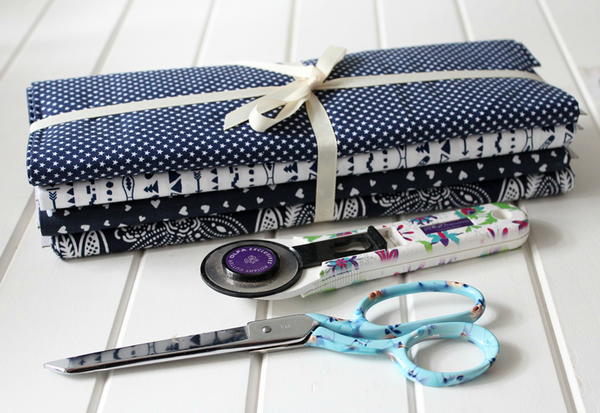 Get Detailed: List of Quilting Projects
Keep a detailed list of the projects you are currently working on or the ones you wish to make. Include any fabric choices you need to purchase and shop the sales to find exactly what you need.

My personal rule is to only buy fabrics required for the projects I'm currently working on or projects I'm committed to work on in the immediate future.
 
Perfect Patterns: Find a Pattern to Complement Your Fabrics
Large block quilts are a great way to showcase some of your more precious fabrics. The generous sized blocks allow you to frame large cuts of your favorite prints and make them shine. Small block quilts such as Postage Stamp quilts are ideal for reducing your stash.

The focus is on the overall scrappiness of the quilt and not individual fabrics, allowing you to use a larger selection of prints.
 
Use the Internet: Free Quilt Patterns
The internet gives you instant access to many free quilting patterns which not only save you money but are also another great option for sewing your stash.

Free patterns are offered on all forms of social media, so search online, join a Facebook group and look through their files, or browse your favorite blogs to find a pattern that works best for your stash.

If you're looking for something quick and easy to sew, you can find my latest free pattern HERE.
 
Plan Ahead: Long Term Quilting Projects
It's satisfying to work on quick and easy patterns but consider having one long term project on the go. Sampler quilts are the perfect way to learn how fabrics and colours work together while enhancing your sewing skills.

Set your own timeframe and return to the more relaxed art of making a quilt as a labour of love without the pressure of a quick finish. If you are looking for a free sampler quilt pattern, I have one on my blog HERE.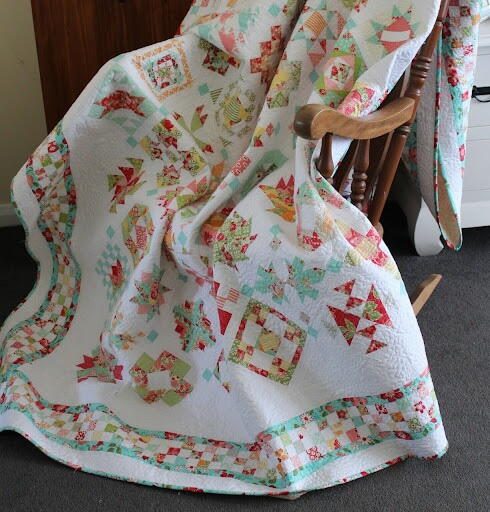 Quilt Piecing Tips: Scrappy Bindings and Pieced Backing
Making your own scrappy bindings and pieced backings can save you money and help to reduce your stash. It's a great way to use fabrics you may not consider adding to a quilt top.

You can also incorporate any leftover fabrics from your quilt top into your pieced backings and add any test blocks you may have made to use as your quilt label. 
 
Be Realistic: Fabric Sorting and Selling
Once a year, sort through your fabric stash, keeping those fabrics you still love for future projects and designating others for scrappy bindings or pieced backings.

Think about holding your own de-stash sale online to sell unwanted fabrics, or participate in fabric swaps and pass on pieces you no longer require to benefit someone else.
 
Quilting Community: Fabric Swaps
Participate in online fabric swaps or organize one with your craft group. Swapping fabrics is a great way to enhance and cull your stash without spending any money.

Choose a monthly theme and swap by colour, designer or pattern to help build each other's stashes.

Stay Consistent: Shop by Designer
Fabric designers have their own distinctive signature look and colour palette. Generally ranges by the same designer blend well together and you can play with different combinations.

Simply adding a few fat quarters or a precut of a new range to your stash will breathe new life into your fabrics without having to buy the entire range.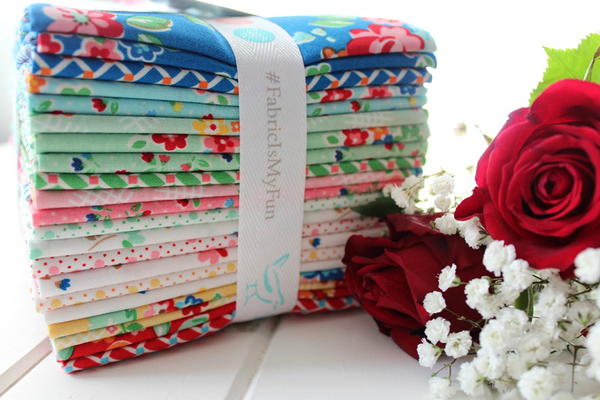 Shop Sales: De-Stash Sales
When it comes to quilting on a budget, shopping sales is one of the most important tips.

De-stash sales are very popular on the internet and they are a great place to find a good bargain. Consider having one of your own to sell those fabrics you no longer need, giving you more money to spend on those you are searching for.

Advertise your sales on social media accounts to reach a larger audience and pay close attention to hashtags; the correct ones will direct people to your sales.

Find Fabric Clearances: End of Bolt Sales and Discounts
Keep an eye out for end of bolt sales and discount coupons. You can save money shopping for fabric as fabric ranges come to an end and shops are making room for new stock.

Discount vouchers or codes are another great money saving idea, so take advantage of the offers when they appear to purchase the fabrics you require.
 
Thrifting: Vintage Quilt Items
Shop the op shops or garage sales for vintage items such as sheets, denim, general clothing or embellishments. Sheets make perfect backing fabrics and already have that snuggly lived in feel.

Denim is versatile for bags, pencil cases, etc. and is very easy to source. Old clothing is popular in scrappy style quilts so rethink what you donate as you can sew a wonderful memory quilt with personal items of clothing.
 
Scavenge: Upcycling and Recycling
Remove old buttons, lace and zippers from clothing or household items deemed for the rubbish bin and use them to embellish new projects.

Not only do they add some interest to a project but you are recycling and reducing your carbon footprint.

Conclusion
Forward planning is the key to stretching your quilting dollar. We frivolously buy pretty fabric, but without a project in mind, it tends to accumulate in our stash.

Your fabric stash is an investment in your quilting future so purchase wisely for the projects you want to sew.

It's natural for our choices to change so remember to de-stash often or swap any fabrics you no longer require, as they just may be the perfect fabrics someone else has been searching for.

PLUS! Pin this collection on Pinterest: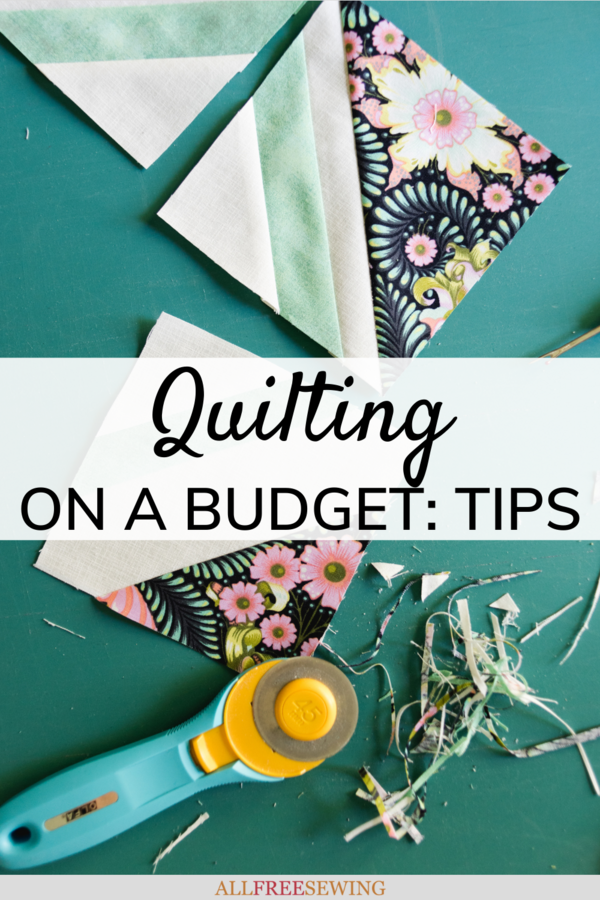 About the Author:

This guide was written by Rose, the blogger and quilt designer behind Threadbare Creations. She loves designing quilt patterns along with traditionally pieced, foundation paper pieced, and applique designs. Learn more and see what else Rose has shared with us by visiting her designer profile here: Rose Johnston from Threadbare Creations
How do you stretch your quilting and sewing budgets?
Let us know in the comments below!
Free projects, giveaways, exclusive partner offers, and more straight to your inbox!
Tags / Related Topics
Your Recently Viewed Projects
Images from other crafters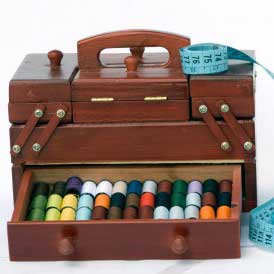 Something worth saving?
SAVE all your favorite patterns
ADD personal notes
QUICKLY reference your patterns