30+ Simple Sewn Gifts for Men & Father's Day Sewing Projects
Make homemade birthday gifts for Dad or give him the perfect gift this Father's Day with these free sewing patterns for men!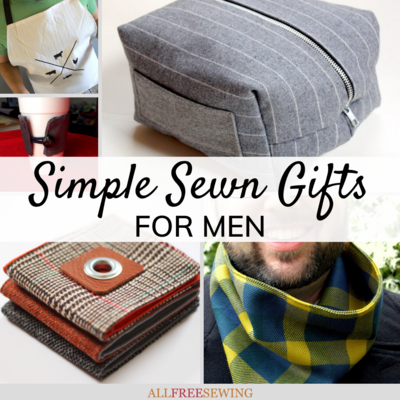 This Father's Day, make him something special instead of resorting to a generic store-bought gift. Simple sewing projects for men aren't always easy to come by, but we've gathered a bunch for you here.

This page, 30+ Simple Sewn Gifts for Men, is ideal for Father's Day, birthdays, and other events. These sewing projects for men offer great presents for their special days but can really serve as sewn gift ideas for any time of year.

If he has an important event coming up, you can take any of these creative ideas and personalize the project. Or maybe the special man in your life is just in need of a nice tie to wear to work – we've got you covered there too!

The great thing about these simple sewing projects for men? They'll save you money and still help you create special gifts we know he's going to love. You'll find that the cheap Father's Day gift ideas in this collection are not only inexpensive, but they're also totally useful.

Sewing homemade gifts is one way to ensure your gift will be appreciated and cherished. Sewn gift ideas are always more heartfelt than ones that are store-bought. That's why we've carefully chosen each of these simple sewing projects for men to include in this roundup.

Check out the sewn gift ideas, grab the sewing machine, and get to sewing, whether you want to create homemade birthday gifts for dad or a present for any special man in your life.

Sign Up For More Free Patterns
Table of Contents
Sophisticated Sewn Gifts to Make for Men
If your dad doesn't want you to spend a ton of money on him, these easy sewing projects will make that wish come true while still giving him a lovely gift. Check out these cheap Father's Day gift ideas. Each one makes for a useful gift so Dad won't be tossing it aside but will be using it in his everyday life.

If you're looking for handmade gifts for dad, you'll find that these ideas are not only fun and inexpensive, they're heartfelt. You can even personalize each one. Choose your father's favorite sports team's colors to really catch his attention. All of these cheap Father's Day gift ideas are perfect for any deserving dad. 
Heartwarming Homemade Sewing Gifts for Him
When it comes to simple sewing projects for men, we've got a number of great options for you to choose from. Even if Father's Day has passed and his birthday isn't coming up, check out these simple sewing projects for men because all of them make special gifts for any time of year.

These handmade gifts for Dad are just the thing to both save money and create something he'll treasure because it comes from you! Whether he's a nerdy type or a huge golfer, the ideas we've hand-picked here are sure to deliver. Our simple sewing projects for men will help you create these awesome gifts one step at a time. With helpful tutorials and easy-to-understand instructions, you'll love the results and so will he!
Unique Sewn Accessories and Small Gifts for Men
It can be tricky picking out a gift for the #1 man in your life: Dad. Browse through these awesome accessories and smaller additions to our Father's Day sewn gift ideas and see if they'll work for your pop. These simple sewing projects for men differ from the typical tie.

These thoughtful Father's Day gift ideas should do the trick when it comes to sewing up the perfect gift, especially if you don't have a lot of time, fabric, or energy. Some of these are even no-sew! You've gotten over the hard part and found a great selection of simple sewing projects for men, now all you have to do is pick one from this great collection.
Your Recently Viewed Projects