Epic Cosplay Costumes Review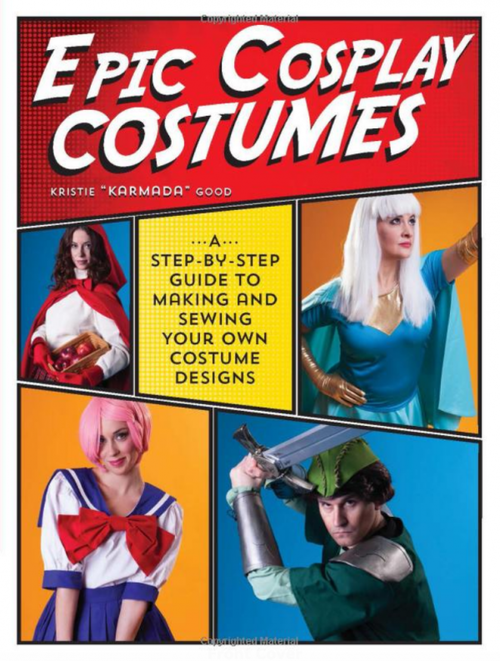 Epic Cosplay Costumes Review
www.fwcommunity.com
Reviewed by , Editor, AllFreeSewing.com
When it comes to sewing costumes, there are some unusual elements that might baffle you. For instance, when's the last time you made a superhero cape or a heroic tunic? Epic Cosplay Costumes by Kristie "Karmada" Good has essential tutorials for superhero, video game and fantasy characters. Once you have these tutorials down, you can make costumes for all your favorite characters!

This book is based around creating costumes for cosplay. For those who aren't familiar, cosplay is an increasingly popular hobby of making costumes for conventions and events - Good explains the finer details. Even if you aren't into cosplay (which is a lot of fun), you can learn to sew amazing costumes for beloved nerds in your life with Good's step-by-step guide. Costumes come in handy for Halloween, parties, photo shoots and more.

The author has a background in manga-style art and sewing, and she masterfully fuses these interests in the books' style and formatting. While the sewing tutorials are detailed, clear and direct, Good's artwork gives this book a personal flair. Plus, it's just fun.

While specific characters aren't called out in Epic Cosplay Costumes (probably for copyright reasons), there are definite winks and nods to iconic comic book and video game characters. A great feature of this book is that Good offers alternate versions and options for her patterns, such as adding cuffs to gloves or changing the shape of a skirt. While readers can use Good's patterns as a jumping off point, she inspires readers to make choices in designing the finer details of their costume, which is just the right amount of guidance for this creative task.

As a graphic artist and experienced sewing teacher, Good offers a unique point of view for sewists. She shows that it's not impossible to draw out your dream costume and then wear it. As she puts it, "Cosplay is about thinking outside the box to create fanciful costumes and bringing 2-D designs and images into the third dimension." In other words, making your fantasies sew real.

Have you sewn a costume before?
Your Recently Viewed Projects